CE Pro Podcast #36: Level Up Your Luxury Client Experience Game
Matt Montgomery of TYM Smart Homes & Home Theaters, Just Add Power's Taft Stricklin and Cody Crossland of distributor BlackWire Designs shed light on dealing with VIPs.
Listen to this podcast using the embedded player below, or use the link to download (right-click to save) or to listen using your system's media player. On mobile devices simply click the Download this Audio File link below and your devices player will automatically play the file.
Listen to this podcast right now.
Format: mp3 • Length: 42:00 • Filesize: 80635546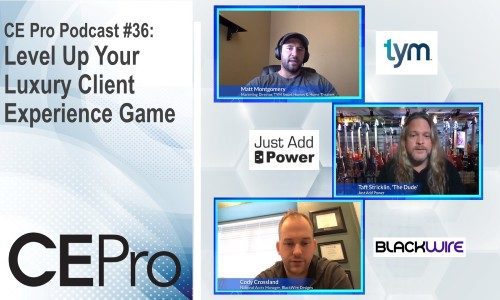 While the custom integration industry has made inroads with mid-market and even the DIY crowd in recent years, it's no secret that successful CE pros still rely heavily on catering to affluent clientele. It might not be the so-called "1%" but certainly during the pandemic integration has managed to thrive for many companies thanks to serving this segment of the population.
With that in mind, CE Pro gathered a roundtable of guests from three main pieces of the custom industry supply chain to discuss various elements involved in successfully working with luxury clientele.
From the custom integration side, Matt Montgomery, president/marketing director of TYM Smart Homes & Home Theaters in Herriman, Utah, candidly chats about consultation, installation and post-project experiences with well-heeled clients throughout the U.S.
Of course, integrators need the manufacturing and distributor partners to deliver today's latest and greatest technologies.
For those perspectives, Just Add Power's Taft Stricklin and BlackWire Designs' Cody Crossland detail how their companies not only provide products but also offer crucial sales lead, system design, tech and other support – often in at a moment's notice – to assist integrators in dealing with demanding clients.
TYM often uses Parade of Homes installations to connect with local prospects, but engages in consultation services across the country, and customers will often find TYM's website after reading their blogs or stumbling onto their YouTube videos, for instance.
"Somewhere in that process we say, 'Hey, if you have any questions about your smart home, we'll answer,' – not 'Hey, we'll sell you a smart home.' When we survey [those prospects] we try not to steer the conversation, we leave it pretty open," Montgomery explains of vetting those potential customers.
Luxury Clients Look for Professional, Honest Approach
TYM Smart Homes & Home Theaters is very careful in how it goes about discussions with prospects, because it understands they are doing their own vetting of the integrator and are seeking out a certain level of customer care.
"The two things that come back [in the years of doing such surveys] are No. 1 relationships, and No. 2 people don't want to be sold the dealer system, they want to be sold the system that's right for them," Montgomery says.
"If they feel like you're selling them a Control4 system because you're a Control4 rep it's a pretty big red flag [for them] and so we try really hard to talk more generally about video distribution or about smart home control and lighting control until we get a little farther in the discussion. And then we can niche down into the specifics, and that tends to make these higher-end clients feel like you are fitting the right product to their application rather than forcing them into what you carry."
That's just one nugget of what's a highly frank and honest roundtable discussion – learn how honesty with customers is in fact a trait that TYM also uses to its advantage in the luxury market, plus other aspects such as dealing with delicate customer service matters.
That's also where partnering with suppliers such as Just Add Power and BlackWire Designs that can pick up an integrator in a pinch when needed also come in handy, as Stricklin – a veteran of the integration world as well – and Crossland share some experiences in that realm.
"First off, video distribution is already kind of a luxury item, it's not something that goes into every single thing built," Stricklin notes. "So we were really born in the luxury side of the CEDIA market and have grown into the luxury yachting market or commercial market, or whatever it may be. I'm very fortunate to have an amazing sales team that's over the years flipping over every stone, chasing every lead, communicating with end users, with integrators, with designers, with builders."
Watch or listen to the entire 40-minute conversation above, and check out all of the CE Pro Podcast episodes by subscribing to the CE Pro YouTube channel.