CE Pro Podcast #66: Sound United Acquisition of Bowers & Wilkins One Year Later
With supply chain shortages abounding, Sound United is serving the custom channel first and not funneling equipment to other channels.
Listen to this podcast using the embedded player below, or use the link to download (right-click to save) or to listen using your system's media player. On mobile devices simply click the Download this Audio File link below and your devices player will automatically play the file.
Listen to this podcast right now.
Format: mp3 • Length: 15:51 • Filesize: 30432006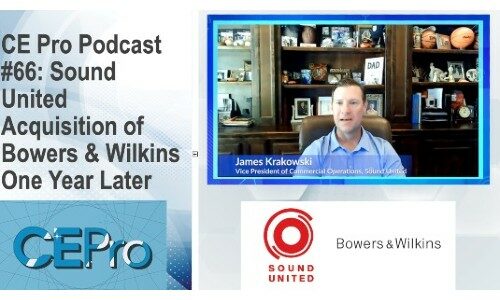 The entire custom electronics industry was a bit surprised when Sound United acquired Bowers & Wilkins back in October 2020. Since then, the Sound United team has been working hard to combine the strengths of Bowers with the other Sound United brands to create end-to-end solutions using Bowers along with its other brands.
So how is it going? The challenges presented by pandemic, the microchip shortage and supply chain logistics do not appear to have slowed down the integration.
"Sound United is a powerhouse of a premium audio brands, bringing Bowers & Wilkins in the fold with Denon, Classe, Marantz, Polk Audio, Definitive Technologies," says James Krakowski, Sound United's new vice president of commercial operations. Krakowski reviewed the Bowers transition, where Sound United is heading, its commitment to the custom integration channel, and offered a sneak peak as what to expect at CEDIA Expo 2021 in September.
The supply chain situation has hit many brands hard, including Sound United, but Krakowski says despite the shortages the company is serving the custom installation channel first before the distribution, online or retail channels. So that means if there is a short supply of AVRs from Marantz and Denon, it's not because that equipment is being funneled away from custom integrators to others.
"The custom integration industry is absolutely a strategic imperative for us," says Krakowski. "Supporting the integrators, protecting their businesses, and building the brand recognition and the cache of our brands with them is one of my main focus points."
He says the Bowers expertly expanded its business in the channel without disrupting existing integrators.
"I want to strengthen our existing partners, while also scaling business. We are taking that same approach for all the brands within the Sound United portfolio," he notes.
"We've taken a new approach to ensure protection of our brands, with a new AP Compliance Committee focused on not only protecting our position in the marketplace, but also protecting our dealers. With the positioning of our products, we're also using this new part of my organization and to protect our distribution.
"In many cases, we cleaned up our distribution and taken a less-is-more approach like we have in the past with some of our other brands. We don't want to over distributor products, but make sure our products are available to consumers through the right channels," he explains.
To serve the custom channel, Krakowski put in place a commercial zone management structure to support the Americas within the integration market.
"Along with that we have sales directors and we have brand activator tied based on a commercial zone to support bringing education training solutions and problem solving for all of our brands to better support the integrator. We want to ensure that all very integrator partners have a direct line of communication with Sound United support," he says.
Krakowski explains that the existing support foundation was already in place at Sound United for its other brands and it has been a great benefit to Marantz, Denon, Definitive Technology, and Polk Audio, and now it will be for Bowers. Likewise, he says the engineering and R&D teams that have been such a strength at Bowers for decades are now engaged with the rest of the Sound United team.
Speaking of CEDIA Expo 2021, Krakowski teases that there will be a big product debut from Bowers & Wilkins, and most importantly, he thinks dealers will be excited to see all the Sound United brands together at the show for the first time.
Hear more from Krakowski by viewing or listening to the CE Pro Podcast above. Find past episodes of the CE Pro Podcast by subscribing to the CE Pro YouTube channel or our Apple and Spotify podcast feeds.