CE Pro Podcast #53: Sonance Redefines Indoor & Outdoor Audio Possibilities for Its Integrators
Ari Supran and Michael Bridwell share how Sonance's 'Beyond Sound' messaging resonates with residential and commercial dealers, guides product development and more.
Listen to this podcast using the embedded player below.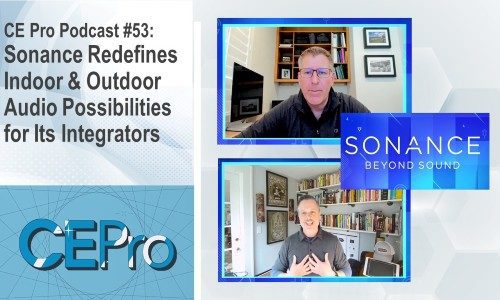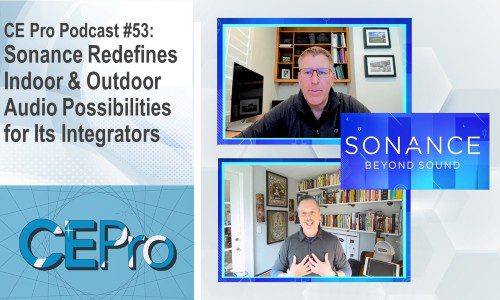 Sonance is among the most familiar names in the custom integration industry, whether you're talking about audio or just the industry in general. The San Clemente, Calif.-based company has been providing loudspeaker solutions and more since the mid-1980s, and yet it recently set out to strengthen the already well-established brand.
Just before CEDIA Expo 2019, Sonance made two major moves toward that end, as well as strengthening its custom-channel offerings so its dealers could offer homeowners even more extensive audio options.
First, it launched a rebranding and messaging initiative putting Sonance as the marquee name instead of Dana Innovations, which served as the company name with Sonance, Trufig and iPort under its umbrella. Second, it acquired specialty loudspeaker manufacturer James Loudspeaker to deliver a level of custom production and experience that complemented Sonance's design-minded architectural and landscape offerings.
Sonance CEO Ari Supran and Michael Bridwell, VP of commercial sales, joined the CE Pro Podcast to share details about how the rebranding rollout has impacted the company; where James Loudspeaker has fit into the mix; ways commercial business has been developing; latest on the loudspeaker introductions from last fall's CEDIA Expo Virtual show; and more.
3 Pillars Steer Sonance Vision 'Beyond Sound'
"We went through an exercise to kind of distill the Sonance brand down and make sure that we understood exactly what our beliefs were, and how they encompass all the brands that we do," Supran explains, pointing to three pillars of the brand that emerged.
"The idea about 'design to disappear' – about hiding technology in architecture and landscaping, and it's really the DNA of the company," he cites of the first key pillar. "So it's true, it's authentic. The second is that word – authentic – it's authentic partnerships with dealers. We're not just selling products to dealers but we really try to partner, we challenge each other, we try to teach them how to position our products to grow their business in unique ways."
Lastly, Supran notes Sonance's heritage of innovation and pioneering audio categories.
The "Sonance – Beyond Sound" messaging and what it entails, plus the James Loudspeaker acquisition, were really byproducts of the whole endeavor, Supran says. Products like the new Invisible Series from Sonance represent efforts of heeding the three pillars in R&D, for instance.
On the commercial/resimercial side, which Bridwell joined to spearhead bringing custom industry experience from Digital Projection and Screen Innovations, he says having the "Beyond Sound" messaging has resonated firmly during conversations.
"That 'Beyond Sound' is absolutely critical to how we got a foothold, because there were a hundred commercial audio companies that existed when I joined [Sonance] 3½ years ago," he explains, as the residential-focused Sonance was much less known in the commercial market then.
"What didn't exist was a company that really stood by those three pillars that summarized it, and made people lean in quickly [to hear what we're about] besides yes, we have a transformer on those speakers," he says. "Within 15 seconds I can get somebody to lean in very quickly because we believe in this of 'Beyond Sound.'"
When people inevitably inquire, 'Oh, what does that mean?' Bridwell can then tailor the discussion to similar talking points as with the residential world such as aesthetics to disappear in a space.
"You need that one flag to start the conversation," he says.
For more of the CE Pro Podcast conversation with Supran and Bridwell, watch or listen to the video and audio files above. Find past episodes of the CE Pro Podcast by subscribing to the CE Pro YouTube channel or our Apple and Spotify podcast feeds.