CE Pro Podcast #49: Expanding Your Audio Sales Horizons
CE Pro checks in with integrator Electronic Concepts, AudioControl and Savant to discuss various audio categories and how to generate more adoption by Millennials and Gen Z.
Listen to this podcast using the embedded player below.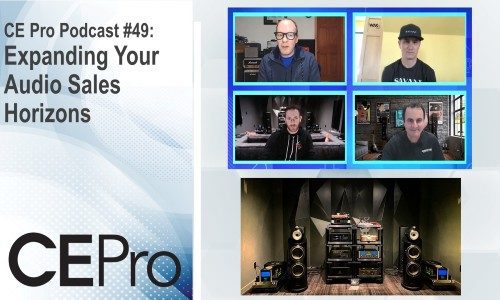 The consumer audio industry is at an interesting point.
Driven by the wildly popular headphone market and the transition from physical media to streaming services, music and audio consumption is arguably at its highest level ever.
Moreover, home theater is also thriving due to the emergence of immersive audio. People are investing into home theaters at rates that rival the late 1990s and early 2000s interest in surround sound.
With these categories performing so well it would seem odd to question the future of home audio, but there are segments within the market that need to be addressed for custom integrators to continue to grow their audio sales.
Taking some time to discuss the topic of the consumer audio industry's future in this week's CE Pro Podcast, Paul Bochner, owner and president of Electronic Concepts, an HTA Certified integrator in New Jersey; Steve Silberman, business Development – audio at Savant; and Alex Camara, CEO of AudioControl, shared their thoughts on where the market is now and what the industry needs to do to appeal to younger consumers.
Are Audio Sales a Generational Thing?
To many the biggest questions focus on the development of new audio system consumers. For years the Baby Boomer demographic drove audio system sales.
Boomers grew up during an era in which music and home audio were important hobbies. Iconic images such as the famous ad featuring "Maxell Blown Away Guy" symbolize boomers' love affair with music and home audio.
Although a much smaller demographic than Boomers, many Gen X'ers also grew up with the traditional aspirations of owning premium music systems. Gen X did usher in the era of video game systems and the Internet, but Gen X usage of these technologies did not for the most part dilute their desire to have a nice audio and/or home theater.
With the rise in power of Millennials and their spending capabilities, as well as the impending development of Gen Z, a shift in home entertainment has occurred. As a result of these younger consumers' preferences, a shift in the types of products purchased is now impacting the market.
That brings us to where we are today with headphones, streaming audio products and soundbars dominating consumer audio.
Where Is the Home Audio Market Heading?
Assessing the current state of the market, Bochner, whose showroom features several high-end audio spaces, says that because of people quarantining and being stuck at home, interest in home audio systems is driving sales. His one caveat is the home audio industry does a poor job of marketing, which hurts growth potential.
"You know, maybe the marketing side isn't as strong as we would love it to be, but I think it's there," he comments.
"We have a duty to do right now and give people what they need and help educate them on the performance audio side of things."
Silberman cites data that indicates that traditional audio is flat, but categories such as smart speakers are surging.
"There's nothing wrong with traditional consumer audio being flat. It is flat at a very high dollar value," he points out.
"But what we are seeing is this acceleration in any audio component that is smart with intelligence built in so it is really exciting right now."
Offering his thoughts on what the market needs to do in order to entice younger consumers, Silberman states that currently regardless of the demographic, people are buying soundbars. He continues by saying that in order to spur growth the industry needs to pay attention to what features consumers are gravitating towards with their product purchases.
Reiterating a point that Bochner made earlier, Camara says the industry needs to educate uneducated consumers through a variety of mechanisms that include product and system demonstrations.
Bochner adds that ultimately it is going to take a complete industry effort to figure out what products, what features consumers want, and to then educate them through efforts such as product and system demonstrations.
To listen to the complete conversation about the future of audio and expanding audio sales opportunities, watch or listen to the CE Pro Podcast above. Find previous podcast episodes by subscribing to the CE Pro YouTube channel.