You could call it a best of both worlds type of approach. Paul Bochner, owner and president of Electronic Concepts in Rochelle Park, N.J., balances the demand for state-of-the-art smart home solutions from A-list brands such as Lutron and Savant, with his passion for the technologies that at one time served as the foundation of the electronics industry: high-performance audio in a newly redesigned showroom.
Bochner started his business nearly 20 years ago, migrating from the car audio market and into custom installation. Over the years the company grew steadily and about nine years ago Electronic Concepts moved into its current location, which was previously occupied by an integration company that had ceased business.
Throughout the history of the company Bochner stresses that he's always tried "push" higher quality audio and his favorite part of the business is educating consumers on the benefits of higher quality audio.
"In the CI world it has gotten very cookie cutter over the last few years and many are just racing to the bottom and afraid to put performance in front of these customers," he asserts.
"Many of them can appreciate higher quality audio and just have not been introduced. I love seeing the face of someone who just heard that song they heard a million times 'for the first time.'"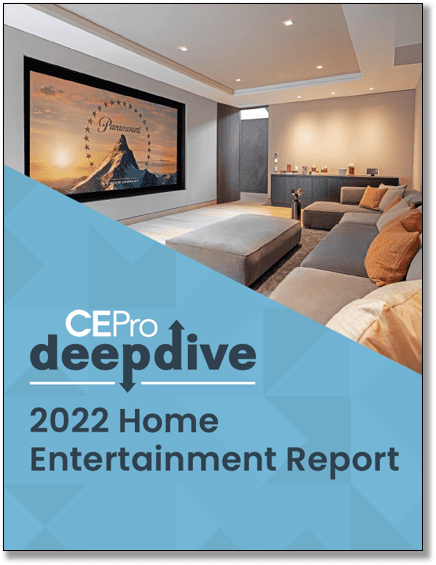 The home entertainment category is especially susceptible to the supply chain crisis because there are so many individual components required. Despite that ongoing problem, the once-forgotten "home theater" category continued its strong comeback in 2021 likely driven by the ongoing house-bound public due to the COVID-19 pandemic.
Download your copy today!
Electronic Concepts Business Thrives During Pandemic
It what could have been a scary situation Bochner looks back on 2020 and says that despite the fact that the entire world went into a lockdown period because of COVID-19 his company had a good year.
Taking a major risk during 2020 Bochner redesigned his showroom to better highlight the products and solutions he carries, including high-performance audio systems.
Surprisingly he admits that even though his newly opened showroom is not open to the public, his business has been surging throughout the pandemic.
"Other than not being able to have our showroom open we did not really see a huge decline in interest. In fact, we saw in increase. Many were home and finally focusing on their houses, systems etc. For some of them—the workaholics—this was the first time in a long time that had the chance to focus on their own home," he says.
More news from Bowers & Wilkins: SounBowers & Wilkins Upgrades Formation Music Appd United Finalizes Acquisition of Bowers & Wilkins
"We almost immediately started getting calls to upgrade home theaters, audio systems, Wi-Fi networks, etc. Many of the more 'mainstream' and lower-level brands were not in stock, but the "premium" brands were. It actually gave us the ability to quickly upgrade some and upgrade them with a better product experience. We did see a decline in new construction projects, but the upgrade work outweighed the loss of new builds."
Helping to steer his company through these times Bochner states that regardless of what his company is doing—audio, home control, lighting, networking—the one tenet Electronic Concepts lives by is to lead through performance.
Bochner emphasizes that his new showroom visually demonstrates the company's commitment to quality and performance.
"The main showroom has all custom lighting, seating and other solutions for designers, builders and end users to see. On top of that we have an amazing dedicated theater and truly exceptional Hi-Fi room. We have always gone after and have brands that not every other dealer has. I have always tried to go this way to not step on other dealer and to also have destination brands like Magico, Barco, Diamond Bowers & Wilkins, Dan D'Agostiono, etc. … pushing performance is definitely a Mantra I live by," comments Bochner.
"We lead with performance and we are not afraid to push performance. That is what separates us. People say what kind of idiot builds a Hi-Fi shop in COVID, but Hi-Fi is not the only thing we do. We expose people to it and that's not just audio. It's networking. We are not going to sell crappy networks or automation. That's the core of who I am."
Comparing the differences between the design of his previous showroom and his new showroom, Bochner admits the older design was more of a stereo store with a home theater and some automation solutions. Bochner says the old space also did not have a true listening room. The new design prioritized a listening room and a location in which Electronic Concepts could feature premium brands.
Additionally, the Bochner states that he wanted his new showroom space to emphasize custom lighting and shades.
Now with the showroom set and COVID-19 cases falling with vaccinations now available Bochner estimates that for the time being that Electronic Concepts will stay busy with homeowners investing into home upgrades.
"We are still seeing a lot of calls to upgrade tech while people are still staying home and not traveling etc. I think this will last a few more months and then we will see a small dip in the upgrades and the new construction work will come back strong and even things out to pre COVID," he notes.
"I do think after this COVID mess that people will be more inclined to once again build that theater or better media room in their homes in fear this will happen again. I felt like we were losing the typical home media experience a bit—at least in our market—and not its back."
Once the world does get back to some level of normalcy, Bochner wishes the home audio market would help itself by improving its marketing to help the electronics industry grow.
"It's all marketing. None of these companies do it. Dan D'Agostino doesn't do it and they don't care. Not that they are not interested, I would love to see companies focus on marketing and getting the youth to fall in love with audio again. For people to want audio in their homes. We need to get consumers to focus beyond the cheap stuff," he asserts.
"We can do this … we can sell this, but it's because I am doing all the work. I would love to see manufacturers buy in. Bowers and Wilkins and Savant were two of the only companies that bought in."
---
Here is a look at Electronic Concepts' showroom systems:
System 1: Bowers & Wilkins and McIntosh
System 2: Magico and Dan D'Agostino
Magico M2 Loudspeakers
Meridian Ultra DAC
Dan D'Agostino Momentum HD Pre Amplifier
Dan D'Agostino Momentum S250 Amplifier
Audioquest Niagara
Audioquest interconnects
HRS SXR Isolation Systems
Mikodam Acoustic Panels
System 3: Magico A5 and Dan D'Agostino
Magico A5 Loudspeakers
Dan D'Agostino Progression Integrated Amp w/DAC module
Audioquest Niagara
Audioquest interconnects
HRS SXR Isolation Systems
Mikodam Acoustic Panels