CE Pro Podcast #39: How to Enable Change & Embrace Service Business
Will 2021 be the year your company turns the tide on selling service? OneVision Resources' Joey Kolchinsky & Jason Griffing outline the path to more profits.
Listen to this podcast using the embedded player below.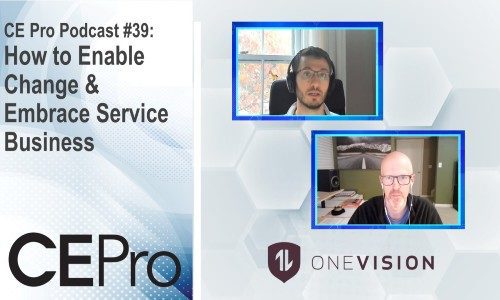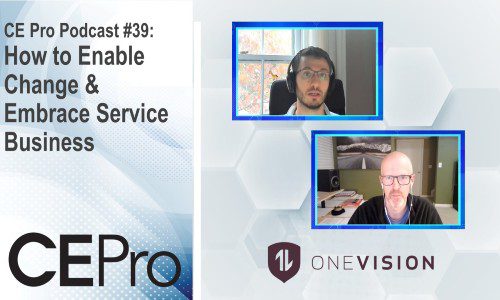 We know the new year couldn't come fast enough for those who were ready to turn the page on 2020, but as with the start of every new year it's the perfect time to take inventory of your business. What is working well, what is not and what can be changed?
The prospect of making changes is, of course, a daunting matter that's not easy to accomplish even when you have all of the ideas ready and waiting. But in terms of making changes, it's an area in which OneVision Resources has specialized in assisting custom integrators for some time now, so CE Pro wanted to have company leadership join our CE Pro Podcast to discuss ways it can be tackled.
Part of it has spawned from OneVision's expertise in embracing and creating a service-based business model – again, something that has been a daunting matter for many integrators. So OneVision Resources addresses the mindset shift and approach to accomplishing that as part of their work partnering with integrators nationwide.
In fact, "Creating Lasting Change" was the topic of a CEDIA Expo Virtual session OneVision Resources presented last fall, and if you missed that, we cover a lot of related ground in this masterclass of a CE Pro Podcast with company founder Joey Kolchinsky and director of product Jason Griffing.
'Every Integrator Is Sitting on a Gold Mine'
Kolchinsky's experience in this realm began 20 years ago, starting with a service-based MSP for the homeowner supporting computers, mobile devices and eventually smart home systems. He says he developed an integration arm to the business to do the service, "but the service is what I was really after," he notes. So for a decade he optimized and experimented with a service-based revenue model that was successful (a minimum fee of $1,000/month, with some well-heeled Boston-area clients paying upwards of $10K per month!), likening his service to that of the Apple "Geniuses" at their store.
"That really led me to develop a strong conviction for what I believe the future of this industry could be, and I thought integrators had amazing potential," Kolchinsky says. "I actually think every integrator is sitting on a gold mine and many may not be aware of it."
In 2016, he shut down the integration business, started partnering with integrators to help reach their full potential and build up their business, and rethink their business "from the ground up" as he developed the OneVision team.
"The way that we do that," he explains in the Podcast, "is by staffing up with a team of many experts across many verticals ranging from service operations to marketing to sales to accounting to HR, recruiting, executive coaching, EOS implementation – to really help our partners rethink their businesses from the ground up and ultimately see through on this vision of becoming a 'technology manager' and modernizing their business to do it."
Partners range from luxury integrators doing six-figure jobs two-three times a year to retailers focused on banging out high-volume jobs. Some partners dabble in commercial and resimercial, and Kolchinsky adds that a few partners are commercially focused but starting to do more in the residential environment.
"The neat thing about service is it's agnostic to all of that," he says. "If you're going to have a service-based model, you need to support the types of projects that are going to be done, all of it … by your service department."
Service Must Be a Fundamentally Different Mindset
Griffing, also a former integrator who has been with OneVision about four years, worked for a number of companies and in different states for more than a dozen years and says he noticed several commonalities.
"The good integrators out there, they all take service seriously; it's not that it's brushed off, it's part of what makes the successful companies successful," he says. "But at its core, it tends to be looked at in my experience – both as an integrator and now at OneVision talking with integrators all over the country – it tends to be looked at almost as a necessary evil."
Service has to be seen with a beginner's mindset and be fundamentally different, Griffing says, and something that generates meaningful revenues and profits. It requires a reimagining of what can be done to service current and potentially hundreds or thousands of legacy projects but also resetting of expectations for clients, as well as creating a structure to fuel your service department and possible tiers or levels of support.
"Think about it like this; you go out and sell products all day long and you're great at it – you can sell the good/better/best packages in your sleep at this point. Well, do you have the same approach to service?" Griffing says. "Do you have a productized version of your service that you can really lean on and say, 'We know, Mr. Client, that every company in our market is going to tell you that they provide great service. We do it fundamentally differently. We have different options for different levels of needs and wants, here's what that all looks like.'"
So how can integrators start making changes? It comes from the company leaders being able to take appropriate steps that involve thinking big, but starting small to make steps more digestible.
"I'm a huge believer both personally and here at the company in the idea of momentum, and your biggest value add as a leader in the company, any time you're trying to get any change implemented, is to create momentum. And you cannot create momentum if you're starting out with these huge chunks of work that people in your company who are already fully tasked are just going to choke on it," Griffing says. "They're just busy and like all of us as human beings they struggle with change."
Hear and learn much more from Kolchinsky and Griffing about approaches to change and important areas to address by watching or listening to the CE Pro Podcast above. Subscribe to our YouTube channel to access previous Podcast episodes.