CE Pro Podcast #37: How to Be a Leader in Cybersecurity for Your Clients
Invisus, Security Funding Associates, and AvantGuard central station outline new blanket coverage Cybersecurity Defense Program.
Listen to this podcast using the embedded player below, or use the link to download (right-click to save) or to listen using your system's media player. On mobile devices simply click the Download this Audio File link below and your devices player will automatically play the file.
Listen to this podcast right now.
Format: mp3 • Length: 38:19 • Filesize: 73570611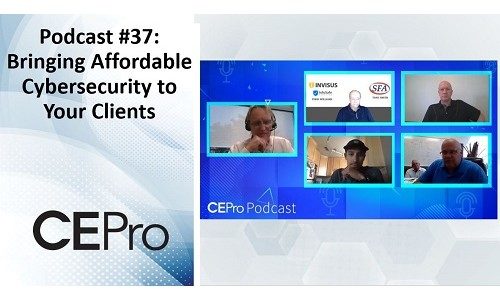 Jami Harrison, CEO of cybersecurity firm Invisus, is pretty blunt when he describes the market for cybersecurity for integrators.
"The home the residential space is a hotspot for cybercrime. The way that the home environment is moving, with both the at-home learning and work-from-home trends, [cybersecurity] is going to be explosive for the next decade, or next two decades," he says. "I don't believe after COVID-19 that we are going to see this retract much."
Not only those trends, but the IoT smart home automation market, along with smart security, will continue to grow, according the Harrison. He believes the market needs a comprehensive solution that covers everything from identity theft to financial controls to network security, including for tablets, phones and Wi-Fi connection.
That's exactly what Invisus is bringing to the custom integration channel via its new partnership with AvantGuard Monitoring Centers and Security Funding Associates.
"This has never been done before in the industry… this is a first and we believe it's the future and we're excited to introduce this next generation type of protection cyber protection," he notes.
Cybersecurity Offering Lacking in Channel
The lack of cybersecurity being offered by integrators is actually somewhat embarrassing. Nearly three out of every four dealers (73%) offer no cybersecurity software to their client base, according to a study by CE Pro. Meanwhile, a recent study by Malwarebytes shows that 20% of all work-from-home environments have suffered a cyber hack since the pandemic began in earnest in March 2020. At some point, the huge delta between those two numbers will need to shrink, or the smart home industry is going to literally slowly starve itself out of business as consumers shy away. The cybersecurity threat is real, yet taking action is difficult.
For 20 years, American Fork, Utah-based Invisus has focused on bringing enterprise-class cybersecurity solutions, cyber risk management and identity theft protection to the consumer residential space and the small-to-medium-sized commercial business sector.
"We find simple and affordable ways to bring the big boys toys," says Harrison. "We've decided that our mission is to simplify cybersecurity and make it affordable when it comes to defending the home and defending the business."
To do that, Invisus is specifically targeting the custom installation and security integration channel as a conduit for its cybersecurity offering via an agreement with AvantGuard Monitoring Centers, a large wholesale central station firm with facilities in Ogden, Utah, and Rexburg, Idaho.
Integral to setting up the agreement was Tony Smith, principal of Security Funding Associates, a 20-year provider of brokerage services for the alarm industry based in Southern California.
"This exciting new realm of cybersecurity is something that we want dealers to promote and market to their client base. I'm really pleased that AvantGuard is the first alarm central station to take advantage of these new services, which are going to grow as the industry grows and realizes what lies ahead in the way of cybersecurity challenges. Invisus will be a marvelous addition to any company's service offerings," says Smith.
"We see the need for a comprehensive approach to cyber defense in the home in terms of risk for identity theft, fraud, computer networks, home security and smart home automation," says Harrison. "It's the whole Internet of Things (IoT). Our solution includes services and protections around all the devices in the home, protection from identity theft, and full on-demand unlimited technical support at the beck and call of the homeowner for anything tech-related."
The program also includes an online privacy element by monitoring social media presence and online activities, from purchasing to banking to school to work from home. Harrison says all of these needs are exacerbated by COVID-19 and are set for "explosive growth."
"This has never been done before in the industry. It is a first and we believe it's the future. We're excited to introduce this next generation type of protection cyber protection," he adds.
In order to establish the program, Invisus took its existing identity protection package, cybersecurity programs, social media monitoring programs and technical support team in its call centers and combined it all into one simplified dashboard and interface.
What's the Cost?
The idea is for integrators to include base level cybersecurity coverage, called Essentials, with every account as a blanket coverage model. Once the homeowner begins receiving reports from the system that alerts them to the number and type of cyber attacks that the system is preventing, it shows the value and opens the door for upgraded premium packages, dubbed Elite and Elite Plus. The Essentials plan is designed to cover a household of four with two adults and two children under the age of 18 with a normal amount of internet usage.
Integrators have pricing flexibility in what they want to charge the end users, with solid margins (similar to alarm monitoring) built into the wholesale fees they will pay to AvantGuard for the Invisus service. In its monitoring centers, AvantGuard will have a hotlink that connects customers directly to the Invisus tech support team.
In terms of potential liabililty for the dealer if there is a hack, Smith says integrators will be protected via their contract language in the same way they are currently with a limitation of liability clause in an alarm contract.
Why CE Pros Don't Sell Cybersecurity
Harrison is not surprised by that high percentage of dealers not offering cybersecurity.
"Nobody's trained them. They don't have the credentials. They don't support any cybersecurity software, so they're not selling it. It takes a little bit of a leap for an integrator without a company like us backing them up and educating them to jump into this space on a whim just because a customer asked. It's a different skillset," he explains.
Harrison says 5G is going to explode AI devices in the home in the next five to 10 years.
"You think we have cyber problems now… just wait," he warns. "Homeowners are going to need a company like us that is monitoring, innovating and developing simple and affordable turnkey solutions to the market. Everything out there now is complex and expensive; people don't get it… even integrators don't get it," he comments.