CE Pro Podcast #28: Sleek Solutions to Ring Up More Security Customers
Todd Towey, national account manager for Ring installed solutions, highlights CEDIA Expo Virtual takeaways, X Line, new Access Controller, indoor drone and more.
Listen to this podcast using the embedded player below.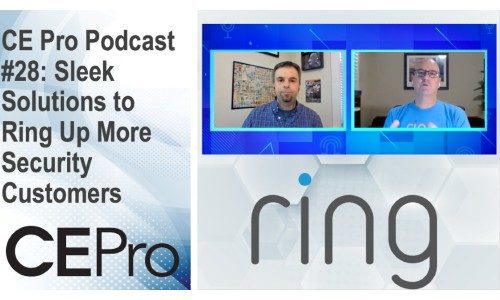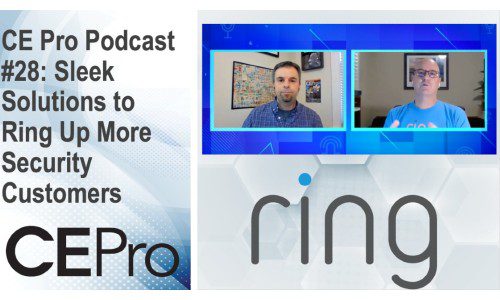 Ring, which Amazon paid billions to purchase a few years back, continues to pay dividends for customers as one of the most popular home security companies with its video doorbell, surveillance and other products.
The company has made inroads with the custom integration channel particularly in recent times. It participated in this year's CEDIA Expo Virtual event, underscoring Ring's commitment to custom installers, and highlighted its exclusive professional install X Line of products among the busy booth happenings.
Following CEDIA Expo Virtual (you can still access Ring's booth at ring1.cediaexpovirtual.com), Ring announced some intriguing consumer products during an Amazon product launch event. Leading the way was the AlwaysHome Cam, which is an indoor drone, plus some car-related security items like an alarm and camera.
Todd Towey, national account manager for Ring custom installed solutions, joined the CE Pro Podcast to talk about the new products, the CEDIA Expo Virtual interactions, why integrators should be excited by both the exclusive install line as well as the latest consumer announcements, and more.
"We had a little trepidation going in, not really knowing too much or having done too much virtual expos in the past, but we're excited about what transpired," Towey says of Ring's appearance at CEDIA Expo Virtual in September.
"The installed solutions team really put their best foot forward and had some quality content to make sure that integrators and dealers came away with some real value if they went into our booth. And we were also really surprised by the quality of integrators – we certainly had in the past at regular CEDIA people who came by and they used Ring. This year was different, there were a lot more integration questions and understanding Ring as a whole home security option and not just, 'Oh yeah, I've installed a doorbell' – it was a lot more in depth."
Towey notes the company also featured partnerships with other leading brands that speak to the expanded commitment to custom integration. Ring has teamed up with high-end access control brand Holovision to develop new offerings, and also highlighted latest integrations with Lutron, Savant and Schlage among others.
"There were a lot of questions that I thought were real quality questions showing that the CEDIA dealer is more educated and is more advanced," Towey says. "They're looking for ways to improve their brand in their community and I think using educational class at CEDIA to do just that. I think that reflected in the visits that we had."
Pro X Line Exclusive to Integrators
To address those dealers and further help them differentiate than the competition, Ring's X Line caters to them and the ability to deploy a brand that's popular in the mainstream, which can enhance their businesses.
"The X Line is an offering that's only available in the pro channel, so it helps that dealer give a concierge-level of service that their hoping to build their client base with," Towey says.
With the X Line dealers can extend the warranty from one to three years to back up their installation, Towey adds, and include a lifetime subscription to the product.
"The installer can install these products for their customers, their neighbors and they don't have to ever worry about renewed subscription – it comes with the product, so sort of a one-and-done and have the great experience to go with it," Towey says.
Additionally, the Ring booth highlighted the new Access Controller Pro, so Ring installers could add gate and entry openings into the Ring equation.
New Drone, Car Products Add to Ring Allure
Of course, Towey was very excited about the new consumer products as well. The AlwaysHome Cam will fly into availability in 2021, with programmable ways to use to patrol home while owners are away with access via app like other Ring products.
"If I'm traveling and I don't know, did I leave that oven on? It can fly over and check that," Towey says. "Incredibly compelling that a product can do that."
He notes the product won't be recording visually or audibly while it's docked, so no worries about privacy.
For dealers, the buzz-worthy drone and connected car security products forthcoming "can expand your ability to create revenue with some great solutions. That's why we need Ring experts and Ring professionals – which is why at Expo we got great attendance, great questions because people came by and got to see it's not just about a doorbell, it's not just about a security camera, it's alarms and smart lighting.
"Now we have the ability to talk about stuff for the car as well," Towey adds, noting that beyond the home it's one of the top purchases a family makes, and now it's covered by Ring security too.
Check out more CE Pro Podcast episodes by subscribing to our YouTube channel.