CE Pro Podcast #23: Samsung Spotlights Dazzling Display Options for Dealers
Executives Jim Mayo and Mark Quiroz detail how new products like The Terrace outdoor TV bolster Samsung's Wall, Frame and other versatile residential & commercial solutions.
Listen to this podcast using the embedded player below.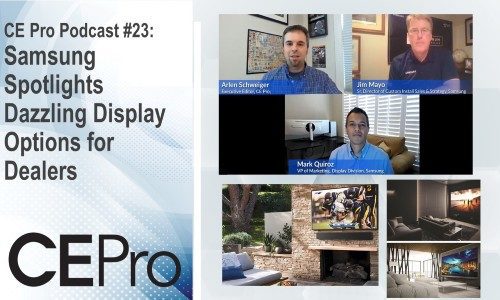 With the CEDIA Expo Virtual Experience here, Samsung is busy as ever creating an exciting booth destination for show attendees, and demonstrating its continued commitment to the CEDIA channel.
The company has continued to roll out dealer-friendly products for both residential and commercial integrators in 2020, and its 5-Star Solutions program for dealers has also been growing as a result.
Not only that, but Samsung even created its inaugural Samsung Best Install Contest in the lead-up to CEDIA Expo Virtual, partnering with CE Pro for integrators to enter great projects at no cost – with a chance to win a 65-inch QLED 8K TV (there's even still time to sneak in those entries until 9 a.m. on Monday, Sept. 14 at https://samsungawards.secure-platform.com/a).
As such, Samsung executives Jim Mayo, senior director of custom install sales and strategy; and Mark Quiroz, VP of marketing for the display division, had much to talk about when they hopped on this week's edition of the CE Pro Podcast.
First off, Mayo notes that despite the CEDIA Expo's pivot to virtual this year, Samsung has plenty in store for integrators who visit the booth (at samsung.cediaexpovirtual.com).
"We have a schedule that will be available for pretty much all of [Sept.] 16th and 17th, a lot of live, never-before-seen content, we're going to talk about our 5-Star Solutions, we've got part of the keynote address. We did sponsor a couple of the Tech Talks that Mark and his team are doing around resimercial plus we're sponsoring The Great Outdoors one," Mayo enthuses.
"And then we've got a lot of other things – our QLED lineup, our Lifestyle lineup … and then technical things that our installers are always asking us when they get there … a couple of other cool surprises."
As far as the Best Install Contest goes, the company encourages dealers to submit projects for Best Indoor Video Install, Best Outdoor Video Install and Best dvLED Wall Residential Install. You'll get a $10 Amazon gift card just for entering.
Lifestyle Portfolio Is Huge Plus to Integrators
Meanwhile, getting back to the Lifestyle portfolio, Samsung has been endearing itself to dealers for several years with products The Serif, The Frame, The Sero and, now as of this year, The Terrace outdoor TV. Plus there's The Wall microLED massive display that's been deployed for both residential and commercial markets.
With The Frame, Samsung keeps expanding the offering with more screen sizes that now hit every sweet spot for integrators. "The business has just taken off," Mayo says. "We came up with the idea, we have the art store, so it's really very different than just putting a frame on a television."
Mayo says because of that direct feedback from the CEDIA channel Samsung added a 32-inch and 75-inch versions this year. It also aids conversations between dealers and clients, enabling them to put more TVs in more areas in a home because of the form factor and art aspect to it.
"I love that the CI community keeps pushing us – ah, it's great … but it would be great if you did this, or if you added this," Mayo says.
One spot dealers can take customers to learn more about it is at Samsung's Design Center in Dallas, which also caters to design partners, a group that Samsung ingratiated with the release of The Frame and continue to lure with solutions like The Wall, Mayo and Quiroz note.
"We call it 'Lifestyle' because we're trying to get in with the design community – the Design Center in Dallas, we built that right in the Dallas Market Center which, they claim over 2,000 designers use that facility every month when it's in full bloom," Mayo says, noting that naturally traffic slowed with COVID-19, but now demos can still be done as safety protocols have been put in place.
The Wall Makes Residential & Commercial Impact
Quiroz adds that on the commercial side, The Wall is really hitting its stride with dealers in implementation.
"The ultimate Frame is The Wall – it has the same use case, it doesn't sit there as a gigantic black wall, it has purpose, it has versatility – for those high-end clients, The Wall can do the same thing," he says.
"It's one we've put a lot of focus in, it's an industry-award winning product … at the end of the day that has been a big success with very nice applications where we've had some great deployments. I think we'll see more and more opportunities for commercial and resimercial applications moving forward."
Beyond The Wall, The Terrace has also been a welcome addition on the resi and commercial sides. Naturally, dealers were asking for an outdoor-rated solution for residential, where the outdoor AV sector has been trending very well, but Mayo and Quiroz add that it's sparked commercial/resimercial applications. The company launched the Pro TV Terrace edition, which has been helpful to commercial dealers and their customers during the coronavirus situation.
"When things were shifting outside, the Pro TV Terrace edition was something we brought to market, where you now have an outdoor digital signage capability," Quiroz says.
"Where you have use cases like a restaurant – you've got dining that's now restricted to only outside, you could put it in there and still show the great visuals of a game or whatever content you want the audience to consume. At the same time it's multipurpose in that you've got signage – whether it's advertising a happy hour special or would have you for during the week."
Hear much more from Mayo and Quiroz in the video and audio files above. Be sure to check out previous CE Pro Podcast episodes by subscribing to our YouTube channel.