CE Pro Podcast #14: 2020 First Half Review; Second Half Outlook
Power trio of Frank Sterns, Tom Doherty and Jeremy Burkhardt break down surprisingly first six months of 2020 and offer cautious outlook for rest of year.
Listen to this podcast using the embedded player below.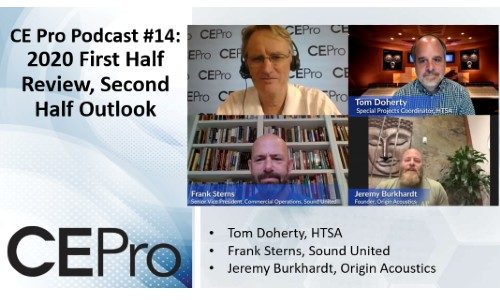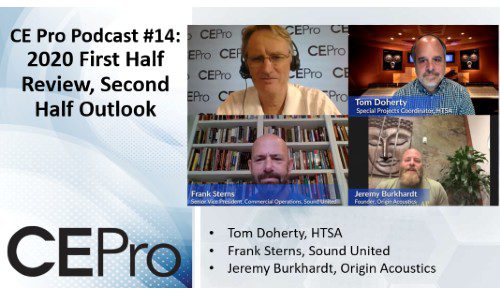 It turns out that the initial reaction to the coronavirus pandemic was a bit like Chicken Little believing the sky is falling. According to a power trio of respected industry veterans speaking to CE Pro, 2020 is trending to be only slightly down, with an expected bump coming in early summer, but a predicted dip in the fall.
Indeed, while the extent of the economic pullback certainly differed by region, overall the custom electronics industry is faring pretty well. The panel of Tom Doherty, Special Projects Coordinator, HTSA; Frank Sterns, Senior Vice President, Commercial Operations, Sound United; and Jeremy Burkhardt, Founder, Origin Acoustics.
Together this group has 92 years of combined industry experience. Needless to say, they have never experienced a situation like the industry has faced in the past 90+ days. In addition to gauging the current market, the panel offered some pointed business advice to integrators about positioning their companies to succeed.
---
---
Doherty says HTSA is regularly surveying its membership and the results have not been as gloomy as you might have predicted.
"In the East and the Northwest where things were initially shutdown, people were predicting to be down 50% to 70%. In other parts of the country like Florida and the South, they weren't too worried about it. As time has gone on, people have continued to improve their outlook.
"In fact, some people are now predicting they are going to be flat or up [in 2020]. But overall, it looks like business will be slightly down across the U.S. What has really come to roost is that as their clients have been home using their systems, they are realizing they need a better system. So the optimism is pretty strong overall from the HTSA group."
Sterns echoed that assessment, noting that Sound United sells across six different channels.
"What we have found is a very mixed bag by channel and by region," says Sterns. "Originally, everyone just really freaked out. Everyone thought this was going to be just awful… down 50% of 60%. We did a number of worse-case budget scenarios predicting 60% declines for a couple of months. That did not happen … in fact we are substantially above that."
Sterns says most custom installation dealers – with the notable exceptions of those in California and New York – have seen substantial business. He pointed to networks, video, audio and outdoor entertainment as the strongest categories.
"Overall, we have seen the custom installation channel down about 15% over the past 90 days, with some markets being up and some being off more [than 15%]," says Sterns. He says traditional brick-and-mortar retail has had a much deeper disruption. Sound United has seen its online sales double from normal to the point of being above holiday-season sales levels.
Sterns predicts positive growth in the industry compared to previous years due to pent-up demand as customers become more comfortable with integrators inside their homes. That surge, he believes, will be followed by a dip in the market in the fall. That drop will be due to layoffs that might occur in the fall after the government stimulus money program is over and integrators eliminate staff positions that they maintained with the PPP loans.
---
---
Burkhardt is amazed at the resilience of the industry during the pandemic.
"We are fortunate to have the majority of the top CE Pro dealers. They are really not slower. I have not seen a dip. We had the initial downturn, which was the first 60 days, but this month [May 2020] will be our biggest month ever. Maybe it is because our guys are essential," he notes.
He says that new construction in his local area of Las Vegas has not slowed at all.
"I think at some point we will see a pause that will occur from the sales activity that did not occur for a few months. I see 10% to 15% down from last year overall but I see a fast recovery," says Burkhardt.
In terms of advice, the panel says integrators need to focus on conserving cash and concentrate on the blocking and tackling of sales and installation.
The group also believes now is a great time for integrators to acquire top talent from weakened competitors.
"The pandemic will change people's behaviors, which creates a lot of opportunity," says Sterns, "but it won't last forever. A few years from now you will look back and either say, 'I took advantage of this opportunity, reinvented, and came out ahead', or you are going to say, 'I freaked out. I stuck my head in the sand, and I could have done something to be bigger and better when it was over.' Because it will be over… it won't be permanent."
You can download the entire podcast on Apple or Spotify, or watch the podcast on the CEProMag YouTube channel.