Yamaha R-N803 Hi-Fi Stereo Receiver Has Millennial Appeal
The Yamaha R-N803 Hi-Fi Stereo Receiver is a 2.1 solution that incorporates the company's MusicCast multiroom audio technology.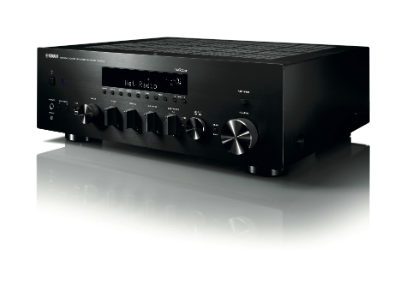 The perfect product to appeal to the tastes of Millennials, the Yamaha R-N803 Hi-Fi Stereo Receiver enables users to combine their legacy and streaming sources through a single component.
Yamaha designed the product as a 2.1 audio solution that can playback vinyl LPs, high-resolution audio files, CDs and more. Integrators can also build around the R-N803, if the elect to make it the central component in a wireless whole-house audio system operating on Yamaha's MusicCast platform.
"This is a receiver for music heads looking to bridge from the legacy physical media of vinyl and CDs, to the more modern platforms of downloaded music files and music streaming services," states Robert Goedken, general manager, A/V division, Yamaha Corporation of America.
"Yamaha then went one step further with MusicCast. With the R-N803 Hi-Fi Stereo Receiver you can now deliver the emotion of classical, hip hop and everything in between in one room or throughout the whole home wirelessly. By incorporating a wide range of proprietary and emerging audio technologies together, the R-N803 promises any music lover the ultimate musical experience that can be shared throughout the home."
Another proprietary feature built into the Yamaha R-N803 is the company's YPAO (Yamaha Parametric room Acoustic Optimizer) room equalization software.
Normally YPAO is an option built into the company's home theater products, but Yamaha says integrators can deploy the equalization software to adjust "speaker response to produce the best possible sound for the specific room in which the R-N803 will be enjoyed."
Yamaha R-N803 Loaded with Audio Playback Options
Some of the digital technologies the 2.1 stereo receiver has compatibility with include networked PCs, network-attached storage (NAS) devices with DLNA capabilities, Apple iOS devices equipped with AirPlay, and smart products that incorporate Bluetooth.
The R-N803 streams Spotify, Pandora, Deezer, Napster, SiriusXM, Internet radio, and TIDAL.
The product is also compatible with 24-bit/192kHz high-resolution audio and file formats such as FLAC, WAV, AIFF, and 2.8/5.6MHz DSD files.
Related: Yamaha R-N303 Stereo Receiver Brings Modern Technologies to Hi-Fi Category
Also built into the R-N803 is Yamaha's YPAO-R.S.C. (YPAO-Reflected Sound Control), which the company explains, "makes music sound clear and crisp by adjusting and compensating for unwanted sound that is reflected off nearby surfaces."
Moreover, the R-N803 incorporates a 24-bit/192kHz ESS Sabre DAC, and a choice of inputs including a phono input, two optical, and two digital coaxial inputs.
The R-N803 Hi-Fi Stereo Receiver is available at an MSRP of $800.