Vivint Smart Home (NYSE: VVNT) hit a triple whammy with its Q3 results with solid growth in revenues, subscribers and profit. The company's third quarter that ended September 30 had a revenue increase by $52.7 million to $439.4 million, representing an increase of 13.6% (18.1% excluding Canada). Meanwhile, the company trimmed its losses to $41 million for the quarter, an improvement of $51.7 million from the prior year. Adjusted EBITDA increased by $36.9 million to $195.5 million. Finally, Vivint grew its subscriber based by 113,418 for the quarter. Total subscribers grew by 4.2% to 1,921,774 (growth was 9.8% ex Canada)
Vivint's average smart home customer installs approximately 15 devices in their home, interacts with their smart home system more than 12 times per day, and retains service for approximately 9 years.
The company, which is the No. 2 company in the CE Pro 100, also boosted its average revenue per customer to an all-time high in average monthly recurring revenue per user at $66.39. Its attrition rate was 11%.
Wall St. reacted positively to the news with Vivint's stock leaping 20% to $8.44 per share by the end of the day.
"Our strong results for the third quarter showed substantial year-over-year improvements in total subscribers, revenue, and adjusted EBITDA," said David Bywater, CEO of Vivint Smart Home. "The unit economics underpinning our record performance continued to shine as well, with average monthly recurring revenue per user increasing to an all-time high and net service cost per subscriber dropping to an all-time low. Moreover, we continue to believe our 11.0% attrition rate for the period is the lowest among national smart home companies by a significant margin. Based on our positive momentum through the first three quarters, we are raising our guidance for total subscribers, revenue, and adjusted EBITDA."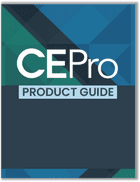 CE Pro's 2022 Product Guide showcases some of the latest and innovative solutions from manufacturers serving the custom electronics industry in a cross-section of categories.
Download the guide now!
The company touted the launch of its new Vivint Spotlight Pro lighting solution that can detect people on the monitored property, shine a spotlight on them, and follow them to let them know they are visible. Other product innovations include its Doorbell Camera Pro, Outdoor Camera Pro and Smart Hub display. Its solar program continues to shine with the company installing nearly 70 megawatts of solar through strategic partners through the third quarter, on pace to install more than 100 megawatts for the full year.
For the full year, the company raised its guidance on total subscribers to between 1.92 and 1.93 million (between 1.86 and 1.92 million previously), and raised its total revenue targets to between $1.65 and $1.67 billion (between $1.60 and $1.63 billion previously).