Today, Sony officially announced the name of its next-generation console: The PlayStation 5. Prior to today, Sony had not confirmed the name or release date of its newest flagship console despite rumors swirling around the video game industry for well over a year.
The console does not have a concrete release date yet, but Sony says it will be out in time for the 2020 holiday season, likely as an attempt to match industry competitor Microsoft's launch of its (yet to be officially named) "Project Scarlett" console.
Along with the release date news, Sony also revealed a few new features tied to its latest controller. First, Sony is completely ditching rumble technology. Gone are the days of rumble packs that provide unrealistic feedback when players shoot a gun in a first-person shooter or hit the breaks hard in a racing game. Instead, Sony is introducing haptic feedback to its controllers to achieve a broader range of feedback while gaming.
"One of our goals with the next generation is to deepen the feeling of immersion when you play games, and we had the opportunity with our new controller to reimagine how the sense of touch can add to that immersion," says Jim Ryan, president and CEO of Sony Entertainment International.
The other major controller advancement is something Sony is calling "adaptive triggers," which will replace the previous DualShock 4 controller's L2/R2 buttons. These new triggers allow game developers to include specific resistances for the triggers within a game's options menu, which Sony says will provide more realistic feedback and tension to classic gaming moments like being able to "feel" the tension increase as you draw back a bow.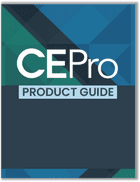 CE Pro's 2022 Product Guide showcases some of the latest and innovative solutions from manufacturers serving the custom electronics industry in a cross-section of categories.
Download the guide now!
While these new improvements to its controller are a sign that Sony is listening to its fanbase, no confirmation on the PlayStation 5's price point has been given, which is often a make-or-break factor for both new and returning Sony fans. Still, integrators should keep an eye on the PlayStation 5 as a possible easy-include for clients who like gaming or who want a multi-functional entertainment platform.