Sonance, a leading loudspeaker manufacturer in the smart-home installation channel, is making at least three new products optimized for the new Sonos Amp – an in-wall, in-ceiling, and outdoor speaker, available to the mass market in early 2019.
The co-branded products will be sold and marketed online by Sonos, but the company says it is not necessarily targeting do-it-yourselfers.
"Our goal isn't to get these into a bunch of consumer hands," said Sonos director of business development Ryan Taylor, during a press preview last month. "We're not trying to drive direct sales of in-ceiling speakers."
The two companies worked jointly on the products, with Sonos bringing the "acoustic engineering and software," according to Taylor, and Sonance providing the "industry expertise."
Sonos, with its big honkin' speakers, has never been one to blend electronics into a home's design.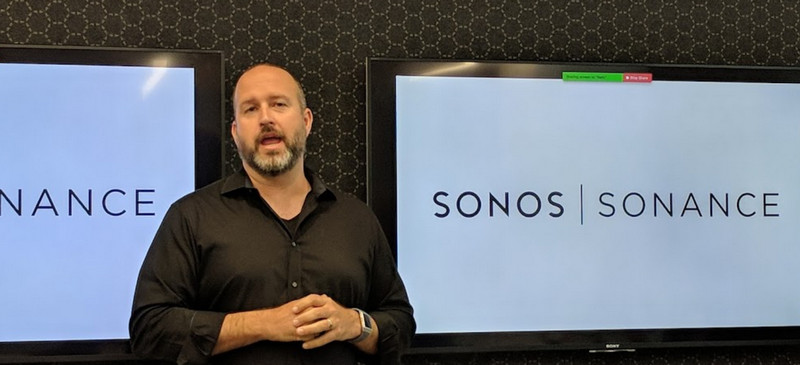 On the other hand, Sonance has long been famous for making products that can be "hidden into the architecture," said Sonance CTO Rob Roland at the press event. "That's our core business."
He concedes, on the other hand, that Sonos "has the best UI out there."
This isn't Sonance's first collaboration with Sonos. In 2016, when Sonos announced its first "sanctioned" partners, Sonance unveiled the Wi-Fi-enabled xPress Audio keypad that could be removed from its magnetic wall mount and used as a handheld remote. (At the time, Lutron also announced a Sonos keypad, the Pico for Audio, which requires a Lutron hub to control Sonos devices.)
Why Sonos Cares about In-Wall Speakers
Taylor says the imperative to create Sonos-friendly in-wall/in-ceiling speakers became clear after a visit to a friend's home. ("If you work at Sonos, people only invite you over to help them with Sonos.") Connected to a Sonos amp, the in-ceiling speakers didn't sound as clean as Taylor would like. As it happened, the friend had a big attic above the speaker locations, and the cavity affected the audio performance.
"We really only control half the experience. You can't control for the home environment, so customers may not get the best experience."
— Ryan Taylor, Sonos, on Sonance partnership
The reality was: "We really only control half the experience," Taylor says. "You can't control for the home environment, so customers may not get the best experience."
With the new Amp in particular, Sonos wanted more control over the end-to-end audio experience. Working with Sonance, the company created passive speakers that are "more connected through software integration."
Sonos didn't reveal the secret sauce of that connectivity, but Taylor did say the amp could automatically identify the speakers, and optimize the audio system for the listening environment via Trueplay.
READ: Sonos Kills it with New Sonos Amp, Seriously Open API, Sonance In-Walls, Channel Love
Trueplay was introduced in 2015 with the Play:5 speakers. I call it Room EQ for Dummies. You open up the Trueplay app on your phone or tablet, walk around the room waving it up and down like an exorcist ridding the space of audio demons, and the speakers (in the case of Play:5) auto-adjust to perfection.
Somehow, that same process will have a similar effect on a room endowed with the new in-walls.
And just like that, Taylor turns Trueplay into a transitive verb: "You can Trueplay a room."
Sadly for Android users, you can only Trueplay it with iOS, Taylor says (not the "sadly" part). At this, a reporter asked rhetorically, "Have you thought about picking one Android model" to work with the software?
Sonos has maintained that there are too many flavors of Android, versus one for iOS, to control the app experience effectively.
Sonos Dealer Programs
The Sonance products, and the new Sonance Amp, for that matter, weren't developed in a vacuum. They were launched in conjunction with a major initiative to serve the custom-installation channel – or "Installed Solutions" (IS) in Sonos parlance.
In one fell swoop, Sonance announced the amp, the Sonance speakers, open APIs for third-party control, and the new dealer program.
The "dealer program" might be long overdue, and still lagging behind true custom-centric vendors, but it's new for Sonos and therefore a beautiful thing for thousands of frustrated dealers.
"We're doing something we've never done before," said product manager Benji Rappoport, in announcing "early access" to new Sonos products. Dealers can get their hands on the products before the mass market does.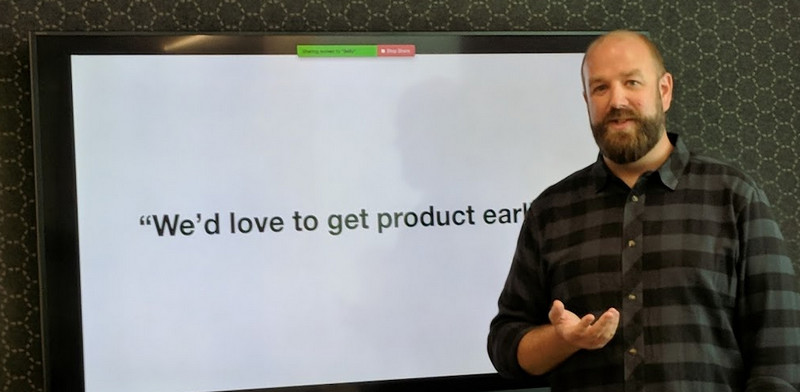 In the case of the Sonos Amp, IS dealers can get the product by Dec. 1, a couple months earlier than the masses – except for the masses who shop on Sonos.com, where the product also will be released for "early access."
At the end of the day, Rappoport notes, what's important is "clear communication" with dealers, and the company plans to deliver just that.
In January 2017, I wrote about Sonos's lack of dealer engagement in a blog titled, "Sonos Doesn't Hate Home-Automation Channel; They Just Don't Communicate Well. To that, CEO Patrick Spence responded via Twitter, "fair point on the need for better engagement & communication. We'll work on this."
Indeed, Sonos toured the country for five months before the amp's release, giving 700ish dealers a heads-up for any projects in the pipeline. (How the heck did they all keep the secret?)
"We understand that the design cycle is not a minute or an hour, but can sometimes be weeks," Rappoport says. "Jobs can be months out."
Andrew Vloyanetes, head of U.S. sales for Installed Solutions, had to ice his hands for all the high-fives he got at the dealer events; his ribs ached from the hugging, and he still has welts from the back-slapping.
Here are a few other key elements of the IS program, according to Vloyanetes:
Sonos now has a dedicated person to manage marketing for dealers: Eileen Young, product marketing manager.
Some perks launched last year will continue – freight programs and co-op funding, for example. Sonos will provided "bigger co-op investments."
Sonos will "empower account managers" to support their dealers, each of which has special desires, such as volume rebates, sales contests or some other incentive.
No longer will dealers be left out of national promotions. "If there's a promo going on at retail, installers can take advantage of it," says Vloyanetes, noting that specialty dealers can benefit from Sonos's mass-market advertising.
The most loyal Sonos dealers will enjoy bigger benefits through a new dealer portal launching in early 2019. Proposals, order management (including for third-party products) and other services will be offered through the portal. "Dealers are excited. We haven't changed the platform for 10 years."
The new portal will have access-level controls for employees, allowing owners to determine who can view what.
There will be dedicated technical support for installers that "gets them to the head of the queue."
Sonos will better promote integrators on its Website, showing consumers "what a professional installer can do." Dealers are "super stoked about that."
Sonos plans more advanced analytics, for example, if a customer orders a Playbar soundbar and a mount, the system might recommend professional installation, and reveal qualified pros who would want that business.
Sonos will continue to gather on-demand feedback from integrators via Azione, the buying group it joined earlier this year. Through Azione's slack channel, Sonos gets answers "on-the-fly" like when Rappoport asks something like, "How common is a 35-foot HDMI cable?" In addition, Sonos has formed its first dealer advisory board comprising about 10 dealers.
Yes, Sonos will Still 'Compete' with Integrators
While the new amp and in-wall speakers were designed with the installation channel in mind, they will nevertheless be sold online to DIYers. And they will still be installed free of charge by select partners like Enjoy, presumably subsidized by Sonos.
It's not a zero-sum game, according to CEO Spence: "We know that if we expand into one channel, it doesn't mean that the other channel loses."
Sonos is all about eliminating friction for the customer, and it would be highly inconvenient if consumers had to work to buy Sonos products.
"People will look for them" at Sonos.com, Taylor says of the products. "We don't want to stop them from buying them."
The Sonos crew recognizes that its customers are repeat buyers — 38% of new products are registered to existing users — and it will gladly sell direct to clients who bought their first products from integrators. Yes, they will continue to collect user email addresses and target existing clients with in-app ads.

We reported earlier that one of Sonos's top five goals for the year is to "build direct relationships with current and prospective customers through sonos.com and the Sonos app to drive direct sales."
I spoke with Sonos execs about the company's habit of selling direct to clients brought to the party by an integrator. When prompted, they did not dismiss the idea of somehow compensating dealers for future sales to their clients. The new dealer portal and back-end presumably could help facilitate such transactions.
In any case, it's not like Sonance doesn't sell direct to consumer. Even its higher end "Visual Performance" and Invisible series are sold online.
In fact, Best Buy currently has a deal for a bundle that includes two Sonance outdoor speakers, a Sonos Connect:Amp and Xpress Audio keypad for $800.
Sonos assures dealers that any deal available to its own sonos.com customers will be available through integrators as well, so smaller integrators can still compete with the big boys and take advantage of national ad campaigns.
Sonos Q&A at CEDIA Expo
Sonos CEO Patrick Spence is doing a live Q&A moderated by CEDIA Board Member and president and owner of Southtown Audio Video, Heather L. Sidorowicz on Thursday, September 6 at 5:00 p.m.
Spence will speak to Sonos' vision for the future of residential sound and what it means for installed solutions, including a series of questions submitted by members of the CEDIA community. A cocktail reception will follow.
The Q&A will begin promptly at 5:20 p.m., followed by a cocktail reception at 6 :00.
Where: The Sonos Hideout: 704 J St., just a few blocks from the convention center
First come, first serve (capacity: 150)