SnapAV Elevates Its Service Game in 2020
Thanks in part to its unwavering commitment to its dealers, SnapAV has won a whopping 15 awards in this year's CE Pro Quest for Quality Awards including wins in categories like Best Customer Service and Best COVID-19 Response.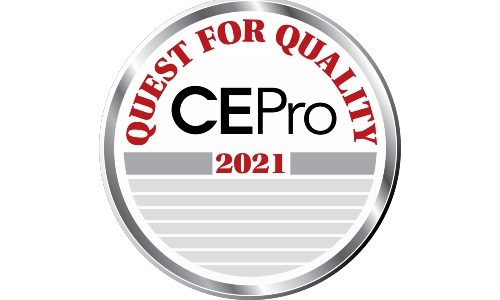 As 2020 went from a typical year for integrators to the world screeching to a halt due to the coronavirus COVID-19, SnapAV made sure to adjust its business accordingly to support integrators across the United States. For this effort, SnapAV won a mixture of both manufacturer and distributor awards in the 2021 CE Pro Quest for Quality Awards. In total, SnapAV took home 15 awards in categories like Best Customer Service, Best Dealer Website, and more.
Here's a quick look at all of the awards SnapAV won in the 2021 CE Pro Quest for Quality Awards for manufacturers and distributors:
2021 Quest for Quality Awards Won by SnapAV (Manufacturer)
Best COVID-19 Response, PLATINUM:
A year ago, no one had a playbook for how to deal with COVID, but when we realized it was going to have a real impact on our partners and the industry, we immediately put together a dedicated COVID Resource area on our website. This provided a single, easily accessible location where partners could get resources to help run their business.
We constantly updated it with the latest information, including overviews of government programs and loans, inventory and shipping updates, and a full sales toolkit to help our partners sell virtually. We also created regular podcasts that included learnings from the field, so we could help our partners continue to learn, adapt and keep people safe. —Kordon Vaughn, VP, Marketing, Campaigns and Creative, Control4
Best Customer Service, PLATINUM:
At SnapAV, our partners are the heart of our company. We were founded upon being easy to do business with and ensuring our partners are successful. We make sure to do what it takes to take care of our partners' needs. —Laina Jackson, Senior Partner Support Manager, SnapAV
Best Technical Support, GOLD:
Our world-class support experience stems from the mindset that we are partners with our dealers in every way. Our partners' success is SnapAV's success. When they call SnapAV, they receive support backed by industry experience. We hire the best talent, including CI and network professionals who have decades of combined in-field experience in the roles of installation technicians, service technicians, network administrators, project managers, and business owners. Our team members consider themselves part of the project, offering uniquely exceptional support experiences for our partners and amazing experiences for our customers, with a commitment to 100% resolution, even if that requires putting one of our team members on the project site. —Scott Jeffery, Sr. Director Worldwide Tech Support, SnapAV
Best Lead Generation, SILVER:
We support growth efforts by generating end-customer leads through proven awareness efforts. We've built a marketing engine that creates awareness for homeowners and matches the end-customer interest with integrators who can fulfill and service those customers. We are grateful these efforts are appreciated and will continue to invest to support our partners. —Tyler Reed, Director, Demand Generation & International Marketing, SnapAV
Best Warranty Support/Policies, PLATINUM:
All of our products go through months of development and testing before they ever make it into your hands, and we take pride in offering you the best brands in the industry. However, if there's ever a problem, our team is committed to making your experience right by sending you a replacement product immediately to get you back up and running and minimize disruptions in your day. —Avi Galili, VP, Hardware Engineering, SnapAV
Best Shipping Policies, GOLD:
SnapAV shipping policies are based on our desire to have what you need when you need it. Our in-stock availability is a huge focus for us in conjunction with our prioritization of shipping your orders the same day. In the end, we aspire to be an extension of your business, offering more than anyone else can while getting it to you fast, and with our new footprint rolling out in 2021, we expect to take everything to the next level. —Nathan Porter, SVP, Operations, SnapAV
Best Dealer Website, PLATINUM:
We have a team that's truly dedicated to doing what is needed for our dealers to succeed, but we're also thankful for partners who are generous with their feedback and input so we can see what's needed to help them succeed. It's a great combination. —Bike Howard, VP, Digital Experience, SnapAV
Best Training Programs, SILVER:
Nothing beats experience. Which is why our education program is focused on providing techs with hands-on practice as much as possible. Even with the challenges for in-person learning around the COVID-19 pandemic, we quickly pivoted to make courses accessible virtually and still have some "hands-on" experience.
In our Control4 Automated Programmer Certification course, techs connect remotely to real equipment and build projects. We did a major update to our Professional Network Administrator Certification (PCNA), which provides physical equipment for techs to use while taking the online courses. And then, we held a huge number of webinars where we asked participants to use existing equipment and software to learn while following along with us. Our mantra is that to be an expert, you have to remain a student. — Rus Rasmussen, Senior Director, Worldwide Education, SnapAV
Best Dealer Programs/Incentives, GOLD:
We've found that keeping laser-like focus on doing what is right for our partners enables us to create lasting value and strengthen our relationships. Enabling price protection across our product portfolio is one example where we aren't afraid to invest to ensure dealers enjoy healthy and sustainable margins, free from outside interests looking to devalue their business model. —Ryan Marsh, EVP, Sales, SnapAV
Best Virtual Trade Show/Conference Presence, SILVER:
SnapAV/Allnet/Volutone continued to provide training throughout the pandemic and held weekly webinars for dealers. —Verbatim comment from reader
2021 Quest for Quality Awards Won by SnapAV (Distributor)
Best COVID-19 Response, GOLD:
The pandemic prompted significant operational changes to protect our partners and team while still being able to conveniently deliver the essential products required to accommodate the shift from school and workplace to home. In particular, our integrators — essential workers — needed access to our extensive assortment of network products to satisfy the increased demand for faster and more robust systems in the home. At the onset, we shipped all product free ground. We continue to offer touchless will call and utilize courier services. Our 24-hour call capability permits the pickup of products without live interaction with our team. We maintain a mask wearing policy, social distancing and a robust branch cleaning schedule. —Wally Whinna, SVP, Local, SnapAV
Best Shipping Policies, PLATINUM:
Our goal is to deliver products in a timely and safe fashion to our Partners by courier service to their office or job site using quick FedEx shipping or convenient will-call pickup. We provide touch free 24-hour will-call in most branches, so dealers can access products at their convenience day or night. It also creates a quick turnaround for their staff so they can get to the job site faster. We also have a very competitive free freight program, with many of our brands always shipping freight prepaid. —Wally Whinna, SVP, Local, SnapAV
Best Website, SILVER:
Our goal is to make it easy to place an order and provide visibility to product availability online. Our websites are also a place to go to find out critical information about the products we sell so they can complete proposals, and be sure they are specifying the correct solution for their projects. We are constantly updating and building new online tools to make online purchasing easier and more convenient. —Wally Whinna, SVP, Local, SnapAV
Best Training Programs, SILVER:
Our training is focused on bringing partners the information they need to drive their business forward, keep pace with technology changes, system programming and the creation of new profit centers such as shade or lightings. For many dealers, distributor training is the only resource available to them, so our aim is to provide a comprehensive syllabus of education opportunities. We successfully pivoted in 2020 to a robust schedule of webinars as live training was not possible. —Wally Whinna, SVP, Local, SnapAV
Best Dealer Programs/Incentives, GOLD:
Only here will you find the best selection of products, best-in-class service, and support — all at competitive pricing with rebate and enhanced pricing opportunities. We work closely with our vendors to have the most competitive prices. There is a robust rewards program that allows enhanced pricing and quarterly rebates for those wanting to make a commitment to the award-winning SnapAV brand assortment. Additionally, we curate and offer additional promotions and incentives throughout the year to provide additional profit opportunities for our partners. —Wally Whinna, SVP, Loca, SnapAV