Samsung is going all in on the custom installation channel. The Korean mega-company was at CEDIA Expo 2018 with not only a slate of impressive new products, but a reorganized structure that underscores its commitment to the channel.
Headlining those changes from Samsung Electronics America were enhancements to its 5-Star Solutions program for custom integration, which debuted last year at CEDIA Expo, and product introductions that included its new Q900FN 8K TV in the QLED line, as well as its eye-popping MicroLED videowall, appropriately dubbed The Wall.
The company also showed off its new The Frame 2018 media concealment device with digital art, Direct View LED Series and its new premium soundbar lineup.
Samsung 5-Star Solutions Program Beefs Up
First introduced at CEDIA 2017, Samsung's 5-Star Solutions program provides custom installers with a variety of services, including a CI-dedicated web portal with more functionality and content, partnerships with several home automation companies, and expanded sales and distribution support.
New this year, integrators now have the option to become a Samsung Authorized Service Provider to service clients directly without involving a third-party servicer.
"I also restructured my organization to make sure they are getting the support in the field that they need to be powerful in this channel."
— Phil Cohn, Samsung
Phil Cohn, senior vice president of sales at Samsung Electronics America, tells CE Pro the 5-Star Solutions program focuses on "the right products and features" for the custom installation channel, but also includes a reorganization of the sales structure.
"It is also about support and resources. We launched a CI portal last year, which is specific and unique to this channel," says Cohn. "It gives them all tools they need, like mechanical drawings, white papers and access to customized service technicians."
Cohn, formerly a longtime executive at Sony who helped build out that company's strong dealer channel program, continues, "I also restructured my organization to make sure they are getting the support in the field that they need to be powerful in this channel."
The new structure includes the creation of a new position—director of custom installation/specialty retail channel—that works with the channel to interface directly with the headquarters in Korea and the U.S. sales and marketing team in the U.S.
Related: Samsung Unveils 146-inch MicroLED TV Dubbed 'The Wall'
At CEDIA Expo 2018 meeting with integrators for the first time was James Mayo, who holds that newly created position. The company plans to launch a customer newsletter that complements the 5-Star Solutions program.
"When we launched Samsung 5-Star Solutions last year, our goal was to ensure that custom installers have easier access to the product, information and support they require," says Cohn.
"This year's program enhancements, not to mention new products like the Q900FN 8K TV, further demonstrate our investment in our installers, by equipping them with the appropriate programs and distribution channels they need to make every job a success."
Broad Product Lineup at CEDIA Expo
The Wall MicroLED—Samsung's The Wall is a modular, large-format indoor MicroLED display that can extend to hundreds of inches in size while delivering outstanding brightness, contrast and viewing angles. This display is modular in design which allows for configurations of 4K 146-inch diagonal and 8K 292 -inch diagonal.
The unit is not for the average client, coming in at over $300,000 to start. According to Christopher Simpson, senior business development manager at Samsung, the unit is a two-day installation and requires wall stud reinforcement to support the MicroLED panels, which each weigh about 25 pounds.
The Frame TV 2018— The Frame TV is Samsung's flat panel display designed to look like a painting with a frame and more than 800 available works of art. Updates to The Frame 2018 over last year's model include a better picture quality, single-cable One Invisible Connection and a smarter interface in the Art Store for browsing and curating art.
7.1.4, 5.1.2 Dolby Atmos Soundbars—In partnership with sister brand Harman Kardon, Samsung showcased two co-branded premium soundbars for the Dolby Atmos, the HW-N950 and HW-N850.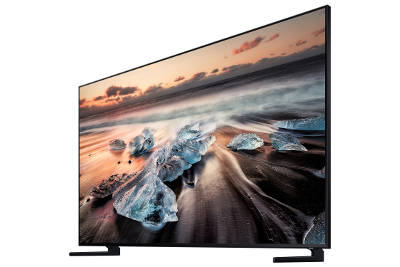 The HW-N950 soundbar is equipped with a main unit, four speakers and two wireless surround sound speakers. Offers an immersive sound experience thanks to its 7.1.4 channel, the largest number of channels currently available in a soundbar, according to the company. Also features a wireless subwoofer and rear-firing wireless speaker kit.
The HW-N850 is a more simplified version of the HW-N950, featuring several of the same functions, 5.1.2 channel surround, and a main unit speaker and woofer.
Direct View LED Series— Lastly, Samsung's Direct View LED Series TVs to reach peak brightness levels nearly two times higher than standard LED maximum brightness norms, according to the company. Direct View LEDs have consistent R/G/B gradation for improved color accuracy.
The units can handle low-brightness indoor settings as well as high ambient light areas. Samsung's Direct View LED displays are available in four sizes. (1.2mm pitch capable of 2K 109-inch diagonal, or 4K 219-inch diagonal, and 1.5mm pitch 2K 40-inch UHD or 130-inch full HD).
If you enjoyed this article and want to receive more valuable industry content like this, click here to sign up for our digital newsletters!