The creation of outdoor living spaces is one of the biggest trends in homeownership for 2018. People are spending big bucks to transform their backyards into legitimate living spaces, complete with fully functional kitchens, high-quality audio systems, weather-resistant displays, and automated landscape lighting.
Offering integrators another element to deliver to clients' outdoor entertainment areas is newcomer to the CEDIA space, ShadeCraft, and CEDIA Expo veteran, Screen Innovations.
Sunflower from ShadeCraft
Aptly dubbed the "Sunflower," ShadeCraft's robotic "parasol" is packed with so much tech, it actually mitigates the need to install some common outdoor amenities.
Integrated into this one umbrella, which measures 7-by-7 feet and stands about 10 feet tall, are Harman Kardon wireless voice-enabled speakers, colored LED lighting, a Wi-Fi and Bluetooth hub, USB charging station, HD surveillance camera, and a wind sensor that automatically signals a built-in motorized mechanism to close the umbrella when the conditions warrant it.
The internal motor that moves the umbrella—and the rest of the gear—is powered by an array of small solar panels attached to ribs of the umbrella. These panels also enable the umbrella to track the sun and position itself for maximum solar harvesting and shading.
One more huge selling feature: Each part of the Sunflower can be controlled via Harman Kardon's Sonique far-field voice recognition technology. There is also a companion app for control via a mobile device.
Shadecraft expects Sunflower to start shipping for around $10,000 in April and hopes to integrate it with various smart home platforms.
Sail from Screen Innovations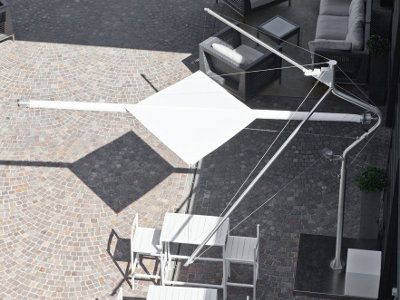 As part of its recent expansion into the shading business, Screen Innovations demonstrated at CEDIA a smart retractable patio sailcloth. Aptly called "Sail," it has been engineered to be integration friendly like Screen Innovations' other shading options. The 16-foot-long by 14-foot-wide Dacron material extends and retracts from a center "mast" via third-party control platforms, as well as from its own keypad, waterproof remote or Amazon Alexa voice commands.
Retailing for $13,900 without an optional weighted stand and $15,400 with the stand, Hue lighting can be added as an accessory.
According to a Screen Innovations spokesperson at CEDIA Expo, red and pink lighting from the Hue can help keep bugs away.
Automation is onboard, thanks to an anemometer that tells the screen to retract when it's too windy.