"When we look at the peers, I wouldn't say that we should be ashamed of our performance," says Benoît Coquart, Legrand CEO, speaking to investors. His comment reflected on the fact that many of Legrand's competitors performed worse over the past year and he notes that he does not believe Legrand is losing any market share.
Legrand's 2020 end of year performance was a -7.9% to $7.37 billion for the year. That included a 22% decline in sales in Q2 of 2020 alone, when the pandemic first hit. The company's operating profit margin was 19%. While Q3 sales were stable, in Q4 sales in North America and South America were down 10.6%. Heading into 2021, Legrand has issued a forecast for modest organic growth of just 1%.
The bright spots for Legrand (Paris: LGRVF) all circled around the residential market, which represents 20% of the company's overall sales. Legrand's Netatmo brand and its ELIOT IoT program both outperformed other sectors of the company.
"If you look at the U.S. peers, you have a number of companies which are down 10%, 7%. 10%. I'm convinced that we don't have any market share issue in the U.S., including in the fourth quarter. I don't believe that we are deviating from what similar companies with similar exposure are doing," says Coquart. "I'm strongly convinced that the positioning we have in the U.S. and elsewhere and the fact that we have this strong in the residential business in the U.S., is very strong competitive advantage compared to some of our competitors."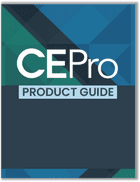 CE Pro's 2022 Product Guide showcases some of the latest and innovative solutions from manufacturers serving the custom electronics industry in a cross-section of categories.
Download the guide now!
Specifically, Netatmo, which Legrand acquired in 2018, grew double digits for the full year. Netatmo represents 10% of the company U.S. sales revenues.
"It is clearly growth enhancing and we are very proud of this performance," says Coquart.
Sales in the ELIOT IoT program were only down 1%, which is not strong performance, but much better than the overall declines Legrand faced in its non-residential business last year, according to Coquart.