Panamax and Furman Power Accessories Help Start System Installations
The Panamax Vertex line of power products and the new Furman SS-6B-PRO provide integrators a choice of power solutions to enable the installation residential and commercial systems.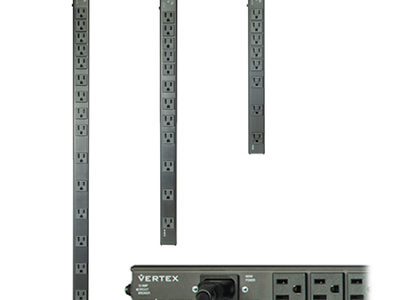 In today's gear-centric world, it's easy for basic, fundamental devices to get lost in the shuffle. The new Panamax Vertex and Furman SS-6B-PRO power products bring the focus back to the basic building blocks of system design through their convenience and functionality.
The latest power products from Nortek Security & Control's (NSC) Panamax and Furman brands were developed to provide integrators with a choice of easy-to-install power products that can be used to assemble a range of electronics systems.
"Every installation starts with power and our new Panamax and Furman power distribution solutions keep systems protected and racks organized," states Christos Desalernos, product manager, Nortek Security & Control.
"These new additions work with Panamax and Furman power conditioners to extend protected clean power in the system rack, as well as remote locations."
Panamax Vertex 12 and 16 Outlet Power Distribution Units
The Vertex 12 (VT-EXT12) and Vertex (VT-EXT16) power distribution units feature a slim design and mount vertically to racks.
Panamax explains the products' design allows for easy work flow, and its clip mounts help to make the installation of units fast and easy. The company says the spacing of the units' outlet provides integrators plenty of room to plug-in wall-wart power supplies.
Related: Breaking the Code—Navigating Power Protection Options
Supporting the products, Panamax also offers its 15-EXT1 extension cable, which can be used for large transformer and wall-wart power devices.
Further aiding the system building process, Panamax is also offering its new IEC cable accessories that include the IEC-60320-C14 inlet, the 10-foot 15-IEC10, the six-foot 15-IEC6, the three-foot 15-IEC3 and the 1-foot 15-IEC1 that can all be used with 15-amp products.
Furman SS-6B-PRO Power Distribution Unit
Rounding out NSC's new power distribution products is the Furman brand SS-6B-PRO unit.
The six-outlet power distribution unit incorporates the company's Extreme Voltage Shutdown (EVS) technology, EMI/RFI filtration, a steel-construction for durability, and a 15-foot power cord.
Desalernos says these two new products are the result of NSC listening to the requests of its authorized dealer network.
"We listen to our integrators and these power extension solutions were high on their list of asks."
"Getting all these accessories on the same order as their power conditioning simplifies their orderng process. And for integrators on our Dealer Rewards program, these of course go toward their program totals," says Desalernos.