CES 2018 marked the first public exhibition since control- and A/V-centric Core Brands announced it was merging with its sister security company under the corporate name Nortek Security & Control (NSC). The array of both DIY and professional products on display was a clear indication that the previously separate companies were collaborating at an engineering level behind the scenes long before the public announcement.
The biggest fruits of the collaboration — integration between Elan's home automation system and Nortek's 2Gig security and control panel — was announced at CEDIA 2017 in September, and promoted during CES.
Elan is the first smart-home and entertainment controller to natively integrate with 2GIG's popular GC3 security and control panel (see integration images). The IP-based integration allows Elan dealers to eliminate the third-party box currently required to bring Z-Wave control to Elan systems. Instead, Elan can exploit the GC3's native Z-Wave Plus technology, as well as plentiful I/Os for communications with sensors and other smart devices.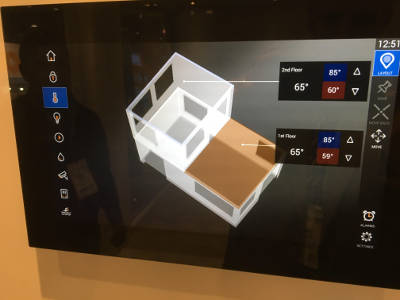 While Elan is the first with 2GIG integration (not surprisingly, given the lineage), other home-control companies are expected to follow with other IP-based integrations of their own.
"The Elan and 2GIG software and engineering teams worked closely to make a truly seamless security integration possible for custom installers," says Joe Roberts, NSC executive vice president of marketing and innovation. "In doing so, we have transformed how homeowners can use, access and control their security systems."
Using Elan's Auto Zone Detection software, once the security panel has been configured all zones and zone names are automatically added to the system. Features, modes and views include:
A

rm/disarm: the user interface shows current panel security status and provides controls to arm and disarm the GC3 system.
Auto arm: system can arm the panel automically, without requiring a PIN code.
Event based arming: automates the arming as a system command – such as away mode or goodnight mode — using the Elan Event Mapper.
History view: provides access to the GC3 history page to view zone fault and system status history.
Zone status: shows all currently faulted zones
Zone bypass: automatically bypass all faulted zones when arming from Elan.
"This is a key step in expanding opportunities by bringing our security and control platforms together," Roberts adds. "It's part of our growing portfolio of connected smart home solutions that are easy-to-install for integrators and extremely intuitive for homeowners."
"This is a key step in expanding opportunities by bringing our security and control platforms together."
— Joe Roberts, NSC
Meanwhile, Elan gave CES 2018 integrator attendees a glimpse of its new OS 8.2 software, which includes multiple new features, the most impressive of which is 3D mapping ability of the client's home that can be depicted on the touchscreen.
Integrators can either draw on their own or import a 2D file to create a 3D cross-section of the home. That 3D GUI then visually shows the home's status, such as open or closed doors and windows, thermostat settings, lights on or off, etc.
With just a bit of practice, integrators can learn to make the 3D imagery from scratch if necessary. At CES, Nortek showed a 3D depiction of its two-story booth that took only 15 minutes to render, according to the company
DIY Products: Stove & Grill Guard, 2GIG Rely, Mighty Mule
Turning to the DIY space, Anu Herranen, director of marketing and branding at NSC, showcased several new innovations. The new $49.99 GoControl Stove & Grill Guard product provides an alert to the security panel or smart home whenever a knob on a stove or grill is turned from the "off" position. The unit aims to eliminate the worry associated with leaving a burner on, or having it switched on accidentally leading to fires or gas leaks.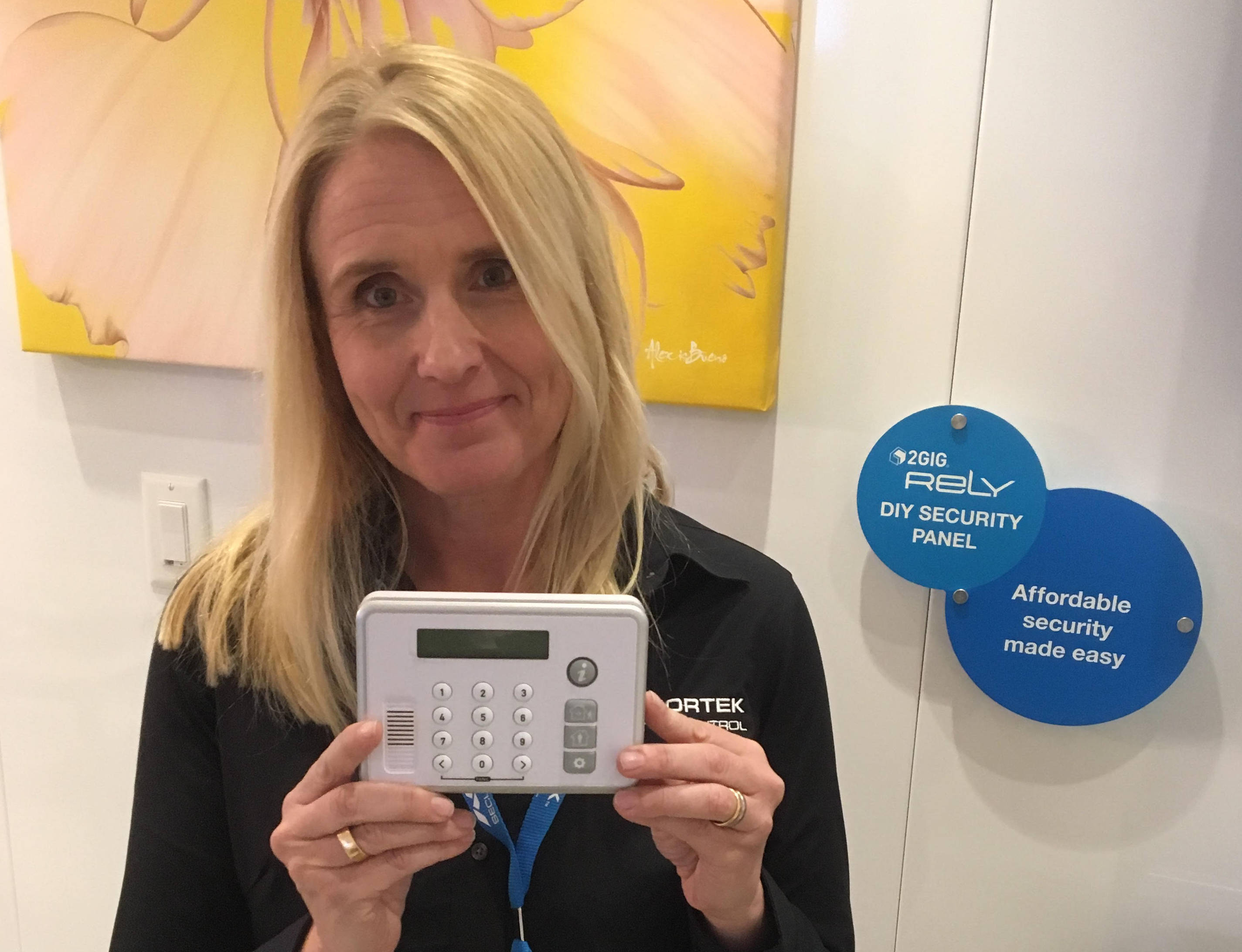 The waterproof Stove & Grill Guard is a slim alert sensor sheath (2.2-inch diameter, 0.21-inch thickness) that sits below the burner knob that allows security system owners to configure time-delay or immediate reminder notifications of their gas burner being active. Alarms are sent via a smartphone or to the security panel. A four-pack will be available for $189. For integrators, the GrillGuard makes a nice add-on product, or foot-in-the-door offering.
Herranen also showed the new 2GIG Rely DIY security panel with professional monitoring. The unit is aimed at providing security dealers with a DIY alternative at a low cost. It has two packages:
Package #1 includes three door/window contacts, one PIR, one fob and one panel.
Package #2 has additional door/window contacts and one video camera.
The system can monitor up to 12 contacts or sensors.
"It's the smallest security panel on the market," says Herranen.
Interactive services currently are provided via SecureNet (bring your own central monitoring station) and MiOS (currently works with AvantGuard central station).
Lastly, the company showcased its $199 Mighty Mule Smart low-priced garage door opener. Among the features are geo-fencing capabilities to automatically shut when the car is a certain distance from the home, a rubber belt for quiet operation, voice control, and an app that guides you through the installation process.
If you enjoyed this article and want to receive more valuable industry content like this, click here to sign up for our digital newsletters!