In addition to introducing DTS surround sound to several of its products, Sonos has announced EQ options for S2 iOS app users.
The popular home audio company Sonos has announced several updates for its S2 operating system.
According to Sonos, the "Hollywood at Home" trend continues with 60% of U.S. respondents stating during a recent survey it conducted that they would rather watch new movies at home than in theaters. Based on this trend Sonos is providing homeowners with options to play DTS surround sound content using a variety of its products.
Outlining the specific products that are now upgradeable to deliver DTS multichannel audio, the company says the products listed below provide DTS compatibility. In addition, the company has also announced updates to its popular Roam and Move portable powered speakers, and equalization options for S2 users that employ Apple iOS-based products:
DTS Digital Surround: Sonos now supports decoding DTS Digital Surround on Arc, Beam (Gen 2), Beam (Gen 1), Playbar, Playbase, and Amp on S2. Customers will see a badge on the Now Playing screen of the Sonos app when they are streaming DTS Digital Surround content.
Battery Saver on Roam and Move: When this setting is enabled via the Sonos app, the portable speakers will automatically turn off completely after 30 minutes of inactivity. When powered off, Move will retain battery life for up to 30 days and Roam will retain battery life for up to 70 days. When Battery Saver is enabled, listeners will need to turn Roam and Move on using the physical power button before starting music playback.
EQ Settings on the Now Playing Screen: iOS customers streaming music will now be able to adjust their EQ settings, including treble, bass, and loudness, via the "Now Playing' screen in the Sonos app. To access the EQ settings from the Now Playing screen, simply tap the volume slider bar and press the equalizer button on the right-hand side. Android support will be available in the coming months.
Sonos also shares that Amazon Music Ultra HD and Dolby Atmos Music will be coming soon to the S2 platform.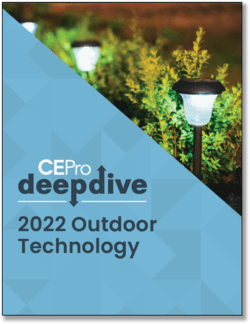 The 2023 CE Pro Outdoor Technology Deep Dive reveals unique set of impediments, including explaining pricing and interacting with outdoor-centric trades.
Get your copy now to take a "deep dive" into the trends and challenges of outdoor technology.
Download the report now!