Leviton Wi-Fi Lighting Controls Now Integrate with Nest Devices, No Hub Required
Via the My Leviton app, users can integrate Wi-Fi dimmers, switches, and plug-in adapters with Nest cameras, thermostats and smoke/CO detectors, without the need for a home-automation hub.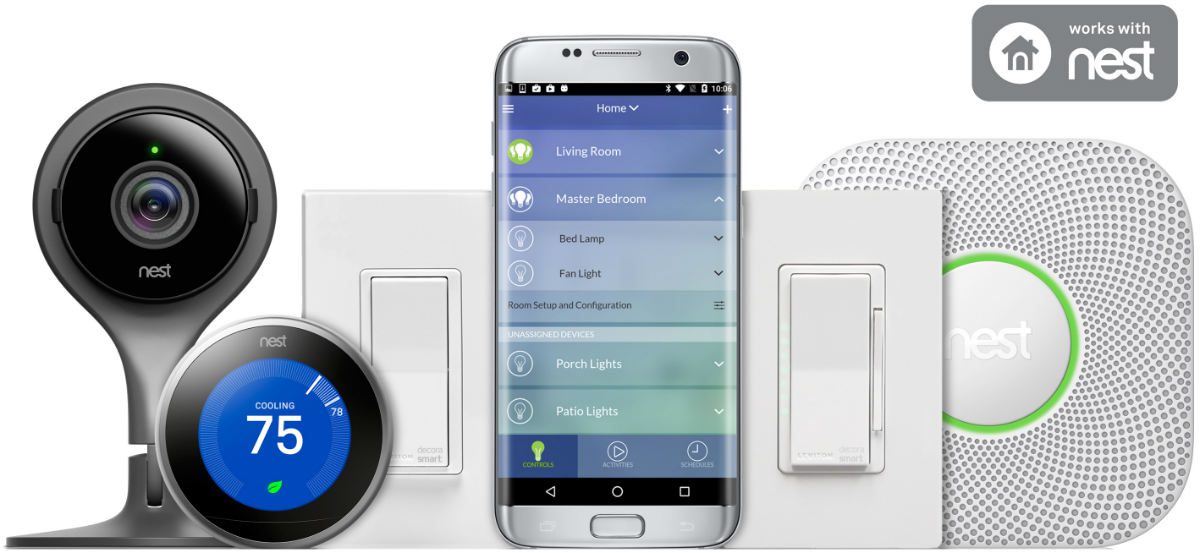 Leviton, a leading security and home-automation provider, now integrates with Nest IoT devices via cloud-to-cloud integration, no smart-home hub required. Specifically, Leviton's Decora Smart line of Wi-Fi dimmers, switches and plug-in adapters, work with Nest thermostats, cameras, Hello video doorbell, and Protect smoke/CO detectors through the "Works with Nest" program.
Via the My Leviton app, users can link the Leviton and Nest Wi-Fi devices together, and incorporate them all into whole-house scenes. For example:
Turning Leviton lights on if a Nest Cam detects motion
Turning Leviton lights on if there is a smoke or carbon monoxide alarm detected by Nest Protect
Adjusting Leviton lights based on when a Nest Learning Thermostat, the Nest app or other Nest sensor says you are home or away
Setting devices to turn on, off or "blink" for a certain duration (30 seconds to 12 hours).after an event occurs.
​"Nest users can now connect the two clouds with the click of a button to immediately provide enhanced automation schemes," says Aaron Ard, senior director of engineering for Leviton Energy Management, Controls & Automation.
Also Works with Alexa, Google Assistant, IFTTT
In addition to integrating with Nest, Leviton Wi-Fi devices can communicate cloud-to-cloud with such services as Amazon Alexa and Google Assistant for voice control, as well as IFTTT for a multitude of third-party integrations.
The Leviton devices and app have their own intelligence as well, allowing users to set schedules and countdown timers, configure home and away modes, and create on-demand scenes like "TV Time" or "Game Night."
With multi-user support, every family member can have their own scenes activated by their personal mobile devices.
Each Leviton device can be adjusted for fade rates, brightness levels, bulb types and LED functionality.