Powerful new $125K DSP8000 XE is first developed from Meridian Extreme Engineering Program, enhancing DSP engine, drivers, amplifiers & more.
High-performance digital active loudspeaker specialist Meridian Audio has a new flagship model, the DSP8000 XE, which it says is the first to result from the venerable U.K. audio company's Extreme Engineering Program that began more than six years ago.
As the company explains, the Extreme Engineering Program leverages psychoacoustics and expert engineering "to re-imagine every element of Meridian's product platforms, including both software and hardware."
A major development Meridian says of its R&D, is a new design concept, Precision Sonic Transport (PST), which the $125K DSP8000 XE is the first to incorporate, with further product developments to be announced, the company adds (on the architectural side, it showed reference DSP750 in-wall models during ISE 2020).
Meridian Audio DSP8000 XE Highlights & Technologies
The DSP8000 XE is built on a new audio architecture, using higher specification, more powerful components, according to the company. Among the highlights:
Atlas Software Core. A new audio processing and control platform that incorporates Meridian's most powerful DSP engine to date, Atlas Software Core facilitates new enhancement technologies and features. Meridian says it also yields even more performance from its existing proprietary technologies.
R1 Electronics Platform. The essential hardware infrastructure that deploys the Precision Sonic Transport design concept in DSP8000 XE, the company says. It has new, digital and analog circuitry and signal enhancing developments.
Command Board: Processing center dedicated to the DSP engine and controlling the functionality of the speaker.
Sync-Link: Transporting precision re-clocked digital audio via shielded RJ45 links from the Command Board to the new DAC boards.
New DACs and Amplifiers: Separate dedicated higher-performance DAC boards and more powerful, application-specific amplifier boards are hard-wired via short balanced audio connections to minimize signal interference.
Next-Generation Drive Units. Meridian describes the advanced drivers used throughout to elevate performance.
Subsonic Bass Driver: Six new 200mm long-throw (24mm excursion) bass drivers in a "force balanced" configuration for maximum extension with clarity and control.
Evo Mid-Range Driver: A 160mm long-throw drive unit, newly developed non-conductive voice coil former and large motor system.
Ultrasonic Tweeter: A 25mm beryllium dome and silver voice-coil featuring a new custom steel waveguide to improve imaging and wide dispersion.
Cabinet and Mechanics. Modern aesthetics and re-engineered cabinet accommodate the updated driver clamp-ring system, flush-fitting acoustically transparent metal grilles and mass-loading aluminium base plate.
Connectivity and Control. DSP8000 XE offers significant new connectivity and control features, the company says, including setup and control via the new Meridian B-Link Bluetooth device, IR, USB, RS232, or with a Meridian Controller product. Each loudspeaker has the optional IA21 analog input module to connect and control the DSP8000 XE via another third-party analog preamp or processor, if customers want.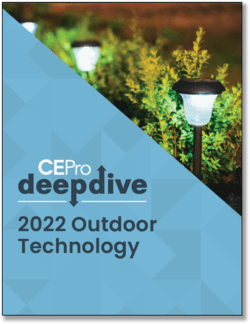 The 2023 CE Pro Outdoor Technology Deep Dive reveals unique set of impediments, including explaining pricing and interacting with outdoor-centric trades.
Get your copy now to take a "deep dive" into the trends and challenges of outdoor technology.
Download the report now!
"DSP8000 XE embodies all of Meridian's core values and breaks new ground in Meridian loudspeaker performance with the first implementation of our Precision Sonic Transport design concept. The all-new hardware and software platforms combine to unleash a new level of accuracy, power and emotional connection, and the result is a holographic sound experience so immersive that it's as if the loudspeakers are not in the room," John Buchanan, Meridian CEO, stated after previewing the new flagship model for dealers and distributors.
"DSP8000 XE is truly a next generation Meridian loudspeaker and leads the company into an exciting new era for our talented team, our business partners and our customers."
The company says orders are being taken for the $125K DSP8000 XE, whose production is slated to begin in March 2022.