Long-time technician Jimmie Guarino loves the custom installation business… I mean, he really, really loves it. And you need look no further than his toolbag to see the pride he has in his profession.
Guarino has been in the trenches of the custom installation business for 29 years, most of that time at CE Pro 100 company Audio Video Systems (AVS) in New York City. Today, he is a chief project manager who gets dirty every day with AVS crews doing all the unglamorous work pulling wire, cutting in speakers, building racks, testing wires, etc… everything that makes a system work.
"I am hands-on. I love being in the trenches. I deal with all AVS's premier clients. I work under the vice president, and the relationship I have with him is great. I am the first one who walks in the door and the last one to walk out the door. Great service is what clients are paying for; you've got to provide great service. I am always on… 24/7. Sometimes I think it's going to ruin my marriage," he quips.
For any technician to do his job effectively, he has to have the right tools. And to say Guarino is obsessive about his tools would be an understatement. In all his Veto backpack/toolbag is meticulously organized with 75+ tools worth about $20,000, he estimates.
"I got a lot of stuff," remarks Guarino, who speaks with a thick New York accent worthy of a role in an episode of "The Sopranos." Besides the MacBook that AVS provides him for his project management role, Guarino carries 50 pounds of equipment in his backpack.
"I settle for only the best. People think I'm crazy, like I'm a fanatic, but that's just the way I am. I keep the tools of a senior tech just because I've been doing this so long and there's only so much you can learn in a book. We have good techs but sometimes I've got to jump in and help. I enjoy that; I really do. The guys know I'm in the trenches with them so the respect is there, and I enjoy that. I love my job."
What's in the Bag?
Guarino's toolbag is a Veto Pro Pack. He estimates he has tried 15 different types of toolbags in the past, discarding them because he either got tired of them or they just didn't fit his needs.
"I call this my 'survival kit.' I was looking for the perfect tool bag, one that you can carry on your shoulders. It carries a lot of tools. I realize not everyone can spend $300 on a tool bag — my wife was not happy about it — but there's not a better tool bag. It holds everything I need," says Guarino.
"I realize not everyone can spend $300 on a tool bag — my wife was not happy about it — but there's not a better tool bag. It holds everything I need."
— Jimmie Guarino, AVS
"It's a backpack so I can carry stuff, especially when I'm New York City. If I have to park and walk a few blocks, I'm not lugging a bag. I have a backpack on. It gets a little tricky when I have the backpack and my laptop but even then it's still manageable. I see guys with rolling pack-alls and backpacks. I don't want something like that."
Guarino uses every available pocket in the bag, keeping his "go-to tools" like toners and testers in the smaller front pockets, along with pliers and screwdrivers. In the smaller back pockets are tools he doesn't use quite as often, like wire strippers and the level. The bulk of the tools go in the main pouch.
Since tools can often "disappear" on jobsites, Guarino likes to keep the bag close. Most often he finds himself situated in the rack room of a home so he can literally use the bag as his own mini-tool shed and not walk back and forth to the truck.
"This backpack was a game changer for me. I didn't want to be one of those guys that walk in a job with nine tool bags," he comments.
The Tools
Guarino believes it's vital to carry so many tools because he never knows what he will encounter on a jobsite. Inside the backpack are about 75 different tools. Here are some of key tools:
Stud Finder– "I use an $8 magnet stud finder from Cambridge. It's unbelievable. It's always reliable, and it's never failed me. It fits in the palm of your hand. It's lightweight, and it works," says Guarino.
Cutting Scissors — "I have a pair of Knipex $38 cutting scissors. They've got short blades on them but they cut they're like surgeon could use them. If I have to cut a pulling sock or something, they're unbelievable," he says.
Channel Locks — Guarino uses his Knipex channel locks to adjust rack wheels or changing blades on a hole saw.
Needle-nose Pliers — He carries a pair of Klein Tools needle-nose pliers "They work great; I don't use them too often," he remarks.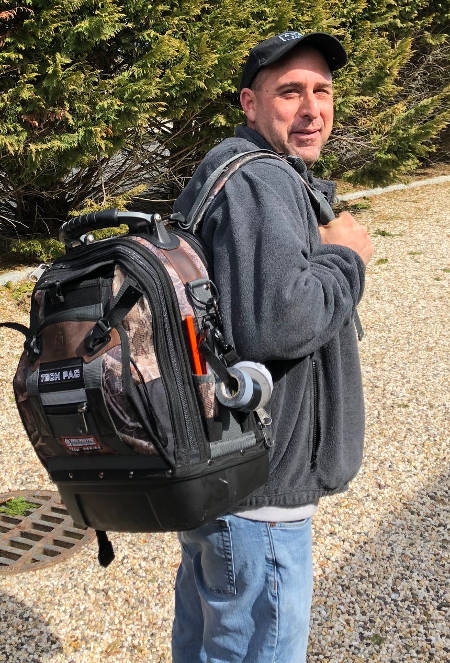 SEE ALL THE TOOLS IN THE SLIDESHOW
Tie-wrap Cutters — Guarino cites this as probably the most under-estimated tool he carries. "There's a proper way to cut a tie wrap; people don't understand that. You want the tie wrap to be cut short and horizontal to your cutters. I have actually seen guys cut their wrists open because someone didn't cut a tie wrap correctly," recalls Guarino,
Dykes — "I have a great pair of Knipex dykes with the cushion grip. These things will cut. I feel like I can just cut a sewer main with them. They're unbelievable," he says.
All-in-One Punchdown Tool — "I have a Knipex all-in-one tool with a cushion grip which acts as a crimper and stripper. It's more of a tool used on the electrical side but again a great tool with the cushion grip.
Linemen's Pliers — "I have a Knipex lineman's that I love. Again, they have a cushion grip and I use them as a snake pull to on wires. They're great."
Crimpers — Guarino carries a pair of Klein Tools journeyman's series compression crimpers he primarily uses for RJ11 connections. "It's the handheld one where you squeeze it. It doesn't look like the pliers. It sits in the hand, and it gives a much better crimp. It's much easier to use," he adds.
VDV Tester — "I have the Klein Tools VDV 501-108 Data Scout. It gives you the length of a wire, which is very helpful because if there's a short, then the tester shows the cable length stopping at the short. I've found many bad slices that way. Just to have that length feature is great."
Magnetic Pull Telescope Magnet — "I have magnetic Klein Tools pull telescopic magnet. If you drop something in a rack with a flashlight you can pick it up," he notes.
Soldering iron — "It's a cordless battery-operated unit from Milwaukee Tools. It's amazing; it heats up in seven seconds. It's precision; it's perfect. Greatest tool, everyone in this industry should have it."
Heat gun — Used to shrink wrap racks or when working on marine jobs.
Drill — "I have a little Milwaukee Tool M12 drill that I keep in the bag. It's nice and light. I can charge it in the car and I'm geared for anything."
Precision screw drivers — "I have the 12-in-one from Klein Tools."
Cat 5 Stripper — Guarino uses a Belkin Cat 5 stripper for terminations. "It's a little white Cat 5 stripper, but it also has a hook inside of it. So when you untwist the pairs, it's got a little hook inside of it, and you pull up that hook to grab the stripped wire. It's so light and little, but it's the greatest tool. Everyone I've shown that tool to from other trades wants to know where I got it. It's the stupidest little thing, but it saves you so much time," he says.
Other vital tools in the bag (see them all) include:
Flashlight
Tiny pair of dykes
Wrenches (from 3/8-inch to 5/8–inch)
Razor knife

Volt Finder

Multinut driver (from 3/8-inch to 5/16-inch driver)

Multimeter (Klein Tools MM500)
Torpedo level
Wire strippers (two pairs of heavy duty and one regular)
Demagnetizer
Taper measure
Permanent markers
Small bag with emitters, baluns and coax connectors
Hand vacuum
Hole saw
Right-angle drill
So what is Jimmie missing from his toolbag? Any suggestions?
If you enjoyed this article and want to receive more valuable industry content like this, click here to sign up for our digital newsletters!