Leviton Announces Decora Voice Dimmer With Amazon Alexa at CES 2019
Leviton has partnered with NXP and Harman to launch a new voice dimmer featuring Amazon Alexa voice control capabilities and enhanced in-app controls.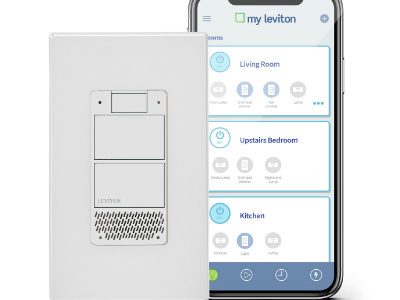 Today during CES 2019, Leviton announced the development of its new Decora Voice Dimmer with Amazon Alexa built-in. The Wi-Fi lighting control device combines full-range dimming with embedded voice control options via Alexa and the My Leviton app to help replace traditional light switches.
By using the in-wall dimmer, homeowners can now use their voice to dim and brighten lights, listen to the news, get the weather, control smart home devices, and more.
Decora Voice doesn't take up counter or desk space and can replace any standard light switch with a neutral wire in new or existing homes.
"Whether you're in the middle of cooking dinner and you need to shine more light on the stove top, or you're relaxing on the couch and don't want to miss the next scene, having hands-free voice control of your lighting is easier than ever with Decora Voice," says Tom Leonard, vice president of marketing and product management for Leviton Energy Management, Controls, & Automation.
"With this new voice-powered lighting control solution, Leviton is working to declutter the home by adding more intelligence to your common light switch – from maintaining schedules during temporary internet outages to integrating voice control."
"We're thrilled to work with Leviton and provide customers with another way to experience the power of voice at home," says Pete Thompson, vice president of the Alexa Voice Service. "With Alexa built-in, you not only have hands-free control of lighting but can manage smart home devices, ask questions, access tens of thousands of skills, and more."
Decora Voice Dimmer Features Alexa Voice Control
Leviton says integrators can use its Voice Dimmer to create a whole-home lighting control system that enhances the smart home experience, with features that include: voice control, app control from anywhere, schedules, lighting scenes, and expanded capabilities with other compatible products via the new Works with My Leviton platform.
A few other notable features include the ability to:
Install a Decora Voice Dimmer anywhere in the home and say, "Alexa, turn on all lights", to have all the Decora Smart Wi-Fi light switches, dimmers, and smart plugs throughout the home react appropriately.
Create a schedule for the Decora Voice Dimmer along with other Decora Smart Wi-Fi devices to dim, brighten, turn on, or turn off throughout the day by easily setting a sunrise, sunset, or time-specific schedule for each device.
Add the Decora Voice Dimmer to any lighting scene, such as "Movie Time," so the Decora Voice and Decora Smart Wi-Fi devices work together to illuminate the room for the best viewing experience.
Use the My Leviton app from anywhere to dim or brighten lights connected to Decora Voice.
Take the experience even further by leveraging Works with My Leviton partnerships including Google Assistant, Nest, Samsung SmartThings, IFTTT and more to build out a complete voice-controlled smart home.
Related: Leviton Partners with Pulte Homes as Exclusive Smart Lighting Controls Provider
In addition, Leviton says the Devora Voice Dimmer uses its "Off Means Off" technology for low-wattage LED bulbs.
Also, just like Leviton Decora Smart Wi-Fi devices, the Decora Voice Dimmer includes 3-way compatibility, providing dimming control of the same fixture from multiple locations, such as a stairway or a kitchen with multiple dimmers that control the same set of light bulbs.
Leviton has partnered with both NXP for its high-performance processor and Harman to develop and optimize device acoustics. The Decora Voice Dimmer is expected to be available mid-2019.