Kordz Brings ONE Series HDMI Cables to CEDIA Expo 2018
The ONE Series includes models that support 1080p, 2160p 4K UHD, and come with Kordz's 'Lifetime Guarantee.'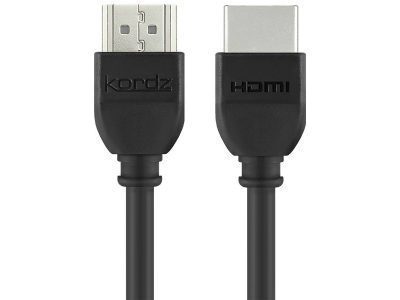 Kordz is bringing its ONE Series of flexible, compact and versatile HDMI cables to CEDIA Expo 2018. Available in bulk and certified for HDMI plug and play requirements, each cable is individually tested as part of Kordz's strict production process and is covered by its Lifetime Guarantee.
Kordz has re-emphasized its commitment to "Connectivity Assured" with the ONE Series, which the company says delivers unmatched peace of mind, value and performance for integrators demanding the most reliable of cabling solutions. Kordz products are distributed by Future Ready Solutions.
"The ONE Series cables are everything that integrators have come to expect from Kordz: ultra-reliable and easy to install," says James Chen, Managing Director of Kordz.
"This latest cable is suited to a range of applications including use in AV racks and cupboards, corporate spaces, education environments, residential installs and anywhere where high-reliability HDMI connectivity is required. Each ONE Series cable is designed for reliability and ease of installation. Kordz ONE Series HDMI is manufactured to the same high standard you'd expect from us.
"With the bulk packaging, integrators can be safe in the knowledge that they are getting the best possible value, in convenient unit sizes."
Related: Kordz Kevlar Reinforced HDMI Cable to Debut at CEDIA Expo 2018
The ONE Series is available in a standard version with ethernet (available in 5m and 10m lengths) which supports 1080p, as well as a high speed with ethernet model (available in 0.5m, 1.0m, 2.0m and 3m lengths) which supports 2160p 4K UHD content.
Kordz says each cable in the ONE Series is engineered and constructed to assure installation success and ease, with infrared soldered pin transitions for benchmark inter-terminal uniformity.
Kordz is a licensed HDMI 2.0 adopter company with more than 10 years of HDMI experience with leading designs, material selections, and manufacturing methodologies.
Kordz ONE Series Features
Engineered and constructed to assure installation success and ease.
High Speed with Ethernet in lengths to 3m (9 feet 10 inches) for 2160p (4K) support.
Standard with Ethernet with operational support to 1080p/60 up to 10m (32 feet 9 inches).
Infrared soldered pin transitions for benchmark inter-terminal uniformity.
Economy PVC boot shell assembly with folded steel HDMI connector.
100% of units tested on the production line for electrically continuity on all pins, with full Bit Rate Error (BER) application test.
Limited lifetime warranty.
Licensed HDMI 2.0 Adopter company.