Klipsch Names SnapAV Exclusive National Distributor for Custom CI Speaker Line
As Klipsch's exclusive national distributor for custom installation (CI) speakers and subwoofers, SnapAV will offer iconic brand through 22 local distribution branches and online portal for the home-tech channel.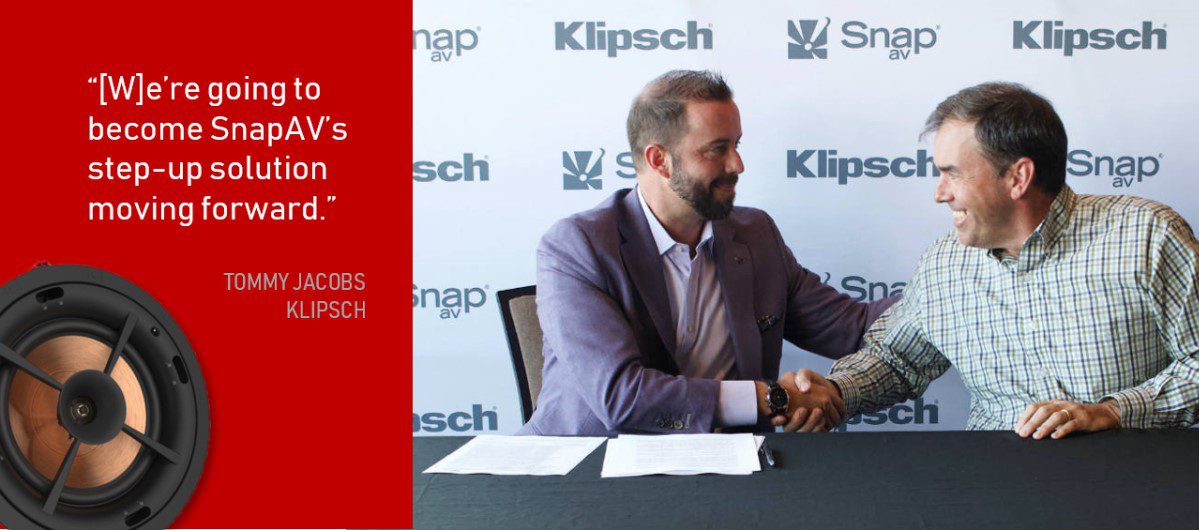 SnapAV, the giant supplier for the home-technology channel, has been named the exclusive distributor of Klipsch's CI (custom installation) speaker products.
SnapAV already has a respectable line of loudspeakers in its Episode brand, but the distributor and manufacturer was still looking for an iconic brand to build the category. Klipsch fit the bill.
"With that, we're going to become SnapAV's step-up solution moving forward," Klipsch VP of sales Tommy Jacobs tells CE Pro. "From my seat, we do world-class loudspeakers, and we're taking SnapAV's lead in world-class customer service and logistics." Jacobs says.
In noting Klipsch's desier to "really simplify our distribution philosophy," Jacobs explains the company is "able to execute at a much higher level by going to one point of contact, one partnership that can touch the nation the way that we want it to be touched in a very committed fashion."
Klipsch Gains Growing Distribution Umbrella
Klipsch currently sells its residential CI speaker products through seven distributors. Meanwhile, SnapAV has been acquiring regional distributors including Allnet, MRI and Volutone, with a total of 22 local branches, which "could be 50 by the end of the year," Jacobs quips.
Klipsch's Heritage family of loudspeakers is not part of the distribution partnership, and while the exclusivity is on the residential CI side, SnapAV will have access to what Klipsch produces for the commercial market too, Jacobs says.
Mike Jordan, VP of AV for SnapAV, says the company remains committed to its own Episode brand of loudspeakers, but adding Klipsch provides an audio option bearing a renowned name and products to match.
Known for its horn-loaded speakers (and Klipschorn technology), Klipsch has been in business basically since the end of World War II; Paul W. Klipsch founded the company in 1946.
"From my seat, we do world-class loudspeakers, and we're taking SnapAV's lead in world-class customer service and logistics."
— Tommy Jacobs, Klipsch
"We've always felt we're the best store in town, whether on your computer or brick-and-mortar location and we've done a good job of building our own brands. We're proud of Episode, it's a great solution and we'll continue to invest in it because it offers a solution that a lot of dealers need," Jordan tells CE Pro, "but as we dove into our numbers and our performance from the business of audio, it's clear that we're not doing all the business that we could be doing.
"It's also clear that when we talk to dealers, some of the things that are highly, highly important to them are the brand – it's how they identify with it, the emotional attachment and it's what they want to put in their clients' homes. And while Episode's a great solution it wasn't checking the box for all those dealers," Jordan explains.
"We have a great store and our logistics are second to none and we have some great products, but what we don't have is the step-up brand performance, iconic nature that Klipsch offers. We had a dealer-first mentality of getting them more choices."
Beginning around mid-August, according to the companies, Klipsch's myriad CI SKUs including in-wall and in-ceiling speakers, bookshelf, floorstanding speakers, subwoofers and more will be made available on snapav.com's ecommerce store and at local distribution sites. Jacobs and Jordan say both companies will certainly be talking up the partnership in their booths at CEDIA Expo in September.
The move follows SnapAV's announcement of its acquisition of Control4 last month. Earlier this year, SnapAV announced it would be distributing 26 Yamaha A/V products and integrating them with its OvrC remote systems management platform.
Performance Qualities, Brand Resonate with SnapAV Dealers
"When we ask about attributes, our dealers highly rate Klipsch for sound performance, for their brand, their dedication to the channel."
— Mike Jordan, SnapAV
Its general consumer loyalty notwithstanding, Klipsch typically fares well among high-revenue integrators as well, landing among the top five CE Pro 100 Brand Analysis leaders in the in-wall/in-ceiling (31%), floorstanding/bookshelf (35%), outdoor audio (27%), subwoofers (28%) and headphones (13%) categories.
"We didn't come out and ask dealers" about the impending distribution agreement, Jordan says, but explains, "You know we're a data-driven company so what we've been doing is we've been asking [them] questions about our competition. Most dealers carry over three [speaker] brands, and Klipsch is mentioned frequently. When we ask about attributes, our dealers highly rate Klipsch for sound performance, for their brand, their dedication to the channel – so we had great comfort in having these conversations with Tommy and the team and this partnership."
Both Jordan and Jacobs are excited about the prospects of what each side brings to the deal.
"It gives us the protection and control that we felt was necessary," Jacobs says. "It's also the service and support. Total omnichannel … SnapAV in this contract is making sure that we're able to protect this 73-year-old brand, and we're able to sell more speakers."
Related: Yamaha, MusicCast Join SnapAV OvrC Ecosystem with 'Deep Integration'
Jordan touts SnapAV's massive reach within the channel, especially its logistics expertise to help scale the Klipsch brand upward. He's also happy to have Klipsch dealers see more – and buy more – of SnapAV's extensive brands and lines.
"It's going to impact every current SnapAV dealer that has an interest," he says, "and also hopefully going to bring us some Klipsch guys, Klipsch fans into our store and introduce them to other great products and solutions that we offer."