Klipsch and Resonado Labs have announced a strategic partnership to develop a new line of Klipsch home audio solutions integrating Resonado technologies.
According to a press announcement, the companies' joint aim is to define the next era of audio by developing a line of products engineered to deliver the highest output possible in sleek and compact form factors. Indeed, when Resonado Labs first debuted its Res-Core technology back in early 2021, CE Pro pondered if the technology was the first step in making conventional speaker drivers based on cylindrical magnets obsolete.
The world of audio has changed dramatically in the past two decades – with the advent of new technologies, the diversity of audio products and the prevalence of audio in the average person's daily life have exploded. By 2026, sound bars alone are projected to top $12B in annual sales globally. Consumer demand has shifted to audio products that take up less space and provide a full acoustic range in a single package.
Resonado's flagship technology, Res-Core, was designed to address this industry shift. A novel take on the conventional loudspeaker with a proprietary motor, Res-Core was engineered to deliver high-performance audio in compact form factors.
"Resonado takes a radical approach to innovation. Our design-driven methods have allowed us to push past the boundaries of what the industry thought was possible and deliver full-frequency sound in a much smaller form factor. Paul W. Klipsch, a visionary in his time, inspired us to reimagine how a speaker could work, and the realization of this partnership will deliver the highest quality audio to the next generation," says Chuck Lukezic, president of Resonado Labs.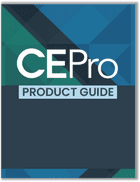 CE Pro's 2022 Product Guide showcases some of the latest and innovative solutions from manufacturers serving the custom electronics industry in a cross-section of categories.
Download the guide now!
Klipsch's heritage is well known throughout the industry. The company's tagline of "Keepers of the Sound" is a nod to iconic founder Paul W. Klipsch's underlying sound principles and philosophy to reproduce the power, detail, and emotion of the live experience. The two companies say they are aligned in delivering big, powerful sound straight from the hardware, and Resonado's technology will enable Klipsch to extend this philosophy to a series of compact new products.
"I am inspired by the incredibly talented group of entrepreneurs, engineers, and designers at Resonado Labs," says Paul Jacobs, president & CEO of Premium Audio Company, which is the Consumer Electronics subsidiary of VOXX International Corp. (NASDAQ: VOXX), along with Onkyo, Pioneer, Integra, and Pioneer Elite. "By incorporating their cutting-edge transducer technologies, we will deliver a state-of-the-art, design-centric collection of products unlike anything Premium Audio Company has previously done."