It turns out that size doesn't matter after all.
Norwalk, Conn.-based integrator Realm is getting big revenues and big satisfaction from small aperture speakers from James Loudspeaker.
The company discovered the James Loudspeaker line after it was having difficulty deploying and calibrating other small aperture solutions, especially in terms of dealing with the general contractor and other trades on the jobsite.
"We found James not only easier to deploy, but they actually performed as advertised in term of their bass response and other factors," says David D'Onofrio of Realm, a 25-year-old custom integration company.
The small aperture speakers seem to be right in the wheelhouse of clients who want to hide the technology in their homes.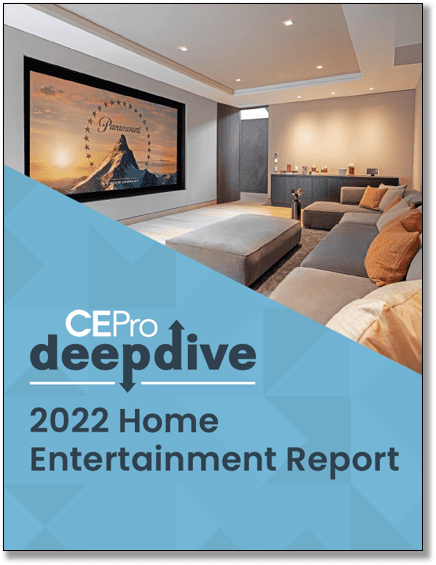 The home entertainment category is especially susceptible to the supply chain crisis because there are so many individual components required. Despite that ongoing problem, the once-forgotten "home theater" category continued its strong comeback in 2021 likely driven by the ongoing house-bound public due to the COVID-19 pandemic.
Download your copy today!
"The customers love the way it disappears in the ceiling. When you align them in the lighting grid, you don't even see it once you are 10- to 12-feet away. Customers are also happy with the sound output," says D'Onofrio. "It is our best-selling speaker by a longshot," says D'Onofrio.
"It has a very dense enclosure so sound transmission into other areas is automatically mitigated just by virtue of its design."
— David D'Onofrio, Realm
He says that Realm sells four times as many James small aperture speakers compared to the next-most-popular loudspeaker Realm offers its clients. And in terms of revenue, D'Onofrio says the speakers are his No. 1 brand eight-fold more than the No. 2 speaker Realm sells.
"It is our go-to speaker and I would say it is on 90% of the projects we touch," says D'Onofrio.
The fact that the speaker installs just as easily as a canned light, and the ability to order custom trim kits are among D'Onofrio's favorite features. The trim kits enable Realm to satisfy and ceiling surface type, from sheetrock to wood, bezeled or bezel-less depending on the needs of the client.
James Loudspeaker also touts its ability to customize its products, whether it be grilles, toe kicks for Power Pipe subs, or actually customizing the speaker module itself to fit odd-sized locations.
"It has a very dense enclosure so sound transmission into other areas is automatically mitigated just by virtue of its design, and we have had pretty much zero failures with it," he notes. "It checks all the boxes and goes all the way down to about 45Hz… so it's a pretty nice product."