ISE 2019 Find: Wi-Fi In-Ceiling Speakers, Multiroom Audio from Lithe
Lithe Audio to demonstrate powered Wi-Fi in-ceiling speakers at ISE 2019, with 30-zone multiroom audio support — no hub, no speaker cable, no bulky boxes.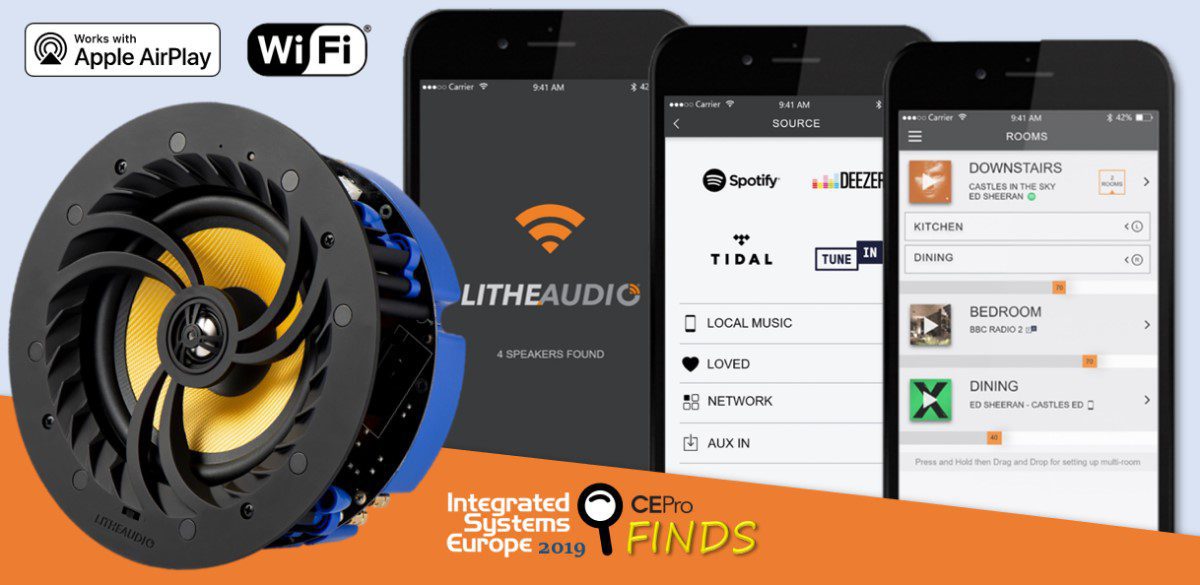 There's nothing like scanning a list of audio, video and home-automation companies, and finding some unexpected gems. That's what happened when I filtered the ISE 2019 exhibitor list to include companies tagged with "new" and "residential."
Here's the first of our ISE 2019 Finds – In-Ceiling Powered Wi-Fi Speakers by Lithe Audio.
Lithe is a good 10 years old, but they're listed as a new exhibitor at ISE, which is just as well – I might not have discovered them otherwise.
The company's most interesting product is the "All-in-one" WiFi in-ceiling speaker, with built-in amplifier, "superb sound quality" and AirPlay support.
"Just add power and you're good to go," the company says, suggesting installers simply tap into a lighting circuit behind the wall or run a power supply (included) to an outlet.
No speaker wire is required for the powered "master" speaker, but a passive "slave" speaker can be connected to the master via speaker cable. The speakers can be designated as mono or stereo. The system supports up to 30 masters.
Lithe offers an app for configuring multiroom audio zones, and for streaming Spotify, Tidal, Deezer, Tunein and vTuner internet audio … in addition to whatever the user wants to stream via AirPlay. UPnP is supported for direct streaming from a server.
RELATED: Wi-Fi Looked Like a Home-Automation 'Standard' at CES 2019
The speaker features a 6.5-inch Kevlar woven cone and a Class D amp rated at 60W RMS into 8 Ohms.
In addition to the standard master and slave units, Lithe makes an IP44-rated model for wet areas like the bathroom.
Lithe's sister company is Retrotouch, makers of switches, outlets, and glass touchplates.
---
Lithe Audio WiFi All-in-One Multi-Room Ceiling Speaker (Master)
Features, Specs, Pricing
FEATURES
All-in-one solution – Amplifier and Wi-Fi all built in, just add power.
Easily connect to plug socket or existing lighting circuit
Built in AirPlay and DLNA
Connect up to 30 master speakers (30 zones)
App control via IOS or Android, full control with easy drag and drop zoning
MULTI-ROOM AUDIO
Connect up to 30 master speakers (30 zones)
Spotify Connect directly to speakers
Play Spotify, Deezer, Tidal, Tune in and v tuner
Play music to a group or individual rooms
CONNECTIVITY
App control via IOS or Android, full control with easy drag and drop zoning
Access digital music storage using NAS drive (Networked Hard Drive).
Connect to existing WiFi 2.4Ghz
Apple Airplay certified
DLNA/uPnP connections
Line in (RCA input)
WiFi Certified 2.4Ghz (802.11b/g/n)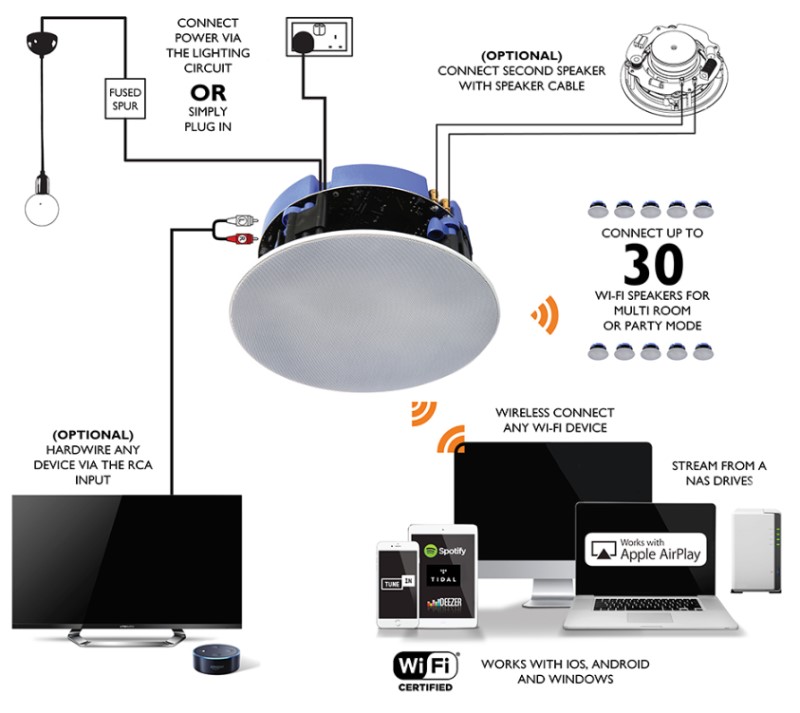 AUDIO SPECS
Woofer: 6.5″ Kevlar Woven Cone
Tweeter: 0.75″ Titanium Cone
Mono/Stereo Switch
RMS Power: 60W RMS
Impedance: 8 Ohms
Sound Quality THD+N 0.009%, 65Hz-20kHZ
Sensitivity (1W/1m): 90dB
Audio Sample Rate: 8Khz
Digital Class D Amplifier
SPEAKER SPECS
210mm cut-out diameter
Weight: 3.7kg
Power Supply: DC24V / 2.5A
Dimensions: (W x D) 230 x 95 mm
Operating Temperature: 0º to 40º C
Storage Temperature: -20º to 70º C
Limited Warranty: 2 Year
WHAT'S IN THE BOX
WiFi Ceiling Speaker
Power Supply
Cutting template
Instruction manual
5m Speaker cable
PRICING
WiFi All-in-one (Single – Master) – $426
WiFi All-in-one IP44 bathroom speaker – $465
WiFi All-in-one (Pair – Master/Slave) – $516
10-speaker system (5 Master, 5 Slave) – $2,582