I'm struggling to wrap up ISC West 2019, the big security conference in Las Vegas last week. I walked away going: Hmmm … what did I just see there? Maybe I'm just getting old, but it was hard for me to discern any particular themes or point to many stand-out products this year on the residential security or home-automation front. Here's what I've got:
3G/CDMA Sunset: Millions of security systems that communicate with central monitoring stations via 3G/CDMA cellular networks will go dark by early 2022 when the sun sets on these legacy networks in favor of 4G/LTE and 5G service.
Several manufacturers touted standalone alarm communicators that could upgrade legacy panels to modern-day cell service and IP communications (plus some Z-Wave and other features for good measure). But these are nothing terribly new. Alula, Napco, Telguard, DMP, Elk and others showed universal communicators for upgrading existing panels, but all of them still require a truck roll and many dealers shudder at the thought.
3G Upgrade, No Truck Roll: Only one new product that I've seen can claim to upgrade legacy cellular systems to 4G/5G networks without a dealer service call. I discovered the solution at ISC but it's still in stealth mode. Stay tuned.
DIY Alarm Takeovers: At least a couple exhibitors at ISC touted products and services that allow consumers to turn their existing alarm panels into DIY security and home-automation systems. BridgeSecure and Konnected use triggers from contact IDs to call/text friends and family (or 911) or enact home-automation events. Konnected is the more intriguing of the two with several third-party integrations and optional monitored security by a company that looks quite interesting – Noonlight.
Barely any Lighting Control. Typically, some of the lighting-control manufacturers in the integration space appear at ISC, but they were mostly no-shows this year, even though lighting is such a critical element of security. Looks like Ring will own outdoor lighting in the residential security channel for the time being. Where is the development in this area?
Smart Padlocks. Smart padlocks went from handy bicycle protectors a few years ago to whole-hog access control systems. This is an interesting newish category I'll discuss in a future article.
Wellness, Aging in Place. Big fat blah this year at ISC in the aging-in-place category. Alarm.com talked about its wellness initiatives with anyone who asked, and Freeus showcased the Belle GPS pendant and fall detector, but otherwise the category was pretty quiet this year – a pity since we saw so many promising solutions at CES earlier this year. I didn't see any noninvasive imaging technologies like Vayyar, Cherry Home or Cognitive Systems (Aura) that track people without taking their pictures.
Personal Safety Devices. ISC West 2019 was the show for people afraid to go out at night. Personal safety devices were all over the showfloor, with features like cameras, two-way talk, strobes, Tasers, 911 calling and "threat detection cues" in the case of Magi's NightStick.
Nothing Much in Fire Prevention. Maybe there were some goodies in fire detection and mitigation for the commercial market, but I didn't see anything interesting in residential. Pity.
Some Interesting Things
As usual, I did my homework before ISC, which wasn't easy since the show producer Reed Exhibitions failed to include show floor maps on the website. Here are a few interesting items I highlighted before the show, but unfortunately was unable to see first-hand.
Sure-Fi claims to be "the world's first radio designed to reliably connect through heavy obstruction." We doubt that claim, but the company does have some nifty "bunder busting" long-distance RF solutions that apparently go one mile with obstructions and 50+ miles line-of-sight. They have wireless bridges for access control (Wiegand), HVAC, relays and analog sensors.
Zynet, aka Koochuwah, looks like any cheesy me-too alarm maker, but this one is a crowd pleaser: the RV Protection bundle to protect your vehicle "while you are off exploring the sights on your epic road trip." The system is just the company's GSM Solar Powered Outdoor Alarm System, but the RV angle is a nice twist.
Monitoreal looked interesting from the description, but I missed it. The $249 "video security assistant uses advanced object detection so you can see the things you want (people, vehicles, animals) and ignore the things you don't." The real beauty of this device is that it shuns cloud-based computing and processes data locally, "which eliminates the risk of your video feed being shared or hacked."
As the company says: "Smart, autonomous, completely private video security. No cloud!"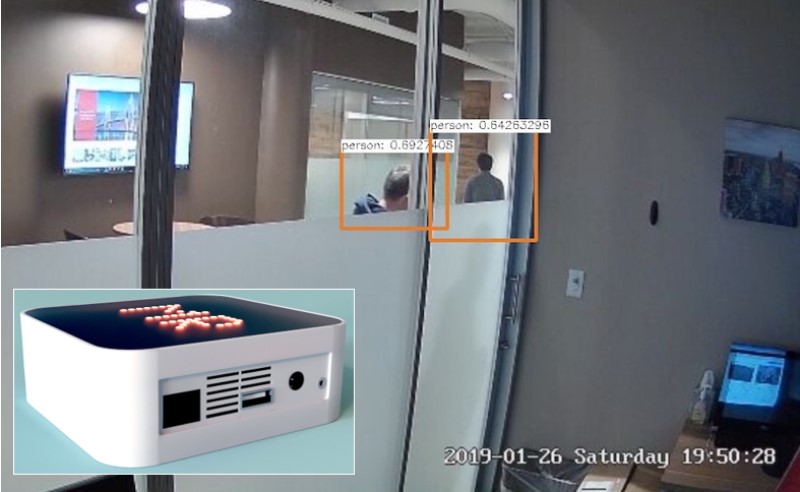 Related ISC News:
Alula BAT-Connect Adds Cellular, IP, Home Automation to Ordinary Security Panels
Resideo Debuts Next Gen Security and Smart Home Platform at ISC West 2019
2GIG Introduces eSeries Security and Control Ecosystem at ISC West 2019
If you enjoyed this article and want to receive more valuable industry content like this, click here to sign up for our digital newsletters!