For the past few years, research firm Parks Associates has looked at the insurance industry as a smart-home driver, with providers tapping smart-home devices and analytics for mitigating loss (particularly from water damage) and honing risk assessment.
More insurance and risk-related companies than ever will be at Parks' Connections Conference this week in San Francisco—AARP, American Family Insurance, Amica Mutual Insurance, Amtrust, and Assurant will all be represented…and those are just the "A's!"
And there will be plenty of product and service providers on hand to peddle their wares to these big market makers.
Beyond the myriad water sensors represented at Connections, we'll see a handful of particularly clever devices (from sponsors as well as attendees) that do more to mitigate loss, especially from water damage.
More on CE Pro: Insurance and the Smart Home
Attending company Flo Technologies has a system that includes an app, flow detector, and auto-diagnostic tests that monitor water flow in a residential plumbing system to detect potential issues—leaks, freezing, etc.—and shut off the water supply if warranted.
As a Connections sponsor, LeakSentinel will demonstrate its noninvasive water shut-off system that sits on the water main and physically torques the valve closed when a leak is detected—all this in a DIY solution that sells for less than $200.
Compared to other security-related devices, leak detection is a tougher sell to homeowners and insurance providers alike, says LeakSentinel CEO, Bill Loesch, a presenter at Connections.
"Homeowners insurance covers financial losses from fire, theft, and water leaks, but fires and robberies threaten personal safety while water leaks do not," he says. "For leak detection systems to be more widely deployed, unlike home security systems, they must be financially attractive to both homeowners and insurers."
"Deep Warranty Expertise"
Notion + HomeAdvisor = Loss-Mitigation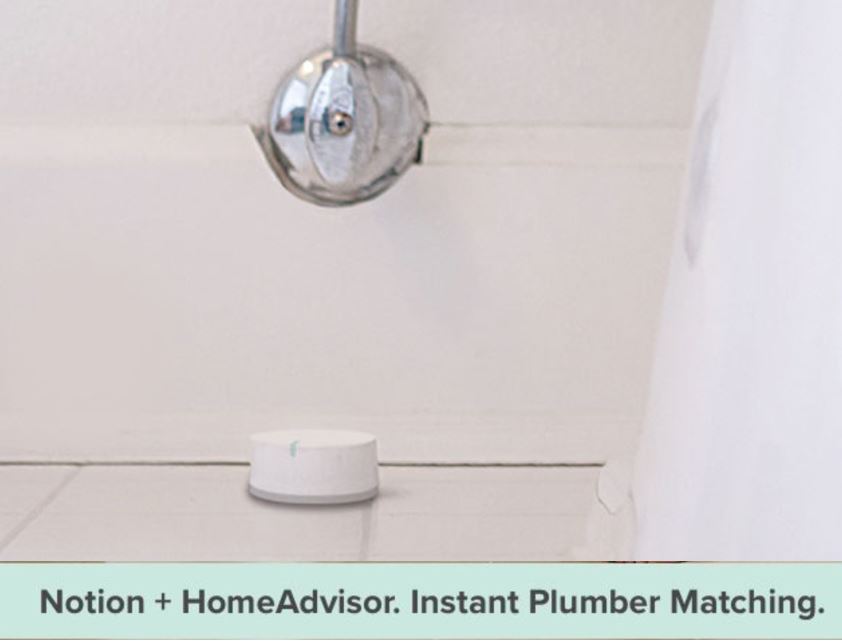 Newcomer Notion will tout its "home awareness solution" that revolves around a single multipurpose sensor that detects water leaks, smoke, or CO alarms (via audio analytics), and changes in temperature and motion.
It's a clever little sensor, but Notion is more about the analytics—the "ability to collect and analyze massive amounts of data," the company says.
Notion recently teamed with HomeAdvisor—a network of third-party contractors—to trigger a call to a plumber within 60 seconds of a leak detection.
Insurance companies are also using smart-home technology to sell more stuff into the home. Through its "TapSafe" platform, AmTrust employs network-scanning technology from Fing to sell product warranties. Customers scan their property for connected devices via the Fing app, while Fing generates product details through its vast and always-learning database.
Because of AmTrust's "deep warranty expertise," the insurance provider can discern the age and warranty status of each device, and offer new or supplemental warranties through the consumer app "in near real time."
Currently, AmTrust Innovation Labs is working to put TapSafe to use with network security providers and electronics retailers.
Insurance & IoT
According to Parks Associates research, nearly 50% of U.S. broadband households with insurance are interested in devices that communicate directly with their insurance company.
Other Insurance-related stats from Parks:
Nearly 40% of consumers with insurance would switch insurance providers to obtain smart home products.
20-30% of consumers with insurance are likely to purchase a fire safety package for an up-front cost of $200-$400.
51% of U.S. broadband households find an IoT device that alerts them to smoke and fire highly appealing.
41% of U.S. broadband households find a device that alerts them to a water leak to be highly appealing.
The Connections conference features two special sessions on the subject: "Smart Insurance: Mitigating Risk and Engaging Consumers" and "Insurance and Home Services: Being a Trusted Advisor."
Participating in the discussion will be executives from AmTrust North America, Hippo Insurance, LeakSentinel, Roost Labs, Swiss Re, and Verisk Analytics.
If you enjoyed this article and want to receive more valuable industry content like this, click here to sign up for our digital newsletters!