First in-person InfoComm since 2019 was held in Orlando, Fla., in October, welcoming 7335 verified attendees to meet with 254 exhibitors in successful commercial/resimercial showcase.
After 28 months without an in-person InfoComm show in North America, InfoComm 2021 welcomed the pro AV industry back together Oct. 22-29 at the Orange County Convention Center in Orlando, Fla.
"InfoComm is the home for commerce, networking, and learning in the AV industry," states David Labuskes, CTS, CAE, RCDD, CEO of AVIXA. "It was incredible to be back in person and play host for AV professionals to help them grow their businesses, careers, and knowledge base."
InfoComm 2021 total registrations came to 14,017, with 7,335 total in verified attendance, according to AVIXA. The commercial and resimercial technology show hosted 254 exhibitors and spanned across 124,100 net square feet. 
In 2019, the last InfoComm before the pandemic, there were a record 44,129 attendees and 950 exhibitors, meaning the show was reduced in size by 83.4% and 73.3%, respectively. This year the trade show floor doors opened on Oct. 27 at 9 a.m. for pro AV buyers and sellers, and AVIXA reports from suppliers that despite the anticipated lesser attendance, connections were strong during the show and morale was high.
"Our founder Harro Heinz is 92 years old, and he was a driving force behind our decision to exhibit at this year's InfoComm," said Graham Hendry, Vice President of Strategic Development, Renkus-Heinz.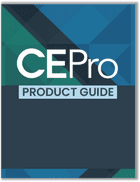 CE Pro's 2022 Product Guide showcases some of the latest and innovative solutions from manufacturers serving the custom electronics industry in a cross-section of categories.
Download the guide now!
"There was a sense of duty, a sense that we were coming out of everything chaotic, and that there was a near-term opportunity that needed to be capitalized upon. Well, Harro was right! Our audio demo room was standing room only, from the first demo to the last. Deals got done, and the traditional buying cycles got crushed – in a positive way. Visitors told us of their challenges, we gave them solutions, and we wrote orders. It was a phenomenal show!"
Adds David Pedigo, CEO of Auralex Acoustics: "From a business perspective, our booth had paid for itself within three or four hours of the doors opening. Everything after that was just gravy. We had end-users from sports, education, and corporate markets placing orders, plus many integrators coming to us who previously weren't aware that they could act as dealers."
Learning & Certification from 90+ InfoComm Courses
Education was also at the forefront of the show – whether it be in classrooms or at the Technology Innovations Stage. Sean Wargo, AVIXA's Senior Director of Market Intelligence, and Peter Hansen, Economic Analyst for AVIXA, kicked off the Technology Innovations Stage program lineup with a State of the Industry presentation, walking through the macroeconomic landscape, industry revenue forecasts, and supply chain issues. In this presentation, they also previewed the new Market Opportunity Analysis Report dashboard, which surveys 1,500-2,000 buyers quarterly.
The State of the Industry presentation also gave a first look at AVIXA's new compensation tool, which utilizes data from over 5,000 respondents from the annual compensation survey. The tool, scheduled for release in December, provides personalized salary estimates on a global level that allows people to explore how to increase their market value.
Over 90 courses were available throughout the week, including AVIXA's highly regarded Certified Technologist Specialist (CTS) Prep Course. Many AV professionals took their CTS exams at the show, and a total of 44 professionals earned their CTS, 11 attained CTS-D (Design), and 15 became CTS-I (Installation), according to the association. Setting a record, Phil Ayache, President of Bespoke Technology Group, passed all three exams in one day.
InfoComm 2021 hosted 811 unique attendees in education sessions, offering a wide variety for commercial integrators as well as residential custom integrators who do resimercial and commercial work.
Sessions On-Demand; Industry Looks Ahead to 2022 in Las Vegas
Networking opportunities abounded with AVIXA council events, award recognitions, and after-hours celebrations. The AV industry's commitment to diversity, equity, and inclusion (DEI) was seen throughout the show, AVIXA adds. The annual AVIXA Women's Council breakfast and Diversity Council event were met with full audiences, empowering keynote speakers, and productive discussions.
Additionally, HETMA (Higher Education Technology Managers Alliance), with the support of AVIXA, launched the Prism Scholarship to support the growth of underrepresented communities within the U.S. higher education technology workforce.
InfoComm 2021 also presented a virtual experience, which is now available on demand until November 30. It features an InfoComm Morning Show from each day that includes interviews with key speakers and industry experts. It also includes the recorded livestream of the Technology Innovation Stage, where 25 sessions were presented covering pro AV solutions trends. Also available is the AVIXA Women's Council keynote presentation.
In-person InfoComm 2021 attendees have free access to the on-demand content. For those not in attendance, a virtual-only pass to InfoComm 2021 is $59 for AVIXA Premium and Elite Members and $89 for all others. Visit www.infocommshow.org/virtual.
InfoComm 2022 will take place at the Las Vegas Convention Center June 4-10 (exhibits 8-10).