The coolest smart home device I saw at CES 2019 wasn't even in the smart home area at the Sands Expo. It wasn't even in the Las Vegas Convention Center Central Hall with all the incredible new TV displays. It was tucked away in North Hall of the LVCC with the automotive booths.
That was where I found GHSP, a global OEM supplier in the automotive and premium appliance industries based in Grand Haven, Mich., demonstrating its smart digital backsplash.
The company's smart surface turns an everyday kitchen into a technology hub by converting the backsplash to an edge-to-edge touchscreen and brings the oven's cooking controls to anywhere in the kitchen. Users can look up recipes online, play a podcast, or close the garage door, all from the same interface.
"We recognize that consumers are mobile but are tired of learning a new interface each time they enter a new vehicle or environment," said Marc Smeyers, GHSP's chief technology officer. "That's why we've created solutions that are not only personalized but are an integrated and seamless experience."
"We've also reimagined the kitchen, creating a digital backsplash smart surface where consumers can access and control their favorite features and apps. Even the oven controls are moveable and can be accessed virtually anywhere," said Smeyers.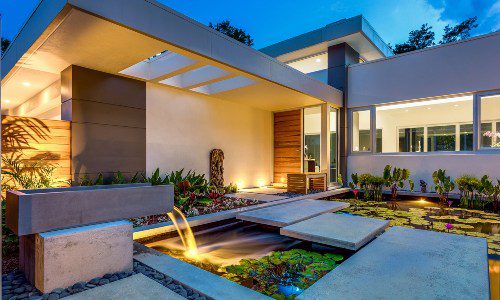 Landscape and architectural lighting create a magical and elegant ambiance for homeowners. The outdoor lighting industry has always been a phenomenal one and continues to grow in popularity. Now is the ideal time to learn more about this rapidly growing and highly profitable industry. Join our panel of esteemed lighting experts that will dive into why it's time for integrators to rethink their role in the outdoor lighting industry.
Register Now! 
"As consumer behavior and expectations change, it's vital we create innovative control systems, like those we're showing at CES, to continue to be relevant in the market."
Compatible with Appliances
If you want the backsplash to look like a conventional tile backsplash… presto… just configure it. The CES demo is currently a prototype. The company says it will be able to connect to particular appliances and devices in the home in the future. The unit is also compatible with Amazon Alexa and Google Assistant.
Ian Sage, chief engineer of innovation at GSHP, says the smart digital backsplash could be fully compatible with any third-party control system, depending on the manufacturer's choices.
Read Next: Tuya at CES 2019—Biggest IoT Framework U.S. Has Never Heard Of
"Even the oven controls are moveable and can be accessed virtually anywhere."
— Marc Smeyers, GHSP
The unit is a multiscreen controller built on large-format wire mesh touchscreens. GSHP says it is investigating new large format display technologies.
There is currently no pricing available on the product, primarily because GSHP doesn't want to actually make it themselves, rather find a partner to build it and market it.
"We are currently interested in talking to new partners/suppliers to make certain portions of the product reality and determining cost," says the company in a press release, adding, "As of now, this product is not available to the average consumer as it is still conceptual, but we are interested in discussing with technology partners to help bring this product to market."
The company also showcased a travel pod interface for vehicles with a wireless charging capability for mobile phones using the Qi wireless standard, and an automatic disinfection technology using UV-C light.
If you enjoyed this article and want to receive more valuable industry content like this, click here to sign up for our digital newsletters!