So, CE Pro, the leading trade publication in the smart-home industry (ahem) has been acquired by Emerald Expositions (NYSE: EEX), the big tradeshow and media company that acquired CEDIA Expo last year. They're also buying the rest of EH Media's "Connected Brands" group, which includes Commercial Integrator, Security Sales & Integration, and related events and brands. (Read the press release.)
I know your first question, so let's just get it out of the way: Will CE Pro become a puff publication, a pawn of Emerald to promote CEDIA Expo and convince integrators to attend their other events like KBIS, the Kitchen & Bath Show.
Will JJ be fired for, er, questioning a CEDIA exhibitor in print?
In a word: No. That would bore me to tears – not that I make a habit of offending anyone in our industry. I prefer not to. Sometimes it happens.
It would also bore editor-in-chief Jason Knott to tears. Peddling party lines would undermine the very thing that has made CE Pro a leader in the home-technology industry. The same goes for Commercial Integrator, Security Sales & Integration and the other related EH Media titles acquired by Emerald.
The editors are staying put. The salespeople are staying put. Most of us wouldn't stick around to be Emerald mouthpieces.
Publishers Steve Nesbitt, Ray Lyons and team would have nothing to sell if that were the case.
We are EXCITED
CEO Ken Moyes and I founded EH Publishing (now known as EH Media) in 1994 with the acquisition of Electronic House – a magazine launched in 1986 and still ably led by editor Lisa Montgomery, my mentor. She's the one who taught me what "HVAC" meant when I was (understandably) too embarrassed to ask an HVAC company I was about to interview. This was way before the Internet.
Lisa probably owns the title of Most Experienced Smart-Home Reporter on the planet, going on 32 years now.
We've grown mightily over the past 24 years, and almost always profitably except for the dark days of the recession. We've also grown mostly organically, for example, launching the successful CE Pro 100 Summit, which begot the Total Tech Summit, which is part of the acquisition.
RELATED: EH Media and CE Pro: How it all Began
Likewise for Commercial Integrator, a leader in the category. We launched it in 2010 under the leadership of Tom Leblanc, the amazing CE Pro senior editor who was destined to run his own little media empire.
Security Sales & Integration, a leading trade publication in the security industry, came to us by way of acquisition, but they were already like family. Jason was editor and publisher of the title for 10 years before we lured him to CE Pro in 2000. Longtime editor Scott Goldfine leads the brand today.
Jason was my longtime media contact at SSI when I did marketing for Arius, the former $110-million security distributor.
I always thought: This is the most awesome editor ever. Today he runs our Connected brands. He's our boss man, and he couldn't be more excited about this deal. We all are psyched.
Why? Because we have largely succeeded over the years through a philosophy I call "growth by figuring stuff out."
I, for one, look forward to "growth by someone teaching us." It's faster that way. We couldn't ask for a better growth partner than Emerald, which owns more than 55 trade shows and 16 media brands.
The Synergies are Real
Speaking of growth, we hope to do plenty of it — not just growing our business but the industry. Partnering with Emerald will help us expose our various trades to the design/build markets they yearn to reach.
You want hospitality? Emerald has it. Home builders and designers? Ditto. Senior living? That too. Right now, they don't know "us," the technology designer, installer and integrator. How much fun will it be to make these much-needed connections?
And don't get me started about Emerald's high-end contemporary furniture fair (ICFF). OK, so I have an unhealthy love for modern furniture, and I'm jockeying for a pass to the show, but the synergies are real.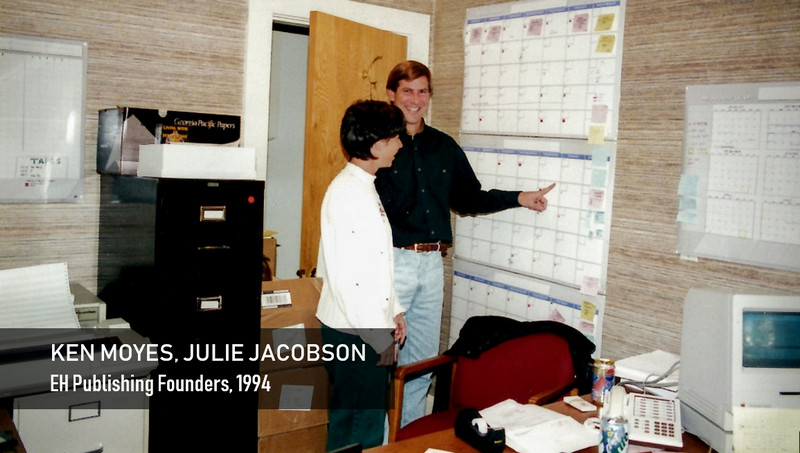 Home-technology integrators and manufacturers would have a field day in front of ICFF's audience of 36,000 architects, designers, developers and related buyers and specifiers.
Dealers in particular will swoon over all the beautiful, expensive, high-margin new things they can sell in the luxury furniture and lighting space. You know you wanna sell these gorgeous fixtures.
These are the types of things that get us excited — finding new opportunities for our audiences and advocating for our channel. It gets Emerald excited, as well. They have talked about getting the CEDIA channel more engaged with their partners in the design/build communities. Our strong industry presence will go a long way to that end.
Emerald SVP Brian Pagel, who oversees Emerald's CEDIA and Kitchen & Bath categories, will lead our Connected brands. He and his team can't wait to put our thought leadership to work, and we can't wait to benefit from theirs.
We already have: I discussed with Brian my interest in wellness-related technology and my upcoming CEDIA Talk on the subject. He told me all about what ASID (American Society of Interior Designers) is doing in this emerging category and connected me right away with ASID's point person.
Brian is super-cool. We like him. You'll like him. He's no corporate stuffed shirt. He thinks our business is awesome and our industry is awesome. He can't wait to learn and grow along with us.
I'll be doing my thang as usual, forever keeping my colleagues wondering: "What does she actually do?"
— Julie Jacobson, founding editor, CE Pro
A Big Fat Thank You
This deal is a milestone for all of us, but Ken and I are especially gratified, grateful and a little emotional.
What started as a sketch on a napkin in a diner a quarter-century ago, became a boutique business headquartered in a small room in Wayland, Mass., and then a pretty decent-sized enterprise worthy of being acquired by a leader like Emerald.
We are so grateful for all the people that got us here — the passionate, hard-working folks at EH, the advertisers that so generously support us, the readers that engage with us and challenge us everyday — some relentlessly, but that's OK — and all the friends we've made along the way.
So thank you from the bottom of our hearts. Here's to more of a great thing!
Right now, it's back to work with the team — Jason Knott, Ray Lyons (publisher, integration channel), Steve Nesbitt (publisher, security), along with great editors, brand ambassadors, and the people behind the scenes that make us tick.
I'll be doing my thang as usual, forever keeping my colleagues wondering: "What does she actually do?"
If you enjoyed this article and want to receive more valuable industry content like this, click here to sign up for our digital newsletters!