One of the Midwest's powerhouse integration companies, Echo Systems, has initiated a large-scale brand refresh including a name change.
Echo Systems' acquisition of Integrated Electronics in 2019 and Dallas Sight and Sound in 2021 led to major expansion of territory, talent and offerings, and owner John Palser believes it is time to reimagine the company as one unified team under the new name of Denizen.
"Who we've been is incredibly important," says Palser, founder of Denizen. "The history and legacy of each of these companies will never be lost – they've all contributed so much to who we are as a team. But now is the ideal time to imagine all that we can be together and bring a new spirit and vision to the collective group."
That vision was also largely influenced by a new approach to customer service and satisfaction. Leadership believed the client experience must take center stage, even in the naming and branding.
For most Americans, "home" has taken on a more important role than ever before, whether it's a place of quiet refuge, a home office, a busy, bustling hub of family life, or for many – all of the above.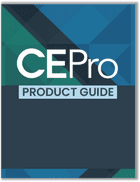 CE Pro's 2022 Product Guide showcases some of the latest and innovative solutions from manufacturers serving the custom electronics industry in a cross-section of categories.
Download the guide now!
Palser and team came up with the idea that one shouldn't just feel like a "resident," but instead a true citizen of their own home. Hence the name Denizen, which they define as one who truly rules their space, moving through each day with intention, focus and, hopefully, sheer delight—especially with integrated and smart technology.
The busy Denizen team also travels. With offices in Omaha, Kansas City and Dallas, they are now actively working on projects across 14 states, from South Dakota to Texas.
They're also open to new growth, having extended the language around their services to include "wherever you call home." In 2017, the company undertook a major investment to build an award-winning showroom that cost $2.5 million.
The new, sleek, black and white logo and branding positions Denizen as a sophisticated, creative, connected partner who can "make your home your world."
From mood-matching music that floats and follows you from room-to-room to eye-popping entertainment that's either brighter and better than ever (or completely disappears with a single touch) and so much more, team Denizen invites you to experience all the possibilities of the ever-changing world that is home technology, and quite simply, to love living in it.
John Palser sums it up, "I'm so proud of our team, this refreshed brand identity, and most of all of the experience we offer our clients. It will be the same level of premium care and commitment, under the same ownership – but it's exciting to look the way we feel, and that is high-tech, high-level, and at our absolute best."
To see and experience the new branding, please visit the Denizen website at: /.