Dish Hopper Duo Provides Full-Service Entertainment for Smaller Spaces
The two-tuner Dish Hopper Duo provides the intelligence of a Hopper 3 DVR for smaller homes with one or two TVs.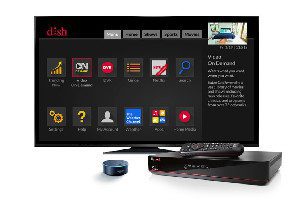 While we're used to seeing Dish packing new features into its set-top boxes, the satellite company is scaling down its product this time with the introduction of the Dish Duo STB.
Designed for spaces with just one or two televisions, the Dish Duo allows users to enjoy the capabilities of a full Dish system without having to sift through extraneous features.
"The average U.S. home has about two TVs connected to a pay-TV service," says Niraj Desai, vice president of product management, Dish. "Hopper Duo is a feature-rich, high-value product for households that want DVR capacity for only one or two screens."
Dish Duo Supports Amazon Alexa and Offers Built-in Netflix
The Wi-Fi capable Hopper Duo incorporates Dish's usual state-of-the-art user interface, including HD graphics and options to enable users to find their favorite content. An onboard 500GB hard drive supports up to 125 hours of HD DVR recording. Like other Dish products the Duo works with Amazon Alexa for voice-enabled content searches and navigation.
Netflix, Pandora, games and other apps are provided out-of-the-box.
For secondary zones, the Duo pairs with Dish Joey, a 4K Joey or Wireless Joey STB node.
With two tuners, the Duo allow homeowners to watch or record two live programs simultaneously.
Qualified new and existing customers can receive a Hopper Duo at no up-front cost. Dish charges $10 per month for the DVR plus $7 per month for additional STBs.
Related Content: Why Dish Spent $20B on 5G Spectrum (and Why Integrators Should Care)