The home theater market has ebbed and flowed over the past decade. At one time, dedicated theaters were all the rage. Today, it is great room deployments led by TV displays over projectors. A while back, many integrators shied away from selling TV displays at all due to the margin erosion.
Today, that market has made a comeback, primarily due to the introduction of 4K, with 8K's debut being used by many integrators to show clients how affordable 4K has become.
It is against this backdrop that CE Pro launched its first-ever Two-Piece Projection & Display Deep Dive Study to delve into some of the pertinent issues facing integrators as they look to spur their projector and display installation business. The study was conducted in April 2019 and had 117 respondents.
Among the key takeaways are:
The average integration company installs five projectors and 180 TVs per year.
The average project includes four TV displays.
More than one in five TVs (21%) are purchased by the homeowner and installed by the integrator.
Nearly one in 10 projects features at least one TV and a projector.
The lack of IP controls for displays and projectors is the biggest complaint among integrators.
Sony is the most preferred brand for both projectors and displays.
Screen Innovations is the most preferred screen brand.
The average profit margin for a projector/screen installation is 32%.
Finding the right projector for the right application is the most important criteria for projector selection, but image quality is named as most important for flat-panel TV selection.
Missing Features Vary Widely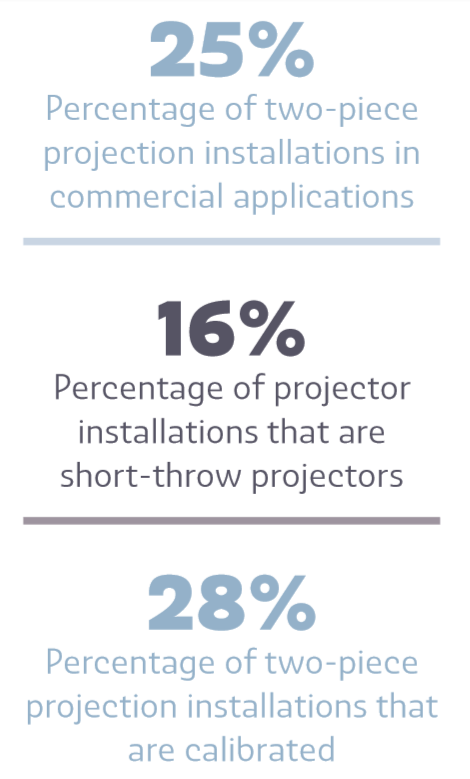 When asked which features they would like to see included in TVs and projectors, the responses varied, but there were some common threads.
IP Controls

One theme that kept coming up over and over again among respondents was the lack of IP controls.
Multiple respondents said that reliable IP control is a big missing ingredient.
Another common theme is that integrators want displays that are simply just monitors with no "intelligence" built in for specific applications. Dealers want the ability to turn off smart features completely when necessary.
"It would be important to have a feature that allows me to disable all the useless 'smart' features," says one integrator. "Those are really just data collection points for the vendor to exploit the end users' viewing habits."
Another respondent notes he would like to see Ultra HD TVs with no features or full lockdown "so the end users can't screw things up!"
Finally, another respondent put it this way: "I want a no-frills piece of glass with nothing but a picture … no audio … no streaming."
Profit & Margin

Not surprisingly, profit and margin were also common complaints. Integrators are already seeing the margin erode quickly on 4K sets, even though the new technology has helped spur the market.
Types of Inputs

Inputs are also an issue. CE pros would like to see standardization in the number of HDMI, HDBaseT and Video-over-IP inputs, as well as ensure every TV include inputs for multiple OTA tuners, and audio outputs.
Integrators are also frustrated that certain displays with a separate control box do not still have the proper inputs needed on the TV itself.
"If you have a separate controller box, make sure the TV still has an HDMI input that functions," suggests one integrator.
Product Availability

Another topic of consternation for integrators is product availability. One integrator asked for more exclusive lines just for the custom installation channel, citing, "Like Epson is doing with 4050 [Pro Cinema 4K projector]."
Another dealer would like to see manufacturers offer "more reasonable buy-ins so it is easier to have direct relationships."
Some of the other desired features include:
OLED TVs that are smaller than 55 inches

Projectors with various lens options

Exit button

Good integrated headphones

Clean display bezels with no sensors or protrusions

Better spread on the VESA pattern for mounting, especially larger TVs

Improved user interfaces for streaming services

Built-in Amazon Alexa and Google Assistant.

Projectors with network capability and good smartphone apps

Discrete codes for control systems

Standardization of HDBaseT inputs, or Video-over-IP inputs

Better motion processing for a smoother viewing experience

Better voice intelligibility

TVs that can down-mix audio out with selectable volume control of both internal or external volume levels
Finally, here are a few verbatim comments suggesting improvements to displays' features and aesthetics: "I would like to see menus that leave the picture up and tell you what the adjustment does, along with what the manufacturer recommends for adjustments," says one respondent.
"Projectors with the ability to update firmware that doesn't require a major headache to accomplish. TVs and Google-connected projectors can do this, but regular ones are a pain," notes one respondent. Lastly, one integrator offers, "Can manufacturers agree on one solid depth for TVs … and no curves?"