D-Tools Cloud Software Aims to Streamline Pre-Sales Process
Forget about seeing the sun in San Diego during CEDIA Expo 2018, D-Tools is bringing the Cloud, its new Software as a Service solution.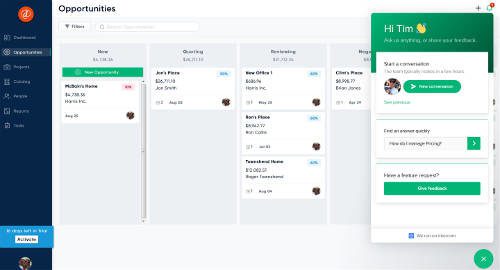 It's likely the only cloud in sight in sunny San Diego next week during the CEDIA Expo 2018 will be the new D-Tools Cloud.
Debuting at the show in D-Tools booth #2614, the new D-Tools Cloud platform is an affordable, multi-OS, web-accessible platform that enables a connected workflow and collaborative work environment for internal and external stakeholders.
"If an integrator has only five minutes to stop by our booth, he should ask us, 'How can D-Tools help my business?'" says Tim Bigoness, chief marketing office at D-Tools.
"Now we have two applications that will really help them save time, streamline their sales, design and project management process: our flagship System Integrator (SI) helps companies that are managing larger, more complex projects and has a complete solution all the way from pre-sales scope and budget to detailed design, all the way through project management, installation and service.
"And our new D-Tools Cloud is primarily focused on the pre-sales design, quoting process," adds Bigonness.
D-Tools Cloud is a scalable, web-based solution that guides users from managing sales prospects, through quoting, system design, and procurement.
This new Software-as-a-Service (SaaS) application features sales pipeline and opportunity management, in-app collaboration, workflow management and guidance, critical business analytics, and interactive multimedia proposals accessible from a web-enabled Mac, PC or tablet.
The company is inviting CEDIA Expo 2018 attendees to celebrate D-Tools' 20th Anniversary by hosting a reception in its booth #2614 on Friday, September 7, at 3:00 p.m.
Sponsored by SnapAV, Access Networks, and The Davinci Group (TDG Audio), CEDIA attendees can meet the D-Tools team and partners, learn more about the company's new Cloud platform, and take a look back at 20 years of success in the industry.
Admission is free to all CEDIA attendees and beverages will be provided. CEDIA Expo attendees who RSVP can also be eligible for a chance to win an Apple Watch.
D-Tools' CEO Randy Stearns will teach three educational sessions during the show.
"10 Tips Guaranteed to Improve Your Sales Performance and Results," Tuesday, September 4 from 1:00–2:00 p.m. at the San Diego Convention Center in room 31B. This course outlines 10 pointers on how to improve sales results, build more confidence as a salesperson, increase the quantity and profitability of contracts, and reduce wasted time and effort during the sales process.
"The Risks and Rewards of Mergers and Acquisitions," Wednesday, September 5 from 3:00–4:30 p.m. in room 31B. This session will educate business owners on the merits of merging with or acquiring a company to accelerate the growth of their businesses and will help them understand why and when to initiate a transaction and how to conduct the process effectively.
"A Contractor's Guide to the Financial Stuff," Friday, September 7 from 9:00–10:30 a.m. in room 28A. This session will identify metrics and key performance indicators (KPIs) that are critical for business owners and managers to understand in order to run a successful business in the low-voltage systems industry.
D-Tools will also offer a Manufacturers Training session titled "Create a Project in System Integrator (SI)," which will detail the process of starting a project with the software platform, SI 2018.
The session will take place Friday, September 7 from 11:00 a.m.–12:30 p.m. in room 4. All attendees are invited and, upon completion, will be rewarded 0.75 CTS credits.