Somfy and Crestron have announced a partnership designed to help integrators more easily control outdoor and indoor motorized solutions. With the newly available Crestron Home driver for Somfy's TaHoma Gateway interface, the two company's say users can seamlessly control smart shading solutions in their smart home.
Crestron Home can now seamlessly control Somfy motors in pergolas with motorized louvers or motorized screens. Combine with other smart home solutions like lighting, music, and more to create a vacation atmosphere for homeowners without leaving the backyard.
As many homeowners opt to spend vacation time at home due to the coronavirus, some are using those funds to add beautiful and functional outdoor spaces. Homeowners want their backyards to function better for their needs while maintaining a "staycation" feeling. Motorized outdoor products can create spaces that react to time, weather, and environment to improve outdoor living and enhance satisfaction.
"This highly requested collaboration will make it simple for integrators to incorporate Somfy motorized components into the Crestron Home environment," says Brittany Mier y Terán, partnership and custom integration channel manager. "By working together, we've made it easier for Crestron Home integrators to automate rolling shutters, pergolas, awnings, exterior screens, projection screens, and solar shading that use Somfy motors."
What Cestron Home and Somfy Compatability Means for Integrators
According to Somfy, this new driver allows for seamless integration into the rapidly expanding Crestron Home platform, which allows homeowners to easily access and control every aspect of their smart home from one platform.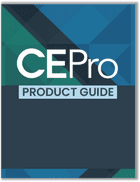 CE Pro's 2022 Product Guide showcases some of the latest and innovative solutions from manufacturers serving the custom electronics industry in a cross-section of categories.
Download the guide now!
Utilizing open and forward-looking technology means Somfy's new TaHoma interface will maintain compatibility with the Crestron Home automation system now and in the future.
TaHoma provides a single platform for Radio Technology Somfy and Somfy's upcoming Zigbee motors with a wide range of interior and exterior applications.
"More than ever, the connected home extends past the interior. Integrators frequently work with both Somfy and Crestron Home on the same projects, which is why we knew it was important to partner to deliver a frictionless user experience," says Bob Bavolacco, director of technology partner programs at Crestron.
While creating the ideal outdoor oasis, integrators can also offer traditional smart window treatment options for motorized shades, blinds, and draperies.
Crestron also offers drivers and modules for various Somfy products including myLink, Somfy Digital Network Power over Ethernet (PoE) and a driver is upcoming for the Somfy Connect Universal Automation Interface Plus (UAI+).
"Our goal is to improve not only the outdoor living experience, but the integrator's experience as well," says Mier y Terán.