Home-automation leader Control4 (Nasdaq: CTRL) killed it in Q3 2018, with record revenues, improved net income, piles of cash, no debt, and the biggest expansion of the company's North American dealer base in nearly two years.
The company met or exceeded its guidance for the quarter, and generally beat the Street's estimates.
Zacks, a leading investment research firm, lauded Control4 for earning $0.38 per share, beating the Zacks Consensus Estimate of $0.36 per share. The Q3 figure compares to $0.35 per share a year ago (adjusted for non-recurring items).
Zacks reported on Nov. 1, the day Control4 released its Q3 results:
This quarterly report represents an earnings surprise of 5.56%. A quarter ago, it was expected that this provider of in-home automation and control services would post earnings of $0.32 per share when it actually produced earnings of $0.42, delivering a surprise of 31.25%.
On this performance, CTRL stock price stayed steady on Nov. 1, hovering around the $29 mark.
The next day, however, shares of CTRL plunged, ending the day at $23.92, down 17% from the previous day's close.
On Monday, Nov. 5, CTRL dropped further, ending the day at $22.90.
Why the Wall Street Drubbing?
Why did Wall Street punish CTRL so brutally, if the company performed well in Q3?
Seems Wall Street got a little comfortable with Control4's record-breaking performance over the years. Quarter after quarter, the company would blow past guidance numbers. This quarter, they only beat guidance by a little bit.
But the killer was Control4's downward adjustment of year-end guidance by $2M to $4M.
Indeed, Zacks noted on Nov. 1, before the earnings call:
The sustainability of the stock's immediate price movement based on the recently-released numbers and future earnings expectations will mostly depend on management's commentary on the earnings call….

It will be interesting to see how estimates for the coming quarters and current fiscal year change in the days ahead. The current consensus EPS estimate is $0.43 on $74.84 million in revenues for the coming quarter and $1.42 on $274.73 million in revenues for the current fiscal year.
The pummeling came even though Control4 rather convincingly attributed the guidance adjustment to a few weak territories, rather than structural issues at the company or macroeconomic concerns.
"While CTRL delivered solid 3Q18 results … it broke its 2+ year string of beat and raise performances ….
— Richard Valera, Analyst, Needham & Co.
"We saw a solid growth from most of our 47 global sales territories," said Control4 CEO Martin Plaehn during the Nov. 1 earnings call, "and we had several sales territories that were softer than expected due to local factors including historically lower dealer adds and higher dealer terminations in Q4 of 2017 and in Q1, 2018."
CFO Mark Novakovich added: "While we are taking steps to address these factors through dealer additions, training, and support, we feel it's prudent to factor these trends into our Q4 growth expectations. To be clear, we believe that these effects are both temporary and addressable and we remain confident in both our market opportunity and our ability to deliver sustainable double-digit organic revenue growth rates over time.
Still, Wall Street wanted more.
"While CTRL delivered solid 3Q18 results, including inline revenue and a modest EPS beat," wrote Needham & Co. analyst Richard Valera, "it broke its 2+ year string of beat and raise performances with a modest guide down for 4Q."
Control4's Strong Q3: The Triumphs
For Q3 2018, Control4 reported record revenues of $71.6 million (up 11 percent year over year and 13 percent since January 1, 2018), generated $9.9 million in cash for the quarter (leaving it with $91.2 million in cash and investments with no debt), added 149 more authorized dealers (to reach more than 5,700 total), signed on several new homebuilders, and is well prepared for the impending tariff hikes.
"The excitement and early effectiveness of our certified showroom program and our C4Yourself event has been encouraging."
— Martin Plaehn, Control4 CEO
Indeed, all those metrics were better than expected among Wall St. analysts, but the company lowered its outlook for Q4 and for the year, and investors reacted by hammering the stock. For its fourth quarter, management expects revenue between $72 million and $74 million.
That is slightly below the Wall St. analyst forecast for revenue of $74.7 million during the period. For the full-year 2018, Control4 expects revenue to be between $272 million and $274 million, down from a previous forecast for between $273 million and $276 million. After the news, the company stock fell as much as 23.4 percent. As press time, the stock is down 22 percent ($22.91 per share vs. $29.06 per share).
"I'm pleased to report that in the third quarter we added 149 authorized Control4 automation dealers worldwide, including 90 in North America, which is our strongest expansion in North America since the first quarter of 2017," Plaehn said in the Nov. 1 earnings call. "Our broad dealer channel of more than 5,700 dealers worldwide is a powerful and valuable partner network actively helping us to achieve our mission to be both the platform ecosystem and solution leader for premium automation and networking for the connected home market."
Control4 CA-1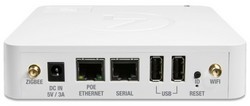 As CE Pro wrote earlier this year, Control4's CA-1 controller "takes the best of Control4's IoT solutions – including integration with lighting, energy management, security, surveillance, Alexa and more – and packs them into a $350 (MSRP) box."
With built-in ZigBee and optional Z-Wave, the product is "ideal for home builders and consumers who want IoT controls, but not audio/video," we wrote back then.
Home Builders Embracing CA-1 Controller
Control4's CA-1 home-automation controller continues to be a hit among builders. The company signed on 25 new production builders last quarter representing 9,800 new homes in 140 communities, most of which are expected to install Control4-centric systems beginning in 2019.
The company also reported a welcome reaction to its C4Yourself Day on October 18. In all, 124 of the company's162 certified showroom dealers held open houses, drawing approximately 1500 visitors including interested designers and architects, potential new customers, as well as existing Control4 homeowners.
"The excitement and early effectiveness of our certified showroom program and our C4Yourself event has been encouraging. We plan to facilitate additional regional and global consumer events for and with our certified showroom dealers and we have a growing pipeline of Control4 dealers desirous of joining our collaborative program efforts," adds Plaehn.
According to CFO Mark Novakovich, the company shipped 31,017 controllers during the quarter representing a 16 percent increase over the same period of 2017. Interestingly, Novakovich says that in the first nine months of 2018, 24 percent of the Control4 automation projects installed by its dealers were single room or starter systems consisting only of the CA-1 controller or the controller paired with a handheld system remote.
Control4 Ready for Tariffs
Plaehn says Control4 is ready for the new U.S. tariffs on goods imported from China.
"We have performed an initial analysis of our products and the respective HTS (Harmonized Tariff Schedule) classifications to assess which products are subject to these currently communicated new tariffs," he told investors. "We've also reviewed our current inventory levels and expected arrival dates of additional inventory during 2018. For the balance of 2018, we intend to absorb the impact of the currently communicated tariffs. We do not intend to change our product pricing in 2018 for existing products SKUs to our authorized dealers, nor our product MSRPs for existing product SKUs in 2018 for end customers in response to these tariffs."
Plaehn cited Control4's prior improvements in gross margins and its operating expense leverage and discipline, along with the previously announced lower tax rates, as reasons why the company can absorb the tariff increases.
At the same time, he said the company has "done substantial research" into how its products are manufactured and shipped.
"We're constantly looking at our supply chain. We have numerous contract manufacturers in different countries. We do have large partners, manufacturing partners in China. Those same companies have facilities in other countries and we're talking to them about the best way to navigate our product portfolio along with other mechanisms," he says.
Related: Home-Technology Industry Braces for Tariff War: Are You Prepared?
---
CE Pro's Julie Jacobson contributed to this report.