Elite Media Solutions in Wellesley Hills, Mass., found a way to combine old New England charm with high-tech in its newly renovated Control4 Certified Showroom. The company spent months gutting the downstairs of its showroom, which is actually a home located on a busy thoroughfare in the heart of historic Wellesley, an affluent suburb of Boston.
The two-story showroom features the showroom downstairs with the company's offices upstairs and the rack-building facility in the basement. The homey atmosphere is complete with the presence of Hubbard and Kona, the company's two puppies that are constantly there to greet customers.
Previously, the showroom was much more crowded with gear. The renovation uses brighter colors on the walls and carpeting in a series of vignettes in the open concept showroom.
"As a part of the new showroom here we have added a lot of hands-on displays where our customers can really experience Control4," says Olivia Gibson, marketing director for Elite Media Solutions, which is the No. 95 company in the 2018 CE Pro 100 with revenues nearly $3 million. "They can turn on the lights, they can turn on music… we even have Alexa voice control."
Some of the unique touches in the showroom include a hidden panel in the central column that hides the electrical circuits for the lighting control modules. There is also a subtle Triad Speakers in-wall audio and subwoofer solution on one wall, with a lounge open-concept home theater/media room featuring Revel freestanding speakers in the rear. Another wall features a full kitchen. Digital displays run Control4 videos, as well as other content.
Brian Gibson, president of Elite Media Solutions, hosted more than 75 of the ProSource-member company's top trade partners, architects, interior designers, builders and end-user customers at the showroom on #C4Yourself Day, May 31.
"They were able to come in and see the new technologies, get all excited about it, and learn more about it so they can that fun and excitement and ease of use back to their clients," says Brian.
Attendees at the 4 p.m. to 8 p.m. reception had a chance to touch the displays and use the automation. The event concluded with the Cookie Monstah cookie truck.
"We have high expectations for this new showroom," says Olivia bluntly.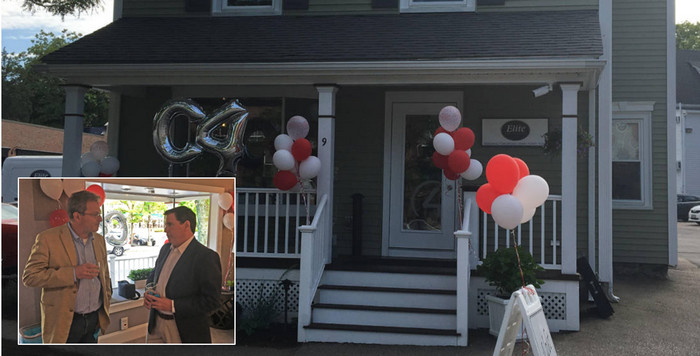 ---
Through a marketing partnership with Control4, CE Pro is highlighting integrators participating in the Control4 Certified Showroom program, with an emphasis on dealers' strategic business initiatives. Content is at the sole discretion of CE Pro editors.
---