Control4 Offers 'Prudent' 2019 Forecast; Stock Falls 18%
Control4 reports record revenues of $72.5M for Q4. Full 2018 revenues hit $272.5M, up 12%. Company provides 'prudent' 2019 growth outlook based on market slowdown in November and December 2018.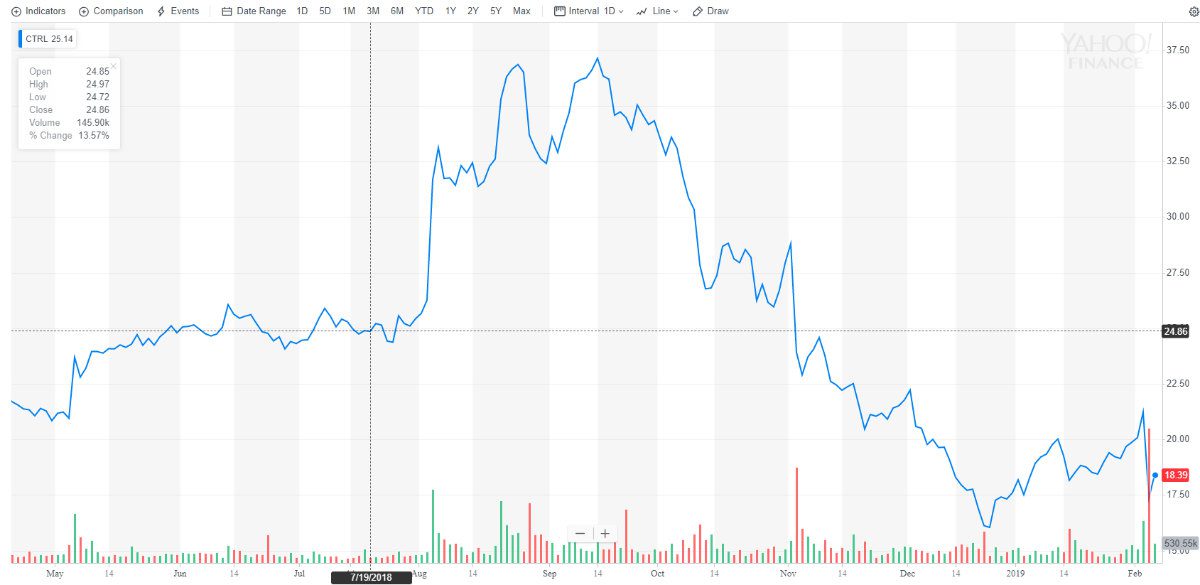 Control4 Corporation (NASDAQ: CTRL) continued its strong business growth in Q4 2018 and logged record revenues for the year, but the company hinted at some market weakness for 2019 that sent the company's stock spiraling, down 18 percent in one day.
The company reported its Q4 revenues ended December 31, 2018 were up 6 percent to $72.5 million versus $68.1 million for the same quarter in 2017. The Draper, Utah-based company's total revenue for the year ended December 31, 2018 grew 12 percent year-over-year, from $244.2 million to $272.5 million.
"During 2018, operationally, we expanded and strengthened our foundation. We have released new products, expanding the demands of intelligent networking, smart lighting, high-resolution multi-room audio, video intercom and communications and four-megapixel security cameras," said Martin Plaehn, chairman and CEO addressing investors.
"We delivered five Control4 operating system releases with new and improved functionality to our dealers and end customers, and now more than 137,000 sites of our 385,000 total registered installations are running Control4 software released in 2018."
Other highlights for the year from the company include:
58,600 new customer installations and an additional 71,000 Control4 operating system upgrades to prior installations throughout the world in Q4.
Recurring 4Sight subscribers hit 71,000, up from approximately 55,000 subscribers at the end of 2017. This is the first time Control4 has announced any 4Sight subscription data. 4Sight is the company's remote management service program that offers electronic notifications for a fee. The company launched a program in mid-2017 that enables customers to electronically re-subscribe to the $100/year 4Sight service using a self-service renewal portal. Integrators get a 20 percent revenue share of those renewals. If an integrators sells a client a 4Sight subscription, he keeps 40 percent of the revenue.
An additional 20 production homebuilders are in the process of applying to use the Control4 CA-1 controller. That is in addition to 32 builders that have already standardized on the system.
An additional 30 integrators are in the process of applying to be part of the Control4 Certified Showrooms program, joining the 199 existing members of the program.
Training of 563 new Control4 dealers during 2018 (331 based in North America and 232 in other regions around the world).
Expansion of the Control4 SDDP device ecosystem by 57 licenses during 2018 adding 9 in Q4. The company now has 327 companies licensing and embedding Control4 SDDP technology in more than 5,900 products.
Ended the year with a total of 5,900 authorized dealers.
2019 Outlook Is Cautious: Investors React
During his discussion with investors, Plaehn indicated that Control4's outlook for Q1 2019, which is usually the company's lowest quarter in terms of revenues due to seasonality, is softer than in past years.
He noted that the conservative estimates for 2019 are based on a "difference in the market performance and sentiment" in Q4 2018 compared to all of 2017 and the rest of 2018.
"November and December were dramatically different than most companies in our industry expected. And it is not prudent for us to just say that that was a two-month anomaly and that that wouldn't have impact into 2019."
— Martin Plaehn, Control4
"I think many businesses experienced a very different November and December than what they did in 2017," says Plaehn, citing what he calls "the rise of uncertainty that surfaced throughout many economies and consumer product sentiments."
"It's very clear that Q4 in November and December, and part of January [2019] needs to be looked at clear eyed and we reflected that in our guidance," he noted. "November and December were dramatically different than most companies in our industry expected. And it is not prudent for us to just say that that was a two-month anomaly and that that wouldn't have impact into 2019."
Based on that, Plaehn added, "We felt that Q1 should be more prudently forecasted," but iterated that the company is confident it will navigate any bumps in the road.
Wall St. did not like that honesty. Control4's stock price fell from $21.26 to $17.73 during the day on February 5.
Related: Why Control4 Bought NEEO
Offering more information for 2019, company CFO Mark Novakovich noted that Control4 intends to absorb any impacts from the Chinese tariff situation.
"We do not intend to change our product pricing in 2019 for existing product SKUs to our authorized dealers nor our product MSRPs for existing product SKUs for end customers in response to these current tariffs," he told investors.
"Our prior improvements in gross margin have provided us the flexibility to absorb the blended impact of current tariffs."
For 2019, the company is anticipating annual revenues between $295 million and $301 million, not including potential incremental revenues from the acquisition of NEEO, which is the company's seventh acquisition since going public in 2013.