Already occupying the high-end of the outdoor audio and lighting market, Coastal Source is notching it up with an array of even more upscale product lines. At CEDIA Expo 2018, the company showed off the lines in both its booth as well as on the street outside the San Diego Convention Center with a sound demo adjacent to the trendy Gaslamp District.
"We set a high standard in outdoor audio and lighting for our dealers," says Franco D'Ascanio, president of Coastal Source. "Our dealers were asking for even more products built to that higher standard and we are happy to deliver it."
Coastal Source Line Source, Sub, Ellipse Debut
The 12.0 Line Source Bollard speakers, priced approximately at $7,500 per pair, were the anchors at the company's booth blasting audio throughout the exhibit hall. The massive speakers stand 54 inches high and 12 inches in diameter, weighing in at 88 pounds each.
Each features 12 3-inch ribbon tweeters, six mid-range 4-inch woofers and 10-inch laminate cone subwoofer. The units, which handle in total 1,000 watts of power, can be freestanding or partially buried and have a 100-foot audio range, according to D'Ascanio.
"Integrators wanted more SPL and a wider frequency band," he notes, adding the 12.0 Line Source has a four-piece grille system that eliminates potential weather intrusion.
While the 12.0 Line Source Bollard was shaking the earth at CEDIA Expo, it can be outdone in the field by its companion 18.0 Bollard Subwoofer.
Read Next: Building a Business Model Around Landscape Lighting
The 18.0 Bollard sub, which is designed to be buried just below the grille, has a 15-inch subwoofer in a 4th order bandpass enclosure that produces a frequency response down to between 30Hz and 100Hz.
Other specs for the 37-inch high, 18-inch diameter, 84-pound sub include 600W of maximum power handling and 360-degree dispersion.
The company's new low-profile 10.0 Convertible Omni speaker is adjustable to either a 360- or 180-degree dispersion pattern. A proprietary dome woofer faces upward while a ribbon tweeter reflects a wide dispersion output directly off the woofer dome to reflect the sound throughout the listening area up to a 25-foot diameter range.
When a directional soundfield is preferred for a longer throw in one direction, the ribbon tweeter can be converted from the down-firing Omni position to the up-and-out direct radiating position to reach a 35-foot range.
Added RGBW Lighting Options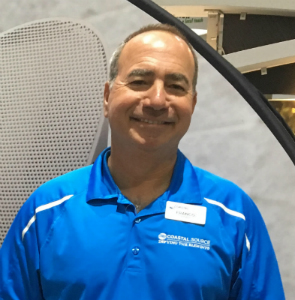 "It is critical for us to do whatever we can to reduce installation and service time."
— Franco D'Ascanio, president of Coastal Source
Coastal Source also showed off how it is able to merge its audio and video engineering skills in its the Ellipse Bollard speaker, which uses RGBW lighting to change colors.
Integrators or homeowners can set the bollard to rotate among various colors or set to a static color, such as the homeowner's college alma mater's team colors.
Meanwhile, the company's MR16 and MR11 landscape lighting lines now are retrofittable with colored RGBW lamps for a customized color.
Continuing on the lighting front, the Key West-based company's new contemporary Hinge Lighting has a space-age look to it. Each anodized aluminum fixture stands 29 inches tall and features a 3.5W replaceable LED lamp module.
The lamps are on hinges and can be downward facing to act as pathway lighting or hinged upward as a wall wash or to highlight foliage.
Coastal Source is also engineering its lighting systems to help integrators improve efficiency in the field.
Among the examples is the company's tiny Niche Lighting LEDs, which are all pre-terminated for simple connection and include a threaded rubber grommet designed to fit snugly in buried wiring conduit for a watertight seal.
Likewise, Coastal Source has a buried stainless steel cable that it first developed for a large theme park, but is now available to integrators. The heavy-duty cable is impervious to careless landscapers who are often prone to whacking buried lines with their trimmers, mowers and other power tools.
"It is critical for us to do whatever we can to reduce installation and service time," notes D'Ascanio in reference to the products.
Outdoor Amplifier 3-Way Demo Kit
Meanwhile, D'Ascanio says Coastal Source's 3-Way Demo Kit is paying off handsomely for several dealers.
The kit includes the company's CAS outdoor amplifier in a rugged plastic enclosure, a pair of three-way speakers, a built-in streamer using Apple Airplay, and wiring.
Also Read: Sound Advice on Outdoor Installs from Coastal Source President Franco D'Ascanio
The company's rep network carries the kits for demos, but many integrators have purchased the kits for their own usage.
In its CEDIA Expo booth, the company shared some of the success stories from the field by integrators, including:
Audiotronics using the kit for 20-minute setup, 3-minute demo to land an $11,000 project.
Picture Perfect Technologies with a 20-minute setup, 6-minute demo to close an $15,000 sale.
Advanced Home Theater Systems with a 10-minute setup, 1-minute demo to score a $17,000 job.
Kozak Custom Lighting with a 15-minute demo kit setup and 5-minute demo that resulted in a $20,000 project.