When is a USB cable not just a USB cable? When the "A" side is reversible so you get it in the first time … every single time. The reversible cable was demonstrated at CES 2019 by Blitztek, one of several companies showcasing smart devices that may seem kind of stupid at first glance.
CE Pro compiled a few of these smart things from CES that you might have skipped because, well, they looked pretty ordinary — a bed, a stool, a digital frame with inspirational messages ….
---
Reversible USB
Isn't it the worst thing EVER when you put a USB cable into a port and it's the wrong way, so you have to turn it around and shove it in again? Blitztek's reversible USB cables end this nightmare of all nightmares.
It's not as simple as it looks. Chief design officer Andrew Jorgensen says the company has a patented microchip that reads the USB-A plug's orientation and "redirects the charge and data" to the proper side of the cable.
Other reversible USB cables do exist, Jorgensen says, but they're "passive and not very durable."
The premium for Blitztek cable is "nominal for premium cable," Jorgensen tells CE Pro. A lightning cable costs $25 and USB micro is $20. USB-C is coming soon.
---
'Do the Knock'
This video doorbell might look like your basic Ring Pro, but it has something the regular doorbell lacks: a knock sensor.
The new device replaces a standard peephole with a two-part system — the camera on one side, and the battery, Wi-Fi radio and other smarts on the indoor side.
Ring CEO Jamie Siminoff tells CE Pro, "For the next few years, people won't understand it's a doorbell," so their inclination will be to knock. In the video above, he shows how the magic happens.
---
Strengthing the Core
These aren't just goofy-looking stools.
They are SitTight chairs with an adjustable air bladder that "makes the chair dynamic requiring constant balance."
The company claims its "revolutionary chair design stabilizes your spine and strengthems your core by requiring you to balance on your center of gravity as you sit."
---
Energy Harvested Inspiration
This might look like an ordinary digital frame, shaped like a scroll and delivering inspirational messages and images. But it's smarter than that. The Scroll from LiveKraft is self-powered through ambient lighting.
The upper scroll is not just ornamental, but houses the energy-harvesting photocells that power the device, delivering "pure inspiration without distraction."
---
Automated Dog Toilet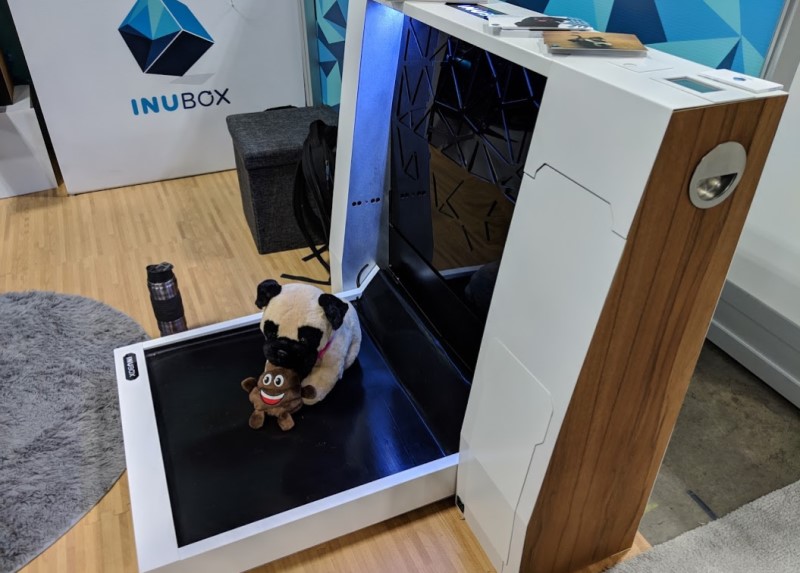 Dumb dog toilets are such a drag. That's why the folks at Newtons Box inventured Inubox, "the first fully automated dog toilet."
The company tells pet owners to "forget about cleaning messy situations every single day" because Inubox "captures, processes and contains waste with an automatic process, 100% without odors."
Here's how it works:
INUBOX knows when your dog steps on the platform and detects any waste left behind. Once your dog is away, our station closes the platform and starts the cleaning cycle in less than one minute, opening again to be used if needed.

All solid and liquid materials are passed through a solidifying process and contained in a closed bag. Once full, it delivers a sealed bag for disposal.
---
Sleep-a-by Bed
We saw beds at CES 2019. Lots and lots of beds. This one seemed pretty ordinary, but if you looked closely you would notice a slight movement of the bed from side-to-side, mimicking the motion of rocking a child to sleep. The movement is enabled by electro-mechanical pads from ZenRize, which can be used to convert any standard bedframe into a "ZenRize Sleep and Relaxation Platform."
Interestingly, just on the other side of the ZenRize booth at CES was a demo by Rocking Bed, whose product lets users "Sleep like a baby again!"
Unlike ZenRise, the Rocking Bed (below) is a self-contained system that includes the bed and all. And, unlike ZenRize, this baby really rocks, like a lot.
---
Jock Strap
Don't you just hate it when you're recording The Big Game, and the spoiler alerts scroll across the bottom of the screen? The magical TV JockStrap from Swooshrp, LLC lets users "Say goodbye to that annoying score ticker!"
Company founder Richard Pisani explains how the magic happens in the video above.
The TV Jockstrap masks the bottom or top of the screen without any permanent attachment to the television, or any scratches. It is made of soft woven elastic, and easily adjusts to different size screens!
OK, so maybe this one isn't so terribly smart, but Pisani gets points for enthusiasm.