Why does any individual or company join a professional association? In the case of CEDIA, the association has a long laundry list of member benefits, including legislative work, online dealer locator for consumers, online career center for finding new employees and posting open positions, and forming networking relationships with other integrators, as well as trade partners such as architects, builders and interior designers.
But according to several integrators who spoke with CE Pro, CEDIA's training, certification and standards are the key benefits.
Marie Devlin, vice president of Smart Systems in The Colony, Texas, specifically points to the training and certification, but also gives a nod to the peer-to-peer networking that takes place at various events as well as online where integrators share their challenges and solutions.
"We have been members of CEDIA for over 10 years. The value we find is in the training we can offer our technicians. Several of our team members have been CEDIA certified for several years. The network training is really good. I also really enjoy the camaraderie of the group."
"I want to schedule by technician's pay based off their level of CEDIA accreditation."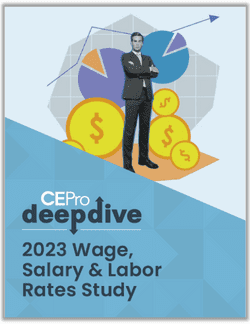 Discover the drastic difference a year can make when it comes to wage, salary, and labor rates in the custom integration industry.
— Ryan Hofer, Unlimited Electronic Lifestyles
CEDIA conducted more than 100 regional events in 2018, including single-day education sessions on technical, business and leadership concerns, as well as its CEDIA Outreach Instructor program. The association plans to hold numerous boot camps across the U.S. next year for CEDIA Certification.
Also new for 2019 will be a Smart Home Technician boot camp, which has already successfully been held in the U.K.
Online, the association plans to have 70 new courses by the end of 2019. Using the association's new Learning Management System (LMS), CEDIA will have 13 new online courses available in January. Content will also be available in Spanish.
Ryan Hofer, owner of Unlimited Electronic Lifestyles in Sioux Falls, S.D., says the CEDIA training is valuable.
"We are a member of CEDIA because we wanted access to the training resources. I want to schedule by technician's pay based off their level of CEDIA accreditation," says Hofer.
In 2018, there were 1,210 active CEDIA members with certifications, which technicians can take using the association's new educational partner, Kryterion, which has testing locations around the U.S. For 2019, CEDIA plans to revise its ESC-T and ESC-D courses.
Standards to Grow Business; Consumer Awareness
Standards development is another important initiative for CEDIA for 2019. The organization is officially launching its new CEDIA Member of Excellence program in the coming weeks. This program, which is the evolution of the CEDIA Designations program first revealed back in 2017, will recognize additional tiers of accomplishment among members in:
Certification
Continuing Education
Craftsmanship
Customer Service
Community.
"CEDIA has been a great resource for our sales team, our technical team and even our administrative staff on helping to grow the business and create standards within our company," says Shawn Hansson, CEO and founder of Logic Integration in Lone Tree, Colo. "We have really enjoyed being a member of CEDIA for a number of years."
What about consumer awareness, which can be a very costly rabbit hole? CEDIA chairman Dave Humphries knows it would simply be too costly for CEDIA to spend members' money on a consumer awareness campaign.
Instead, the association has focused on raising awareness via trade partners at important events such as Design & Construction Week at the International Builder Show and Kitchen & Bath Industry Show (KBIZ) each year.
That effort is Hofer also plus the organization's brand name is becoming more recognized by consumers as an important requisite for hiring a company for installation services.
"We are also starting to get some clients that want to know if we are CEDIA members," he notes.
If you enjoyed this article and want to receive more valuable industry content like this, click here to sign up for our digital newsletters!