CE Pro All-Star Jam With the Band Contest at CEDIA Expo 2019
At CEDIA Expo 2019, the CE Pro All-Star Band will welcome one talented reader to take part in the festivities and jam with the band.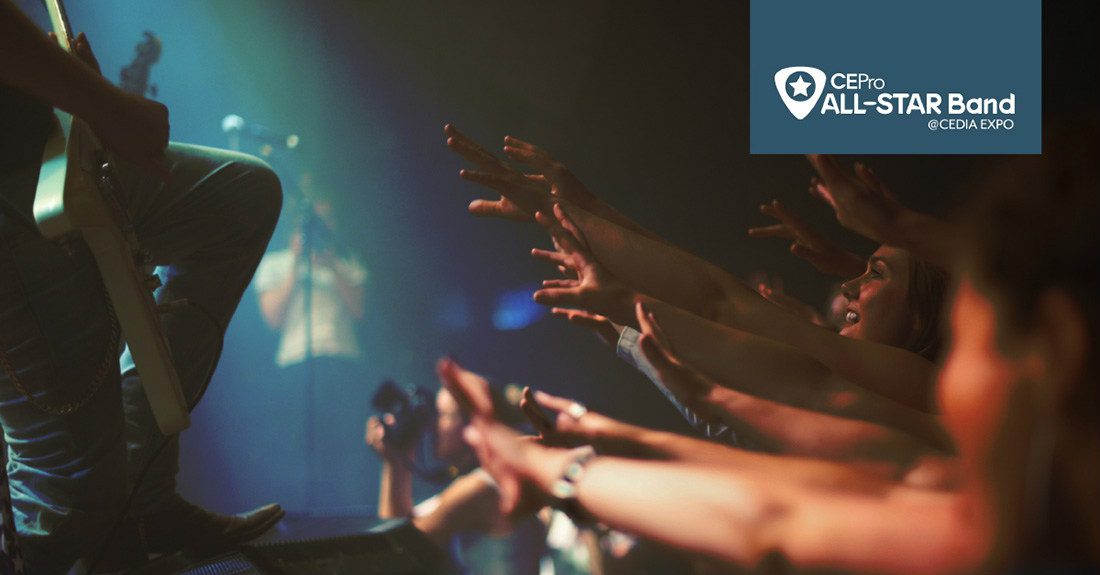 A big part of the custom installation industry is its general love for music.
Many professionals within the industry at one time or another entertained at some level, with aspirations of being the next Eddie Van Halen, Mick Jagger or Dave Grohl.
Unfortunately, few make it to the levels of Van Halen, The Rolling Stones or the Foo Fighters, but during CEDIA Expo 2019 there is an opportunity for industry professionals to combine the worlds of rock-and-roll and custom electronics.
During the annual trade event, which takes place this September in Denver, Colo. on Sept. 10-14, CE Pro is reforming the CE Pro All-Star Band.
Featuring manufacturer's reps, manufacturers, integrators and even CE Pro staff members, the CE Pro All-Star band will play a mix of classic rock and country. The jam session takes place on Thursday, Sept. 12 immediately following the announcement of this year's BEST Award winners.
Jam With the CE Pro Band
As part of the band's set, CE Pro is asking those who sing, play guitar, drums or keyboards to join the band on stage.
Using either Instagram or Twitter, those interested in jamming with the band just need to upload a video of themselves performing and use the hashtag #CEProAllStarBand.
Rules and guidelines for entry are here.
Related: CE Pro All-Star Band Setlist to Span Multiple Genres
The contest runs from Aug. 1 to Aug. 30, and new band content will post on CE Pro's social media platforms on these dates:
Facebook and LinkedIn: 8/1, 8/9, 8/20 and 8/30
Instagram: 8/1, 8/9, 8/20 and 8/30
Twitter: 8/1, 8/4, 8/7, 8/11, 8/15, 8/19, 8/24, 8/27 and 8/30
The winner will join band members that include Tim Bigoness from D-Tools, Ethan Kaplan and Camila Ballario from Leon Speakers, Jim Garrett and Kevin Kent from Harman Luxury Audio, Dave Silkin from DSG Distributors, Mitch Klein from the Z-Wave Alliance, Bret Jacob from Nortek Security Group, Vince Luciani from SurgeX, Geoff Meads from Presto AV and Jason Barth from the Midwest-based custom installation company Premier Group.
Bon Scott may have once sung "It's a Long Way to the Top if you Want to Rock and Roll," but the path to playing with the CE Pro All-Star band is as simple as posting a video online and attending CEDIA Expo 2019.