AudioControl Introduces 70-Volt Amplifiers With DSP and Calibration Tool
New 70-volt amplifiers, multi-channel amplifier, and DM-RTA calibration tool from AudioControl on tap for InfoComm 2019.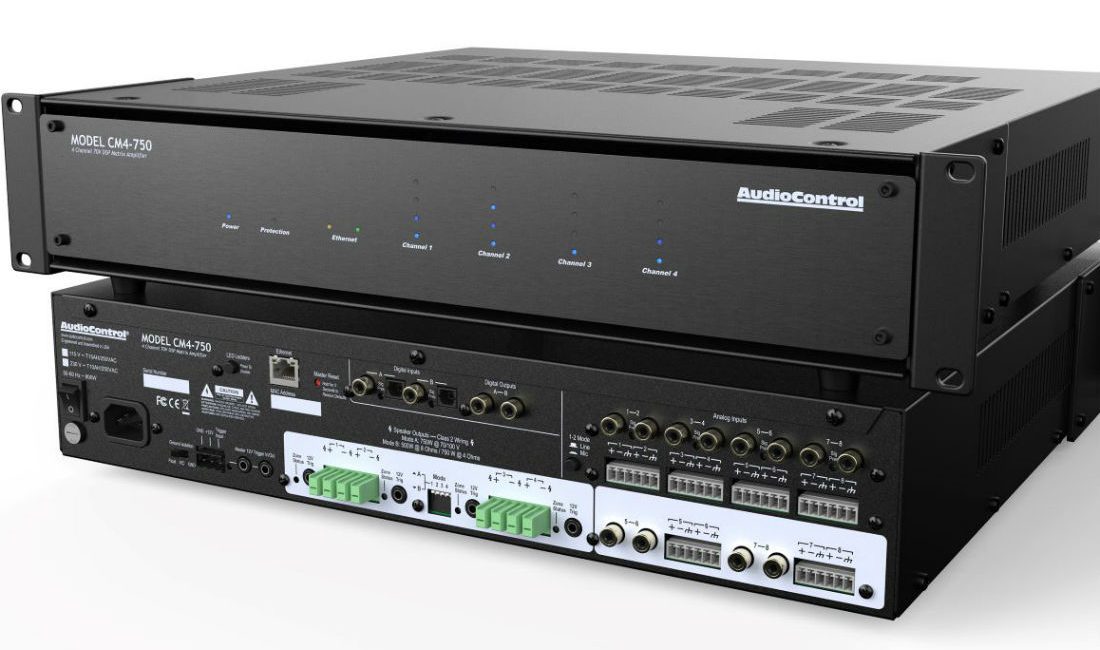 Using InfoComm 2019 as its springboard in June, AudioControl is set to debut three 70-volt amplifiers, the Avalon G4 4/3/2 configurable multi-channel amplifier, the DM-RTA audio calibration tool.
AudioControl claims its CM Series amplifiers are unique in the realm of 70-volt options because they offer the DSP control and signal matrixing capabilities developed by AudioControl for its Director Series amplifiers.
The company says these key features enable integrators to precisely tailor the sound by zone to any environment. The 70-volt amplifiers also offer advanced graphic and parametric equalization along with onboard crossovers.
The first CM Series model to become available is the 4-channel CM4-750, followed shortly by 2-channel and 3-channel versions.
The CM4-750 delivers 750 watts in 70/100 volt mode, 500 watts at 8-ohms (stereo or mono output) and 750 watts at 2 or 4-ohms and 1500 watts bridged into either a 70/100v and 8 or 4 ohm load.
Related: An Introduction to 70-Volt Options
The amplifier also offers eight balanced analog inputs (four stereo) – plus four digital stereo inputs – digital coax and optical. The four outputs can be controlled individually or as two stereo pairs.
System setup and diagnostics can be managed remotely via an IP web-based browser or app for PC, Mac, iOS, and Android, facilitating control of the amplifier via IP and/or RS232.
Avalon G4 4/3/2 Channel Amplifier and DM-RTA Room Calibration
The Avalon G4 is fully configurable to operate as a 4-channel, 3-channel or 2-channel amplifier using intuitive rear-panel controls. The 2U rack space Avalon G4 delivers performance from a Class H design that achieves 230 watts/8-ohms or 300 watts/4-ohms into four channels all channels driven.
The Avalon G4 has been designed to match AudioControl's Maestro M9 and M5 cinema processors and is ideally suited for immersive surround formats such as Dolby Atmos or as a premium standalone power amplifier for a multi-zone entertainment system.
On the Avalon G4, each pair of channels features hi/lo/bypass crossover controls, balanced (XLR) and unbalanced (RCA) inputs as well as RCA throughputs to achieve multiple configuration options.
The Avalon G4 also features independent channel level controls, remote power control triggers, audiophile-grade 5-way binding posts and can be ordered for either 110 or 220-volt operation.
DM-RTA Room Calibration

The AudioControl DM-RTA is a compact audio analyzer containing analysis software designed to provide integrators with the features of a fully functioning oscilloscope, voltage meter, real time audio analyzer (RTA), SPL meter and polarity checker.
Input/output options include balanced XLR inputs, phono and RCA style unbalanced inputs as well as speaker level inputs. Digital outputs include optical, coax and USB.