UK integration firm Imagine This was recently tasked with transforming an extremely reverberant space within an expansive £5 million (~$6.2 million) home into a multifunctional stereo room by integrating a stylish, high-end custom audio and acoustical interior design solution.
Minimalist in style, the property is characterized by clean lines, white interiors and floor-to-ceiling windows on the first and second floors, overlooking the grounds and a private lake.
Unfortunately, the building's open spaces and uncluttered style resulted in an extremely reverberant environment, making the room's intended purpose as a listening room extremely challenging.
Acoustics in any entertainment-style space is extremely important. Even a multimillion-dollar system will sound poor in an over-reflecting, reverberating room, no matter what kind of electronic equalization or compensation system is implemented.
Given the emphasis on minimalist design within the residence, any technology integrated needed to fit seamlessly into the home or be able to stand as a piece of design in its own right. A simple panel treatment – even if designed well – would not be enough. The concept: 'technology meets design' began to take shape.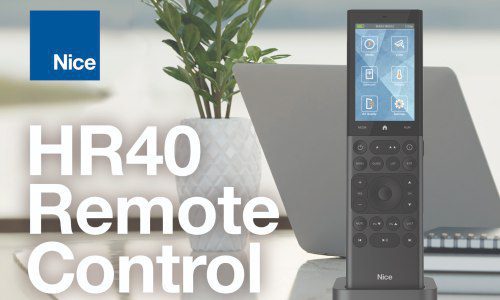 Remote controls continue to evolve at a rapid pace. The days of integrators providing remote controls simply for the TV have migrated to full home automation control of lights, shades, security, HVAC and audio/video in a single form factor. Join this free one-hour CE Pro webinar to hear from a panel of experts who will delve into finding the right remote that can effectively control all the subsystems in a home and empower consumers to customize the solution, while at the same time allowing integrators balance their service requirements.
Register Now! 
The integration firm knew that only a custom, stylish solution would do for the home's stereo room (named the Ammonite room) opting to install a pair of distinctive grey Bowers & Wilkins Nautilus loudspeakers.
The Nautilus loudspeakers are positioned on the left and right sides of the room, providing two-channel audio.
"Controlling acoustics in this kind of environment is very challenging. No matter how expensive loudspeakers are and no matter how much you spend on amplification, unless you can control the sound in that room, you're fighting a losing battle and are essentially throwing good money away."
— Guy Singleton, Imagine This
"They are a perfect example of technology meeting design," says Imagine This managing director Guy Singleton.
"These are four-way loudspeakers which come with their own external digital crossovers. They are serial numbered by client, and the customer may go to the factory to watch them being made. They are even hand-delivered by B&W – it's an event."
Each loudspeaker is powered by a 200W Class-D Classé AMP5 five-channel amplifier, which utilizes switching technologies for both power supply and amplification stages, both of which are fed through an eight-channel Sigma SSP MkII preamp/processor.
Unfortunately, there was no audio control in the space due to the reflective surfaces, and as a result, the Nautilus loudspeakers were bordering on unlistenable.
"We knew that this was a challenging space, with concrete walls, floors, ceilings and lots of glass," says Singleton.
"Controlling acoustics in this kind of environment is very challenging. No matter how expensive loudspeakers are and no matter how much you spend on amplification, unless you can control the sound in that room, you're fighting a losing battle and are essentially throwing good money away.
"Our client was keen to listen to music using these impressive loudspeakers, so we decided to integrate an acoustic treatment solution into this room."
HTE Acoustic Treatment Paneling Helps Solve Reverb Issue
A Home Theatre Environment (HTE) custom acoustic treatment paneling solution was chosen to solve the room's issues. The integrator tested the room's RT60 (reverberation time), measuring how long it took an impulse to decay over 60dB.
A good-sounding room will ideally have an RT time of approximately half a second, effectively controlling any resonances and reflections. Before any technology was applied to the room, the RT60 value was measured at an uncomfortable 4.5 seconds.
Taking inspiration from the curved look of the Nautilus, two large gold, parametric panels were installed into the room on its left and right walls, while an intricate diffractor panel design comprised of four different types of timber were installed onto the back wall – two 'blocks' on the left, and four to the right. These are framed by the two striking loudspeakers.
Each diffractor panel combats the acoustic waves that hit the back wall of the room: a total of 528 different wooden blades were handcrafted and meticulously slotted together to form the finished acoustic interior solution.
The first reflection point is controlled by the acoustic treatment's stylish blade and paneling design, allowing the client to comfortably experience the loudspeakers.
The reverberation time has also dramatically reduced, while the back-wall reflection has been redirected to avoid the unwanted concentration of sound in the sweet spot / main listening area.
Read Next: Look Inside Europe's First Private IMAX Home Theater
Behind the acoustically transparent panels is absorption for the lower frequencies, which are capable of handling frequencies below 500Hz. The intricate back panels effectively scatter any mid and high frequencies, while the lower frequencies are absorbed.
The results speak for themselves, reducing the RT60 value from 4.5 seconds to 0.5 seconds, giving the client the ability to use the room for its intended purpose. The room now boasts linear RT60 control over seven octaves, whereas before there was no control over resonance, reverberation and reflection.
"We wanted something that matched and complemented the aesthetics of the room, which is where this Ammonite theme evolved from, taking inspiration from the loudspeakers to create one, cohesive, artistic statement," comments Singleton, who was careful to highlight that the solution wasn't just functional, but selling the concept of a unique, custom, multifunctional piece of art.
The client was so impressed with the effectiveness of the acoustic treatment and with the custom and stylish design that he has commissioned the team to design and install a separate custom solution for his equally reverberant dining room.