Take a legacy security panel. Hook it up to a new BAT-Connect Communicator from Alula. Like that, you have pretty much a full-fledged interactive alarm and home-automation system with all the connectivity and back-end services you would expect from Alula's own panel and Connect+ SHaaS (smart home as a service).
Alula touts the new BAT-Connect as the perfect takeover product for existing installs where an alarm panel lacks Z-Wave home-automation, interactive services, IP connectivity and/or cellular communications.
These types of takeover products are becoming increasingly popular now that the sun is setting on CDMA/3G cellular communications (by February 2022 latest). Millions of existing alarm subscribers who use these cellular networks as their sole pathway for alarm reporting will find themselves without service in a couple of years. And those accounts will be lost to the original security dealer.
Alula's BAT-Connect features a 4G/LTE modem (CAT-M1 for seamless 5G migration), IP communications (hardwired and Wi-Fi), and optional Z-Wave card.
Alula uses Wi-Fi not just for cloud communications but also for creating a local network for IP-connected devices like Alula's 7-inch touchpad.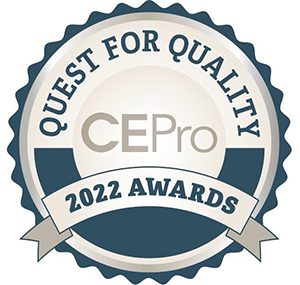 CE Pro urges integrators to recognize their suppliers that go above and beyond to deliver premium support and service. Cast your vote today to recognize the services (not the products) from your favorite manufacturers and distributors.
Cast your vote today!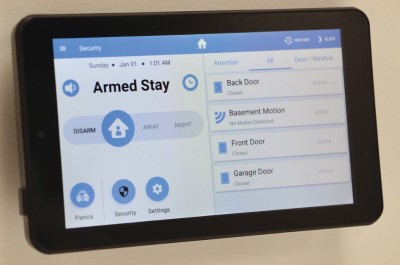 Integrated Security, Surveillance, Automation UI
Like other external communicators, the BAT-Connect sits on an alarm panel's keypad bus, but unlike other communicators it "allows full access to a mobile suite and the full Connect+ back end with security, home automation and video," says Alula CEO Brian McLaughlin in an interview with CE Pro.
Alula VP product management Dave Mayne explains that all security functions and Alula services including video surveillance are exposed in a single, unified user interface.
"That unification and merging in a single dashboard is unique to Alula," he says. "Others don't really bridge services like that. There might be one icon for security, one for home automation and one for video."
NEXT: Alula Adds Video to Smart Home Automation, Security Platform
Alula also claims the BAT-Connect is unique in its ability to auto-detect which panel it is connecting to, making the system virtually "self-programming," according to Mayne.
All sensor data – anything with a contact ID – can be incorporated into the programming for alarm and home-automation events.
At launch, the product will "auto-link" to Honeywell Vista and DSC PowerSeries. Updates planned for 2019 include added support for Interlogix NX, Interlogix Concord, Simon and Napco Gemini panels.
Eventually BAT-Connect will replace Alula's other universal alarm communicators, including the BAT-LTE (cellular and IP) and BAT WIFI models. The goal is for dealers to have a single SKU on the truck for whatever they encounter in the field.
"In addition, Alula is focused on eliminating truck rolls for our dealers," Mayne says. "All devices are 100% remotely managed."
For example, Wi-Fi credentials can be remotely managed and changed over the cellular network, he explains, "so if a consumer replaces their router, the dealer can re-connect the BAT-Connect to the Wi-Fi network without rolling a truck."
BAT-Connect will be demonstrated for the first time at ISC West next week in Las Vegas. The product will ship "shortly thereafter."
What's Unique about BAT-Connect
"There are several items that I consider to be industry first on the BAT-Connect," says Alula VP product management Dave Mayne:
First communicator with triple-path cloud connectivity (Ethernet, Wi-Fi and cellular on every unit)
First communicator leveraging CAT-M1 technology – the IoT band for LTE and 5G networks
First communicator that enables dealers to replace old, clunky keypads with new high-tech 7-inch touchpads, enabling dealers to upgrade not only the remote user experience, but also the local interface. This can provide a unified user experience both in and outside the home/business.
First communicator tied to a user experience that delivers a user-specific dashboard with tightly integrated video, home automation and security services on a single page.
There are other communicators that provide a Z-Wave radio as an option, but Alula has arguably the most elegant integration of these technologies in the industry.
BAT-Connect Features
Per Alula:
Takeover with Home Automation: The BAT-Connect allows professional installers the ability to upgrade the services they offer to include home automation. With an optional Z-Wave card, dealers can quickly add automated lights, locks, thermostats, garage door controllers or thousands of other Z-Wave certified devices.
Video-Ready: Like all Alula offerings, BAT-Connect is compatible with the Alula video services platform. This allows security professionals to offer the most popular security system upgrade: video. Easy to drive and immersive control is enabled through the Alula App, available for iOS and Android devices. New service subscriptions drive down attrition rates and increase RMR.
Integrated smart home UI application: The BAT-Connect delivers a panel-like user interface, with Alula App and touchpad controls similar to Connect+. Learning one app experience for both takeovers and new installs streamlines business operations and simplifies training and set-up. Security and automation professionals can learn and teach one application.
Modernize outdated security panels: Professional partners that add cellular or IP communicators to existing panels are often forced to leave an ancient LED keypad on the wall as the primary in-home user interface. With Alula, controls are made contemporary and portable, instantly modernized with BAT-Connect. The high-tech Alula 7" Touchpad can be used as a new user control inside the home. Future releases are on tap for BAT-Connect, linking the keypad without having to join the customer's Wi-Fi network.